By skot deeming
Somewhere on the cover of this issue is a code. A pixelated square that at first glance looks like nothing more than some abstract remnant of some low-fi digital art project. But if you snap a pic of this code with your cell phone (having the appropriate application) it will translate this code back to text. Not JUST text though… hypertext that links your mobile to Broken Pencil's newly revamped website.
What started as an inventory method for the Japanese auto industry, QR (quick response) code has become fairly ubiquitous. QR codes started showing up on all manner of posters and objects around Japan. Why? Well, contained in the code can be any piece of text the user wants, including punctuation. With a QR reader enabled on a cell phone with a camera, anyone can snap a pic of the code and have it instantly translated back to text. With the ability to make the text a URL file, it becomes a physical link to a website, so that code on that movie poster can take you directly to the film's site prior to release, or on a gig poster it can give you access to more information about the show, such as set times and updates.
While QR code has become a tool used by a lot of corporate media and designers (Louis Vuitton even designed his own QR codes), it can also be a tool for independent cultural producers to flesh out their rock show posters, zines, CDs or even knit into scarves, sweaters and mittens. The possibilities are astonishing. By including a code with a link to your website, MySpace or blog, you're giving access to a wealth of further information about the work that you do, the songs that you play, the things that you write.
I've had a few encounters with QR code. I've seen them slapped to the backs of streetcar seats, giving commuters a link to some graffiti websites. In 2009 the LOLA festival in London, Ontario put a QR code on signs for art pieces around the city, allowing viewers to snap the code and be taken to a mobile webpage giving more information about the artist who created the installation. I recently did a design project incorporating QR coding into carpet design. QR code allows immediate access to this supplementary information, rather than simply putting a web address on a zine or poster, you are granting cell phone users immediate access to whatever online content you choose to create. It's an incredible thing.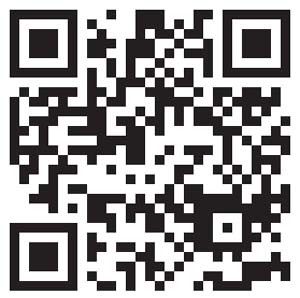 In this column I talk a lot about technology and the access that it's given to the independent cultural creators out there to a much larger audience. QR code is another great example of this. In this age of convergence, where the majority of people are already online through their mobile devices, indie media folk have an opportunity to disseminate information to a rather savvy and sophisticated audience. And the simple inclusion of a little pixelated square can lead people to your online door. As a further example, snap a pic of the code in this column, and you'll find out more about me. To create your own QR codes visit: qrcode.kaywa. com | To download a free QR code reader for your cell phone go to: reader.kaywa.com