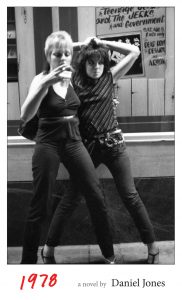 With two upcoming reissues of Daniel Jones' work, Liz Worth looks back on the influence and memory of Toronto's lost lit hero.
"Suck your own clit, you fuckin' dyke!"
With one line, the Toronto author Daniel Jones changed my life. This opening of his tight, energetic novel 1978 pulled me into a story that heaved, slapped, and swore its way into my life. The tale of a few punks living in downtown Toronto transformed the way I viewed my city: a place I'd known all my life but, I suddenly realized, had never really seen before. When I got to the end, I flipped back to that life-changing line and started reading all over again.
During that first fateful read, I had no idea who Daniel Jones was. A cult figure during his lifetime, he has since slipped into obscurity. But with two new upcoming reissues including his novel 1978, it's time for this enfant terrible and legendary small press activist to be rediscovered.
Daniel Jones had a fast and furious trajectory through Toronto's literary scene during the 1980s and 1990s. In the early days, when he was known only by his surname, the young poet gained notoriety with his shocking, sometimes naked, readings and excessive drinking. Later, he gave up alcohol and poetry, founded a small press and devoted himself to prose in chapbook, short story and full-length form. And on Valentine's Day, 1994, at the age of 34, he committed suicide. Five years later, the now defunct micro-publisher Rush Hour Revisions published the posthumously discovered 1978. I was 18 at the time and read the book with all the furious intensity of a naive teenager seeking solace in destruction. I didn't know Jones was no longer living. I felt, reading the book, that our paths were destined to cross.
I first heard tell of the writer while hanging out with Chris Houston of Hamilton, Ontario's legendary punk band the Forgotten Rebels. Jones and Houston grew up in Hamilton together, coming of age during the early onset of punk rock. Before Jones packed up his bags for Toronto, they played together in the band Middle Class Noise. Although the group later broke up, Jones' involvement in the southern Ontario punk movement was obviously the source material for his explosive and merciless depiction of the punk lifestyle in 1978.
Though that seminal punk rock novel is clearly rooted in its titular year, two upcoming reissues of his writing mark 2011 as the second coming of Daniel Jones. Three O'Clock Press is re-releasing 1978 and Coach House Books will reissue the 1985 cult hit The Brave Never Write Poetry. Released when Jones was 26, The Brave is the only poetry collection he published before disowning the form. With both books out of print until now, there's the promise of Jones changing the lives of a new generation of punks and poets.
So what do we learn from the life and words of Daniel Jones? Ask around about him and the first thing you hear are the stories of aggressive readings fuelled by heavy drinking. There are tales of him stripping on stage at Toronto's Cameron House and mooning the haiku society at Harbourfront. At the launch for his 1991 experimental novel Obsessions, he took the very literal approach of sling-shooting the tome into the crowd.
"Jones once took the stage and I thought he was hamming it up," says Charlie Huisken, owner of Toronto's beloved, now shuttered bookstore This Ain't the Rosedale Library. "I thought he was pretending because he fell into the drum kit, but he read powerfully, really articulately, like he was doing a neo-Bukowski kind of thing. Until I talked to him afterwards. He was incoherent."
But Jones' talent resonates above the din of alcohol-laced memories. "He was the only fellow I knew whose talent bordered on genius," says Mark McCawley on the line from Alberta. McCawley, who runs the Edmonton micro-press Greensleeve Editions, published Jones' chapbook The Job After the One Before in 1990. "I don't think Canada was ever big enough for his talent," says McCawley, who has kept the chapbook in print and plans to release a digital version in the future.
Jones is also considered one of the first writers to treat Toronto as a character, to show off its scabs and scars in a way no one had before. And capturing a place that neglects its history and character as wilfully as Toronto is no easy feat. The city is always demolishing old buildings so that sleek condos can rise in their place. New indie venues and hipster bars frequent
ly burn out on hype before they reach establishment status. Beverley Daurio of the Mercury Press, which published the Jones short story collection The People One Knows as well as the novel Obsessions, says that his voice, grounded in Toronto, was rare. "Jones' death was a loss to the community at large. If he had lived, it's more than likely he would have made inestimable contributions to the literary community," Daurio says.
By the time of his death, Jones had already proven himself prolific. He'd authored four books and published his work in numerous chapbooks and anthologies. But whether he thought himself successful remains a mystery, even to those close to him. "How well could anyone have known Daniel Jones, in a way?" asks Steve Venright, a writer and close friend. "It's easy to mythologize someone and when you do that you reduce a person to certain salient qualities, which are often misremembered anyway. If we're looking at a specific aspect of who he was, then we could talk about it for an hour or two. But would we get to the part about where he never forgot somebody's birthday and would always be there with a gift? Or would we cover the part about how, as much as he drank, he was the first one to disappear in an evening?"
In Edmonton, McCawley keeps his own memories of Jones preserved in the hundred letters he collected during their epistolary, 19th century-style friendship. They reveal Jones as an avid collector of all things Andy Warhol ("anything he could get: books, magazines, articles") and regretful for never having children. Before hanging up with McCawley, I ask after his favourite piece of writing by Jones. He picks a line from The Brave Never Write Poetry. "It takes guts to know some happiness and not make a poem out of it," McCawley quotes. Then he pauses, letting the words and the silence after them settle into the distance between us.
The new re-issue of 1978, by Three O' Clock Press, will feature its original introduction by writer Kevin Connolly along with a new essay on Daniel Jones and the Toronto punk scene by Liz Worth.