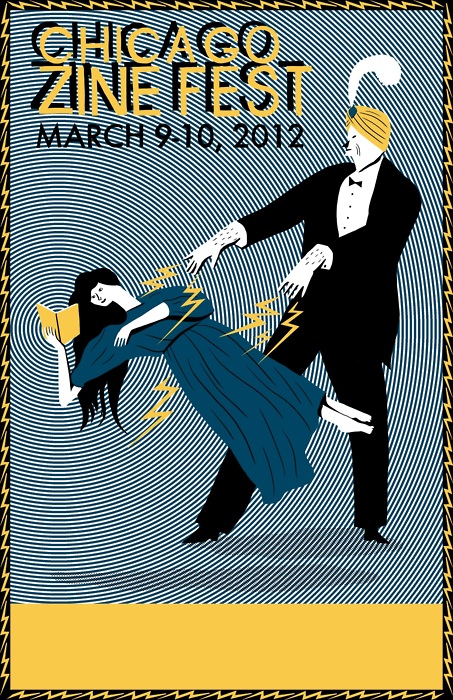 The annual Chicago Zine Fest is fast approaching, as in THIS weekend! With two days of informal panels and workshops, a mini film fest and a handful of practical DIY demos, the CZF is both an exhibition of independent publishing, and an opportunity to swap skills and participate. The hands-on Center for Book and Paper Arts offers a chance to brush up on your book binding and letterpress technique, and runs all afternoon on Saturday.
The Fest grown since 2010, now offering two days of programming as well as the main Zine Exhibition this Saturday afternoon at Columbia College.Highlights of this year's programming include Anchors Away!, a presentation from the beloved Halifax institution, Anchor Zine Library and Archive; Teaching with Zines, a workshop for educators who want to use zines in the classroom; and Distributing and Marketing Your Zine a panel discussion to be led by Ayun Halliday (Zinester's Guide to NYC), Mac Fischer (Temporary Services) and Amy Leigh (from Toronto's twelveohtwo distro). Speaking of distribution, while you're in town why not check out the Fest's handy online list of Chicago zine retailers?
The Chicago Zine Fest's ambitious programming wraps up on the Saturday night with Zinester Karaoke (location: TBD). For complete information on all of the events,  local and international exhibitors as well as rideshare and housing forums, head to chicagozinefest.org.
Invited exhibitors at the 2012 CZF include:
Art Noose
Billy the Bunny
Cambodian Association of
Illinois Girls Club
Chicago Center for Literature
and Photography
Chicago Publishes
Nicole J. Georges
Half Letter Press/Temporary
Services
Ayun Halliday
The Land Line
Anne Elizabeth Moore
Mimi Thi Nguyen
The Queer Zine Archive
Project
Cristy C. Road