Canzine Toronto 2017 was on October 21, 2017 at the Art Gallery of Ontario.
• C A N Z I N E • E V E N T S •
12pm – Early bird entrance for AGO members and Broken Pencil subscribers!
1pm – Canzine opens to the public! Hundreds of zines, books, comic, and small press vendors!
ZINE MACHINE FOR KIDS AND TEENS IN THE COMMUNITY GALLERY
1:30pm – 4:30pm • Various zine making and papercraft activities for kids and teens, led by artist Sonja Rainey.
3pm • PANEL: ZINES, ARTISTS, AND GENTRIFICATION•
Artists have often been identified as catalysts for gentrification in neighbourhoods, even while  long-time residents don't get acknowledged for their existing  contributions to arts and culture.
How can DIY artists and spaces think critically about their role in gentrification? How can communities centre existing art practices in neighbourhoods? And how can we respond to neighbourhood change through zines, comics, and underground publishing? Our panelists respond to these questions and more.
Syrus Marcus Ware is a Vanier Scholar, visual artist, activist, curator and educator. Syrus uses painting, installation and performance to explore social justice frameworks and black activist culture. He is a facilitator/designer at The Banff Centre, and for 12 years was the Coordinator of the Art Gallery of Ontario Youth Program. Syrus is the inaugural Daniel's Spectrum Artist-in-Residence (2016/17) and is also a core-team member of Black Lives Matter- Toronto.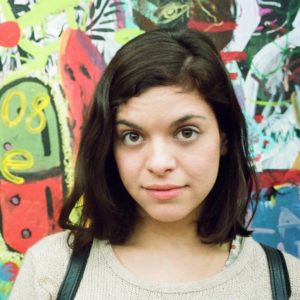 Mercedes Sharpe Zayas is a queer planner committed to movement building and social justice in the urban form. Earlier this year, Mercedes compiled research with The Public Studio to create a zine about the role that artists can play in moving from complicity to accountability to action in processes of gentrification. Now she works as the Workforce Planning Coordinator for the Parkdale People's Economy, where she collaborates with community members to build collective control over the local economy. In her spare time, Mercedes is the Co-Director of Communications for MUJER, a grassroots Latinx feminist organization. She holds a Master of Science in Urban Planning from the University of Toronto and a Bachelor of Arts in Honours Anthropology from McGill University.
Maanii Oakes is an anishnabek swampy cree and kanienkehaka artist and cultural tattoo practitioner from Sagamok First Nation. Her work addresses issues of food sovereignty and her ideas of nationhood.
Michael Burtt is the Artistic Director of Making Room Community Arts, which has been rooted in the Parkdale neighbourhood of Toronto over the past decade where he has developed a grounded arts practice rooted in asking Big Questions in a radically inclusive way. He brings to this practice twenty-five years of experience as a community-based organizer and cultural worker. He is a graduate of the Master's program at the Faculty of Environmental Studies, where he studied the connection between community arts and the sacred of everyday life. In addition to his role at Making Room, Michael often works with other Jumblies Theatre-related projects including the Jumblies Studio and MABELLEarts.
Cindy Raycroft from totalHYPE zine. totalHYPE is a monthly newsletter put together by COUNTERfit Harm Reduction Program, a program at South Riverdale Community Health Centre. TotalHYPE is dedicated to harm reduction information and other information of interest to people who use drugs. We are strict about publishing harm reduction information because we believe that people who use drugs are often silenced. We want totalHYPE to be a space that is respectful of people's rights to use drugs without judgement or discrimination.
5pm • BROKEN PENCIL ZINE AWARDS •
This year marks Broken Pencil's first ever International Zine Awards! With over 175 entries in the categories of perzine, comic/art zine, how-to zine, lit zine and political zine, never before has there been an opportunity to reward zine excellence on quite this scale!
Join us for the Broken Pencil Zine Awards Show, where we will be bringing the best in zines to life on stage as we award each category their winner and countdown to the announcement of the Best Zine 2017!
Big thanks to STEAMLabs and artist Justice Stacey for providing the amazing BPZA trophies!