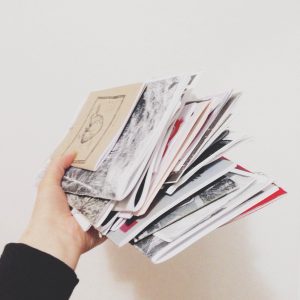 Toronto Zine Library volunteer, co-creator of Static Zine (their 9th issue on Food is out now) Broken Pencil board member and all-round great human Jessica Lewis headed across the border to the Windy City last week for her second-ever visit to Chicago Zine Fest. She was kind enough to document her adventures for us in words and photos. Thanks Jess!
I loved Chicago Zine Fest so much last year, I had to go again. It's close-ish to Toronto and centrally-located for both countries (sort of), thus people from all over make the trip. The fest makes a massive effort to be inclusive, with gender-neutral bathrooms, accessible spaces and lots of representation. It includes a youth-specific reading event. The main event boasts over 200 tablers. Everyone is there because they live and breathe independent art and publishing and appreciate the space for it.
Last year, I went with my zine partners to table as Static Zine. When you travel any kind of distance for a zine fest, you must know that you won't break even on your expenses. You go for the experience. You go to get your name out there and to learn lots of other names, too. Since last year, I've not only had a hefty to-read pile, but I've also kept in touch with a bunch of zinesters from across the U.S.A. It was really cool to be able to "actually" meet them and spend time with them this year. "These are my people," I thought.
So, yeah, I had to go again. This year I went on my own. Here's what it was like.
On the evening of Thursday, March 13, I went to a reading event at a great little space, the Chicago Publishers Resource Center. It wasn't affiliated with the fest exactly, but all the readers were tabling at the fest with their books and zines. "The Witches, Bellies and Writers Traveling Road Show" presented four writers: Sage Adderley, who read from her new young adult novel about a teenage witch Invoking Nonna; Taryn Hipp, who read about alcoholism from her memoir Heavy Hangs the Head; Tomas Moniz, who read from his The Body is a Wild Wild Thing zine and new novella Bellies and Buffalos; and Jonas, who read from his new novella The Greatest Most Traveling Circus. It was a reading that was both entertaining and emotional.
On Friday the 14th, the Chicago Zine Fest hosted a handful of events. Early in the afternoon, there was a panel discussion on longevity in zines, which was moderated by Liz Mason of the Quimby's bookstore, at Columbia College's Conway Center. It featured Moniz, Alex Wrekk of the Portland Button Works and her zine Brainscan and Cindy Crabb of the zine and distro Doris. They spent a couple hours hammering through topics and questions in the zine scene such as how they perceive younger zinesters, when and if a zine should anthologize and how they've watched zine-making evolve. The short of it is: it hasn't changed much, and we should all keep doin' what we're doin' because it's awesome. So we will!
A few hours later, there were more readings at the beautiful Hairpin Arts Centre. The first hour was the youth readings, where wiz-kids from grade- and high-school read from their zines. I was floored by their smarts, way with words and observations of their world. I don't remember anyone being that smart when I was their age! Then there was two hours of readings by Zine Fest tablers. It made me laugh and almost-cry. There were first-hand accounts of strength over eating disorders (Mack Attack), race issues (Khristina Acosta) and cancer (Joyce Hatton). There were funny stories such as a stubborn, perverted kid in a classroom (LB), a guy in a pet store who didn't understand that everything there was for pets (Keiler Roberts), karaoke choices (Amber Dearest) and odd facts about animated Disney movies (Curiouser Jane). There were tales of heartbreak (Amelia Hruby) and losing a friend (Cindy Crabb). There was a dance party after the readings were over, but I was in no mood to dance after that. But it was nice to be able to let all those words sink in.
Saturday the 15th was the main event at the Conway Center. While the rest of the city was out for their St. Patrick's Day parade, we loaded in before 11 a.m. and sat behind our tables until 6 p.m. I wouldn't recommend tabling by yourself, because it can be stressful when you need to go to the bathroom, get something to eat and check out all the other tables. I'm really thankful for friends who were able to spot me for short bursts of time! This year, I tabled as Static Cloud, which envelopes Static Zine and our new distro. It was really interesting to watch who picks up what, how long they look through them and what makes them or deters them from buying a zine. It was unfortunate to see that most people weren't willing to pay more than $3 for someone's self-made publication, but it's somewhat understandable. And as someone who really had her eyes peeled for mental health zines, I could tell that a lot of other people did, too. The fest gets really busy and stays that way for the whole seven hours. You talk to a lot of people and leave with a lot of stuff. It's so great. Yes, I did come home with 47 new zines. No, I don't know when I'll be able to read all of them. No, I'm still not done the ones I brought home last year. Yes, of course I think it was worth it to get them.
On the Sunday, there are usually a lot of people still hanging around the city. If you're one of them, you'll likely bump into a few others while doing your last rounds of Quimby's, the fantastic book, zine and magazine store. Zinesters come in to consign their leftovers, pick out some more titles to take home and to pose for some quality photo booth photos. It's a perfect goodbye to a wonderful weekend. I hope to go again next year.