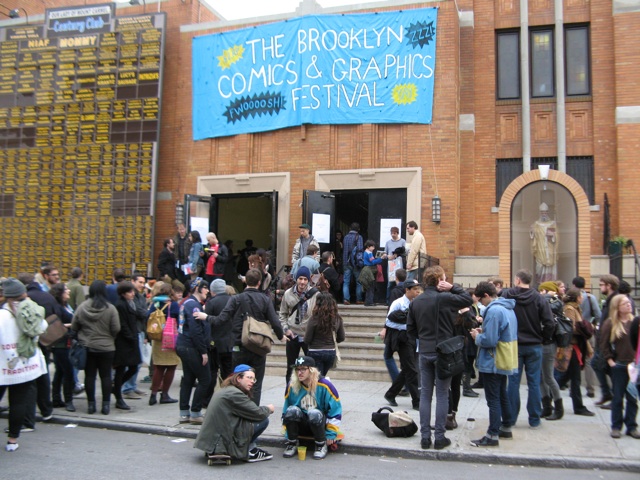 words and photos by Kasia Mychajlowycz
The fourth Brooklyn Comics and Graphics Festival was a week of book releases, gigs and film screenings culminating in one sweaty Saturday, November 12 at Our Lady of Mt. Carmel Church in Williamsburg, Brooklyn. Some 100 or so publishers, small presses and people with access to a photocopier sold their art to fans crowded into the church gym and basement, spilling out the door and down the block. The comics on display had a lot more to do with zine and underground art culture than with Superman and Comicon. In fact, with the exception of the larger publisher's tables, all of these comics looked like zines: self-published, radical booklets often featuring experimental story-telling.
Parsing the terminology with vendors, it's obvious that the difference between comics and zines is a matter of perspective. "The organizers are people from an art world background, and they want to emphasize the history of comics and image-making," says Brooklynite Austin English. His zine Mind Theatre debuted at BCGF; his fractured sordid stories well-served by the grotesque Cubist-inspired pencil drawings and confusing patterns that fill every page. Jo-Jo Sherrow, a comics artist based in Philadelphia, considers her series CAPTCHA an art book rather than a zine, because, she says, "comics have a story line" whereas zines are instructional and personal. Despite this, CAPTCHA, a sci-fi comic featuring girls from other worlds, has a list of herbal remedies for menstrual maladies at the back: a classic feature of feminist zines.
Caroline Paquita of Pegacorn Press thinks it just comes down to marketing: "A lot of people look down on zines." Her friend Mike jumps in: " 'Art books' are zines when you put them on your CV," he laughs.
Down the street at the Knitting Factory, events discussing comics were also packed. Unfortunately one promising talk entitled "Narrative Collage" — billed as a discussion about how mainstream publishing suppresses comics' "essential status as an assemblage of… discordant fragments" — failed to deliver because the panelist were past the restrictive stages of their careers,  and as a result, their respective successes allowed them the freedom to do what they want with their work. So the simply meandered into the specific artistic styles and influences. This is
where zine culture parted ways with comic culture. Still, walking through the tumult of a hellishly hot church basement filled with excited artists and fans proves that the heart of comics is tangled up with zines.