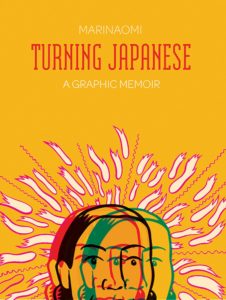 MariNaomi, 228 pgs., 2dcloud, 2dcloud.com
Between a serious bout of salmonella, a hasty engagement, advice on how to avoid getting groped in San Jose's illegal hostess bars, and a life-changing trip to Japan — graphic memoirist MariNaomi's latest work covers a lot of ground. Although the publisher's notes describe it as a clear-cut tale of the author connecting with her elusive cultural background, the truth is that Turning Japanese absolutely bursts with life, skipping between scenes and memories so quickly that one can feel lost in the story at times.
Thankfully, MariNaomi's eye for the world's quirky little details invigorates the work, and the end result is a playful, emotionally honest narrative that readers will have no trouble connecting with.
MariNaomi has a knack for abstracting the way moments feel into succinct images, and her art is at its strongest when it moves into expressionist territory. In one of my favourite scenes, she elegantly conveys the humbling atmosphere of a Japanese shrine, balancing simple imagery and raw narration to help us understand how it felt. The knack is also deftly employed to humorous effect, such as with a spot-on illustration of what it's like to listen to drunks ramble in a foreign language: speech bubbles filled with squiggles balloon past panel borders as the narrator's head begins to explode. At times, the quality of the art seems to take a backseat to the breakneck pace of the narrative — a lovers' spat on a Kyoto bench later in the narrative feels stripped down to only the sparest details, for example — but MariNaomi's fluid style still brings her personality to every panel. (Kris Bone)