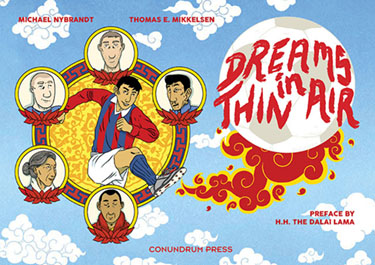 Dreams in Thin Air
Michael M. Nybrandt and Thomas E Mikkelsen, 179 pgs, Conundrum Press, conundrumpress.com, $25
Okay, bear with me, this is a graphic novel about soccer. But Dreams in Thin Air isn't your average sports drama, wherein a team overcomes powerful opponents thanks to the power of teamwork and gusto. The drama here revolves around whether the team will ever play a game at all, as its organizers fight for its right to play, against no less an opponent than the People's Republic of China.
Michael Nybrandt is a Danish man who discovers, during a rain-related detour at a monastery in Tibet, that Tibetans love soccer just as much as anyone else. He also learns about how Tibetans are treated by the Chinese government, and envisions a Tibetan national soccer team to raise awareness of their plight on the world stage. Conveniently, he's enrolled in Kaospilot, a socially-minded business school where he can make his dream a reality. But this isn't like organizing a beer league with the boys. Rather, this is akin to convincing China to allow you to slap it in the face on the world stage.
What's missing are the stories of the players. Instead, we see the behind-the-scenes work that brought the team into being. I appreciate that Nybrandt keeps the narrative within the realm of his experience, this is non-fiction after all, but it would have made for a stronger story if we learned more about the players on the team. They get little time on the page, and most aren't named. The Tibetans featured are those Nybrandt meets on his first trip to Tibet and those who play a role forming the squad. But don't get me wrong, the drama of forming this team is intense and makes for a compelling read. You don't even need to like soccer to enjoy it.