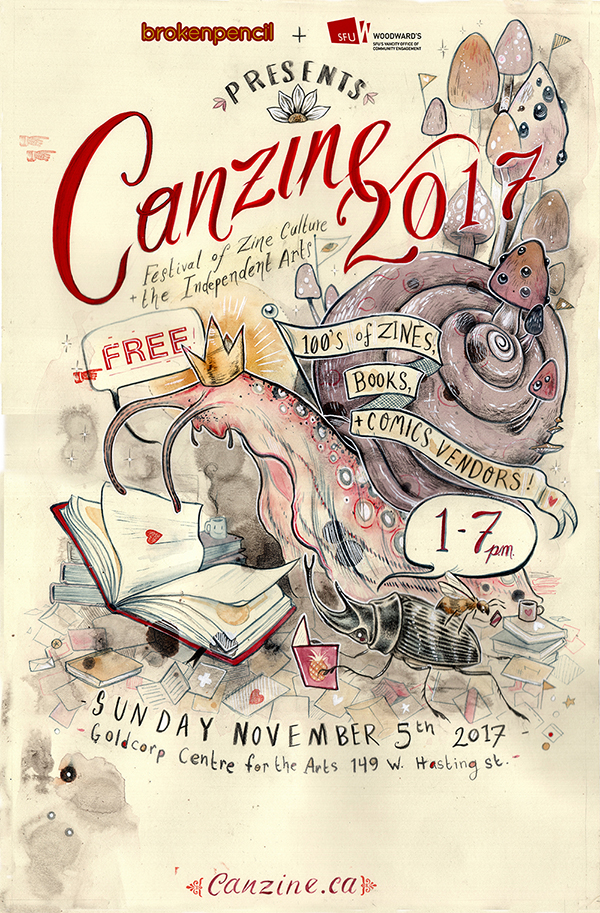 Canzine Vancouver 2017 Poster by Alison Woodward
Canzine: Festival of Zines
and Underground Culture
Sunday, November 5, 2017, 1-7pm
Goldcorp Centre for the Arts
149 W Hastings St.
FREE Admission! Comes with the Fall issue of Broken Pencil: Magazine of zine culture and the independent arts.
HUNDREDS OF ZINES BOOKS AND COMICS VENDORS!
Check out last year's Canzine Vancouver lineup
• C A N Z I N E • E V E N T S •
1pm – CANZINE OPENS TO THE PUBLIC!
Hundreds of zines, books, comic, and small press vendors! Trade, buy, sell, browse, chill, enjoy!
3pm – 4pm • PANEL: FEMINISM, MAGICK, AND THE SUPERNATURAL IN THE INDIE ARTS
Across a variety of media, zinesters and other indie creators have been increasingly claiming and returning to themes of magick, the occult, and the supernatural in their work. These practices and motifs are sometimes used to stake political claims and creating new critiques around feminism, gender, identity, race, and knowledge-making.
In this panel discussion, zinesters, artists and critics will discuss the role of magick and the supernatural in their work and in underground art communities today.
5pm – 6:30pm • PIZZA PUNKS PIZZA PARTY •
Cole Pauls will be in the house to throw the most killer zine fair pizza party ever imagined! Creator of the legendary Pizza Punks strip as well as the incredible Dakwäkãda Warriors, a comic incorporating Southern Tutchone language revival, will be in the house doing an artist talk and leading in the making of a massive collaborative pizza zine!
GET INVOLVED WITH CANZINE!
The Goldcorp Centre is a wheelchair accessible venue. Please email [email protected] with any other accessibility questions.
Volunteers needed! For questions and ideas, or to volunteer email: [email protected].
To make sure you get all up to date information about everything Canzine and Broken Pencil, please sign up for the Broken Pencil e-newsletter here: brokenpencil.com/newsletter
About Canzine: The Canzine Festival of Zines and Underground Culture was first held in Toronto in 1995. Since its inception, Canzine events in Toronto, Vancouver, Winnipeg,  Calgary and Halifax have displayed thousands of zines and small press works and hosted hundreds of writers and performers.
Canzine is organized by Broken Pencil: The Magazine of Zine Culture and the Independent Arts.