The Annual Doug Wright Awards is back, celebrating great works in Canadian cartooning. Broken Pencil is a proud sponsor for its 17th annual showcase, and 2nd virtual liveshow. Streaming live on May 8, 2021, the award show is available to view on YouTube with returning host, actor Don McKellar. With guest appearances from multi-talented nominees from a variety of genres, the DWA marked the start of this year's virtual exhibition at the Toronto Comic Arts Festival (TCAF).
Though doing another virtual show was slightly disappointing, it was necessary, says Conan Tobias, executive director for the Doug Wright Awards Foundation. "I think everyone doing events like this feels that way. But I knew from having done it last year that we'd be able to create something fun to watch that still allowed the nominees to be recognized. Everyone really pitched in," he said.
Categories
The Nipper, for emerging talent, won this year by Veronica Post for Langosh and Peppi: Fugitive Days and published by Conundrum Press.
The Egghead Award for best kids book won by Mandi and Hana Kujawa, Claude St. Aubin & Lovern Kidzeirsk for A Slug Story published by Renegade Arts Entertainment
The Pigskin Peters Award for best small or micro-press book, won by Scott Carruthers for The Noiseless Din published by Popnoir Editions
Best Book Award won by Sophie Bédard with Lonely Boys published by Pow Pow Press.
Best Book Award 
Watching Margaret Atwood announce her book as the winner, while in bed eating spicy noodles, was a surreal experience, Sophie Bédard says. The DWA winner for Best Book, Bédard's Lonely Boys follows the relationships between roommates, exploring the heartbreak and challenges of friendship, sisterhood, and self-actualization.
"The show was super great, but I can't help but feel a form of melancholy not being able to attend these types of events in real life," she says. "Still, I'm pretty excited that Lonely Boys got some attention. Pow Pow Press is still new and unknown outside of Quebec, and they have edited some of my favorite books in the world. My wish is that English readers will be able to discover them as well." 
Bédard says that the inspiration for her works comes from her friends, life, cinema, books, and "staring blankly at the wall for hours." Lonely Boys, in particular, focuses on growing pains in friendship and how these complex relationships can be pushed and pulled. 
"The general theme of the book is friendship heartbreaks, being unable to truly connect with people you used to love … But it wasn't clear to me when I first started to imagine it. At the beginning, it was just three to four characters. I did the designs, thought of their personalities and relations to one another … I let them live in my head for approximately four years before writing anything serious, and then I let them surprise me. This has been my process until now."
The Pigskin Peters Award 
The Pigskin Peters Award recognizes the works of the best small or micro-press books. We caught up with The Noiseless Din author and award winner of this segment, Scott Carruthers, about his work and process.
Carruthers previously worked in gallery-based art, which often left him feeling as though he was making art in a void, he says. Creating installations at galleries, packing and repeating this process began to feel redundant. Other than at show openings and through guest books, there was little sense to who had seen his works, he says. Contrastingly, and perhaps ironically, this virtual experience with the DWA at TCAF offered a refreshing and engaging experience.
"Being a relative newcomer to the comic world, it's a real honor and a total rush knowing that people have read and spent time with the book," he says.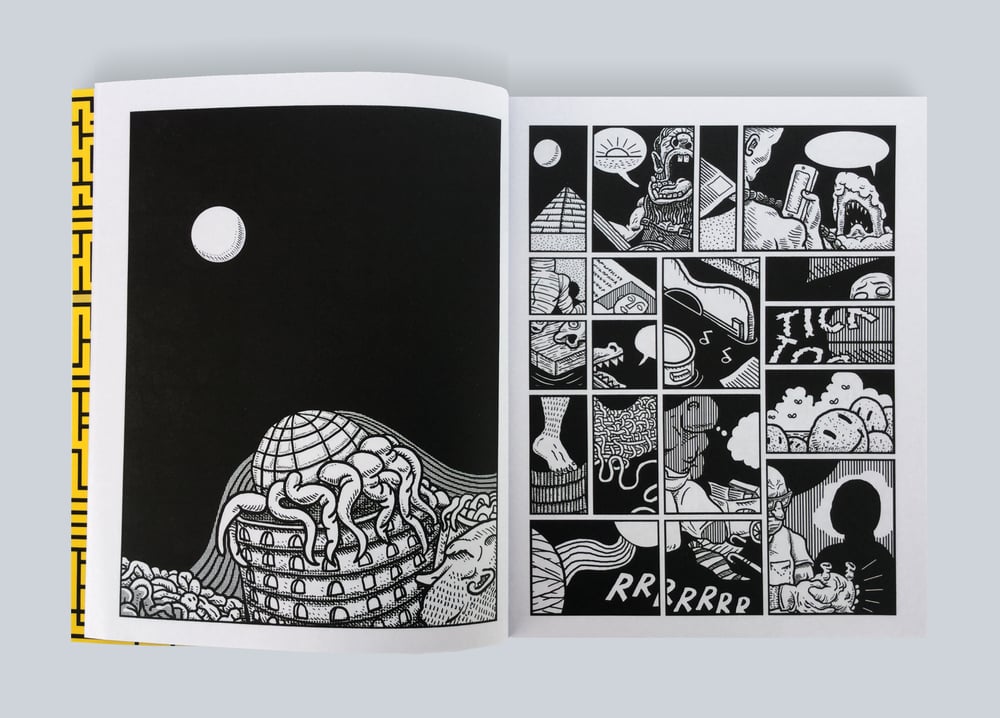 Carruthers was nominated twice in this category for his work The Noiseless Din and The Desecration with Sally McKay. The style of illustration and subject matter in both these pieces stand out for their curious and perplexing tones.
The Noiseless Din allows the reader to explore the book with autonomy, giving them room to incorporate their own meanings as they read along. This makes for a unique experience for any reader each time it's read.
"For many years, my work has focused on narrative in one form or another. Video games, RPGs, board games and Choose Your Own Adventure books all influence me … I was attempting something similar in The Noiseless Din, a non-linear format whereby readers can start anywhere in the book and go in any direction, making up their own narrative as they go," Carruthers says.
The Noiseless Din was inspired by classic Surrealism techniques, but uses the language and vocabulary of comics, he says. "Stylistically, my work is influenced by Hardcore Punk posters and album art as well as the trashy black-and-white horror comics published by Eerie Publications, which I devoured regularly as a kid."
"This is my first book. To see the quality and hard work displayed by the other nominees and TCAF artists is humbling, to say the least."
Visit the Doug Wright Award Foundation website and Youtube channel to see this year's nominees and get a closer look at talent within Canada!