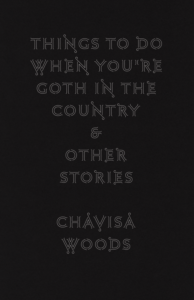 Things to Do When You're Goth in the Country & Other Stories
Chavisa Woods, 224 pgs, Seven Stories Press, $29
Goth has had an unnaturally long lifespan for a subculture. Where other cadres of outcasts and weirdos have come and gone, goth has stuck around and made a home. Art like Chavisa Woods's Things to Do When You're Goth in The Country might be the reason for that.
Woods' short story collection is a dry-witted, often tender-hearted addition to the coming of age genre. Her cast of primarily queer outsiders grow up in rural Illinois under the shadow of the so-called War on Terror and Christian fundamentalism. They huff whippets, hunt ghosts, and watch as their friends pass away or move on. As one narrator notes, "one student in my school would die, and also, one girl would get pregnant, so I guess it evened out. It was a stable population."
Woods is often sympathetic, but never fully indulges in nostalgia. That's partly because violence is a regular, under-lying presence haunting characters' lives, and it's rarely sidelined for a neat conclusion or an overwrought life lesson.
This is at its most absurd in "A New Mohawk," in which a small-scale flesh and blood replica of the Gaza Strip sprouts out of the protagonist's head. Woods quickly ditches the novelty of her premise, opting instead for mundane consequences.
Woods' gallows humour effortlessly balances the punk absurdity of these moments with the measured sincerity of growing up, enough to make a trip home to rural Illinois worthwhile.