Saturday, October 1st at the Toronto Reference Library
789 Yonge St, Toronto
This year's Canzine is set to be the event to-end-all events. We have an incredible lineup of speakers, artists, and zinesters at both Toronto and Ottawa Canzine. Get hyped!
See event description for time and location
"From a Friend of a Friend": Making Games Out Of Urban Legends with Kaitlin Tremblay
10:30 am – 11:30 am
Learning Center 1 (1st floor)
Horror writer and game developer Kaitlin Tremblay will lead a talk and a workshop on creating small games based on urban legends. The talk portion will examine key components of popular urban legends, and then the workshop will focus on how to translate these components into the structure of a video game, with a focus on narrative and game design and paper prototyping.
*Masks will be required for this workshop
Kaitlin Tremblay (they/she) is a horror writer and game developer. They've worked across the video game industry on games such as Watch Dogs Legion (Ubisoft), Grindstone (Capybara Games) and A Mortician's Tale (Laundry Bear). Kaitlin's personal game work has focused on exploring horror to talk about difficult subjects.
Their (fiction and nonfiction) writing has appeared in a variety of online and print publications, including Lackington's, Rue Morgue, and Broken Pencil. They are the co-editor of the Shirley Jackson Award-nominated anthology Those Who Make Us: Canadian Creature, Myth, and Monster Stories (Exile Editions, 2016) and are the author of Ain't No Place for a Hero: Borderlands (ECW Press, 2017).
Kaitlin's full work can be found on their website: www.thatmonstergames.com
Horny for Charity with Eunice Lai
11:45 am – 12:45 pm
Hinton Stage (3rd floor)
A workshop giving tips and tricks on how to run a charity collaborative zine. From gathering participants, running a discord server, managing the contributors, setting deadlines, choosing and researching the chosen charity and other relevant information. Anyone can make a charity zine!
Spots are first come, first serve!
Eunice Lai is an illustrator that lives in the Greater Toronto Area. She has worked with Collective Arts Brewing, OCAD Student Union, POMEmag, local wrestlers, and often joins zines she finds fun. Eunice also releases self-published zines as well as organizes collaborative charity zines. Her latest one is "Horny for Charity".
See more of Eunice's work at https://eunicelai.format.com/ or on Instagram @doyoulikeketchup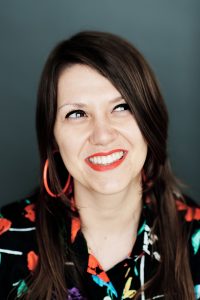 Tarot Card Creation with Liz Worth
1:00 pm – 3:00 pm
Learning Center 1 (1st floor)
Tarot cards have fascinated us for centuries. From divination to self-exploration, tarot holds many modern uses and continues to capture the imagination of artists, occultists, and everyday people who are searching for deeper meaning. Join tarot reader Liz Worth as she walks you through the power of tarot and shows you how to make your own tarot card for meditation and personal reflection. By creating your own card, you will be able to make one that speaks to you!
Spots are first come, first serve, and materials will be provided.
Liz Worth is a tarot reader and author based in Hamilton, Ontario. Her latest book is a vampire novel called The Mouth is a Coven, published by Manta Press.
Reach Liz at lizworth.com or follow her on Instagram at @lizworthtarot.
Open Mic Readings
3:00 pm – 3:45 pm 
Hinton Stage (3rd floor)
Want to share your work with the Canzine crowd? Stop by the Hinton stage and pour your heart out for 2-5 minutes! Readings can be from zines, books, poems, etc. Really anything, as long as it was written by you. 
Spots will be available day of, but if you want to be at the top of the list, sign up here! Please note that we might not be able to get to everyone! 
Pulp Fiction: a panel with authors Samantha Garner, Terri Favro, and Jason Smith
4:00 pm – 5:00 pm 
Hinton Stage (3rd floor)
Hear three authors who are pushing the boundaries of genre read from their books and discuss what it means to take "pulp" seriously. This panel will be moderated by Broken Pencil's own Maria Cichosz! Maria's first novel, Cam & Beau is the emo stoner bromance you didn't know you needed. 
Samantha Garner is the author of the literary sci-fi novel THE QUIET IS LOUD. Her short fiction and poetry have appeared in Broken Pencil, Sundog Lit, Kiss Machine, The Fiddlehead, Storychord, 
WhiskeyPaper, and The Quarantine Review. She lives and writes in the Toronto area. THE QUIET LOUD is available for purchase here. 
Terri Favro is a novelist, blogger and storyteller who loves writing about migration, comic strips, superheroes, robots and weird science. Her most recent book is The Sisters Sputnik, sequel to Sputnik's Children (a Globe100 book, long-listed for CBC Canada Reads). Terri lives in Toronto where she collaborates on graphic novels with her visual artist husband. Her book is available for purchase here. Check out her blog at terrifavro.ca 
Jason Smith is both a writer and a hardcore fan of baseball. He was born and raised in Scarborough, and his fiction reflects the sights and sounds of the place in which he grew up. The Closer is his debut novel and is available for purchase here.
Make Your Mark! Drop-in Zine Making with Pauline Aksay
10:00 am – 3:00 pm
Main stage (1st floor)
*Please note that the stage has two steps up to it, and no ramp is available
It's time to make your mark on Canzine Toronto 2022! We're creating a large-scale zine and want you to add to it by crafting alongside the community. Produce your own free-form, imaginative response to the prompt "the day the pencil broke" using drawing, collage, stickers, and/or writing.  This big ol' zine will be displayed at Canzine Ottawa in November!
Please note that no sexist, racist, homophobic, transphobic, ableist material will be accepted. 

All materials will be provided. Bring your creativity and get ready to make!
Pauline Aksay is an interdisciplinary artist, storyteller, and zine-lover based in Toronto, Canada. She has experience in writing poetry, digital animation, and illustrating children's books and has previously written and illustrated two self-published children's stories. Aksay crafts zines about mental health, imagination, and the limits of memory. She hopes to inspire compassion and understanding in those engaging with her work.
Canzine features a number of micro exhibitions from independent artists
Recovery by Lisa Mandel
Broken Pencil and Alliance Française have been working together to produce an exhibition of French comic book artist Lisa Mandel's project Se rétablir. 
Canzine Toronto will offer a sneak preview of the full exhibition, to be displayed at the Pierre Léon Gallery from October 31st – November 19th, 2022. 
Se rétablir (Recovery) is a project that Lisa Mandel has been working on for several years with the concept of mental health recovery. It will be published in 2022. Everyone deals with mental health, and sometimes, it can play tricks on us. Recovering is the notion of living a happy and fulfilling life with a mental disorder. It teaches us that recovery is not about healing our mental health, but about living with it. Recovery is also a lifetime of work: getting to know one's disorder (again), understanding it, taming it, finding support, regaining one's decision-making power… This book recounts stories of those directly affected by mental health. Available in French and English, Romain's experience with hearing voices proves that we are not solely defined by our neurodivergence, and that with the right support, we can overcome it. This project is also a tool to fight stigmatization and preconceived notions.
For more info about the exhibition visit https://www.alliance-francaise.ca/en/art/2022-2023-season/exhibitions/30-recovery
This project is presented with the support of the Consulate General of France in Toronto.
Avec le soutien due Consulat Général de France à Toronto.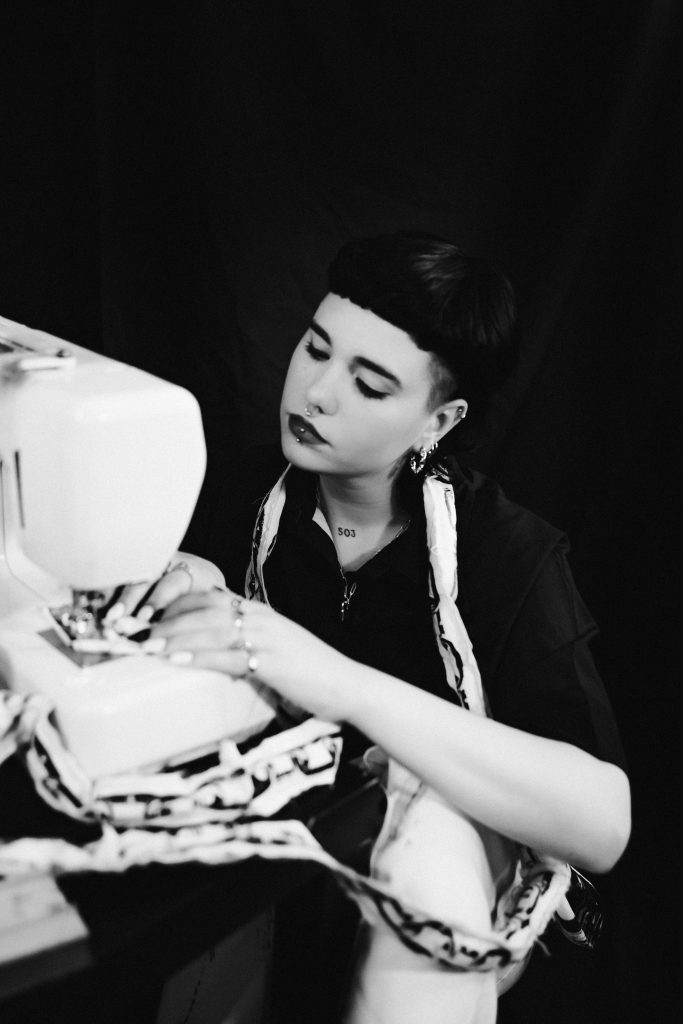 Soft Sloppy Stories – Olivia Mae Sinclair
Typically books made from fabric are intended for children and infants. Olivia Mae Sinclair's books however are made for lovers, survivors, artists, her, him, them and me. Sinclair analyzes the emotional implications of power and sex between female and male identifying individuals. The form and shape of the books demonstrate the theme of deterioration through manipulation such as cutting, ripping, and fraying. Techniques include are screen printing, sewing, and machine embroidery. Overall, her question remains; how do we read with our entire body?
Olivia Mae Sinclair is a textile-book artist. Her intuitive and trauma-based practice is guided by sloppy craft and imperfection. She is addicted to infatuation and Redbull. She is a maker of books, love and other grotesque things.
She has recently graduated from OCAD University's Interdisciplinary Master's in Art, Media and Design program. She earned her Bachelor's degree in Craft and Design at Sheridan College.
Instagram: @OliviaMaeSinclair
Twitter: @OliviaMSinclair
Website: www.oliviamaesinclair.com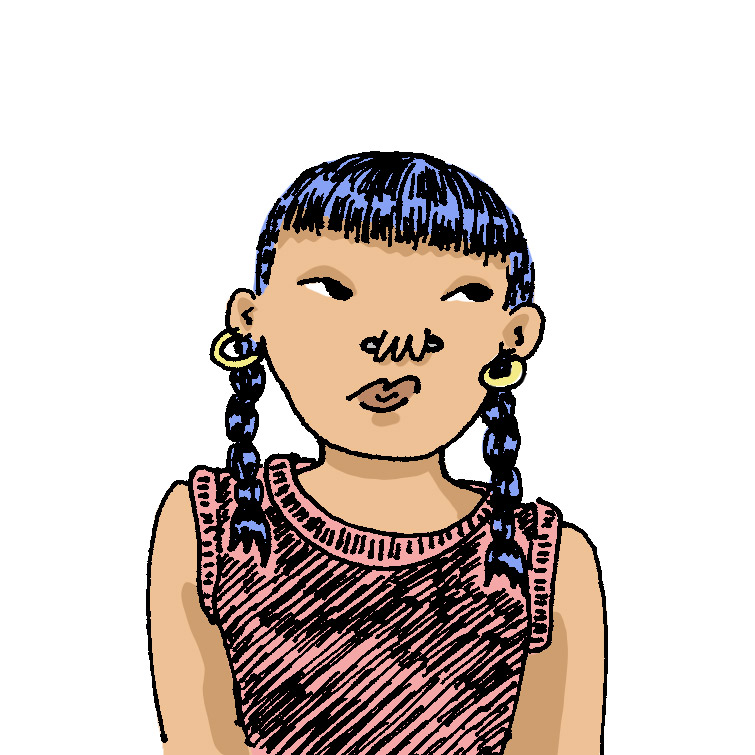 Women of Colour in Punk History – Julia Mata
Julia's drawings are an ongoing series of different women of color in punk and alternative music history – a way of admiring these artists and commemorating their ingenuity. As she has been drawing and researching for this series, the theme of careers being cut short (in the sense of major recognition and industry support) by the deep racism and misogyny of the industry is often recurring. Julia offer these drawings as a wish for longevity and support for the next generation of femme music weirdos. Artists featured: Annabella Lwin, Deborah Iyall, Kelli Ali, Norma Tanega, Poly Styrene.
Julia Mata is an illustrator, comic book artist, and event producer from Southern California with familial roots in Central America and the Eastern European Jewish Pale of Settlement. The illustrations and comics she creates center equity, representation of women of color, and nuanced narratives with space for joy, beauty, and emotional growth. Julia works predominantly in comics, books, and DIY publications as both an art form and an ethos, aiming for easily distributable access to their work as print media in non-art spaces.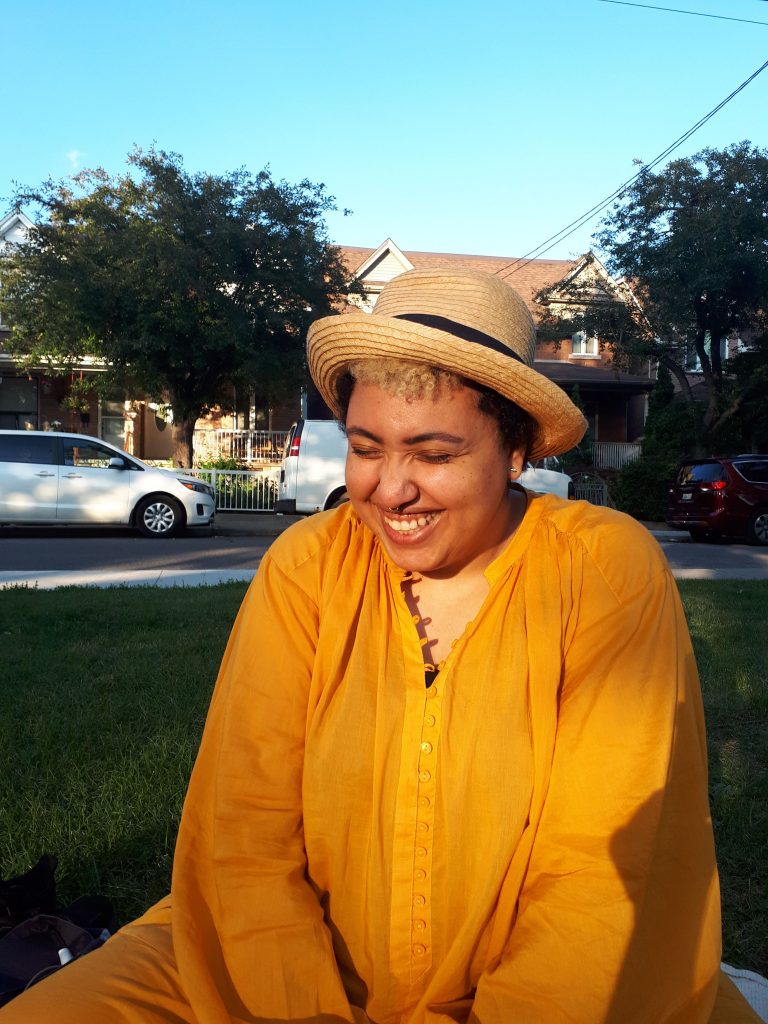 Cleopatria Peterson
Cleopatria's work ranges from printed media to detailed illustrations to written humour. Currently they are exploring how printed matter can be used to create physical objects that subvert our world in playful ways, such as HRT juice boxes or emotional labour invoices. They hope to make folks consider aspects of how they navigate a world that is often racist, transphobic and inaccessible. They love to illustrate detailed environments and explore how a body can fit in the natural world and how that is often more caring than the current capitalist structures we exist in. In their writing they like to explore themes of love in all of its forms. Their work is multi-disciplinary and pushes against boundaries often imposed on us. They love to encourage all folks to create the art they want to see in the world, and strive to dismantle white supremacist ideals that often make folks feel they can't make art.
IG: @cleopatriia
Website: https://www.cleopatria.ca/