Five illustrators offer snapshots from the front lines of political action in 2020
This section is typically where artists diagram their personal workspace. But nothing is typical now! Last issue, we changed up the Art Holes section to reflect the realities of COVID-19 and our changing relationship with space.
This time, we reached out to illustrators documenting and organizing on the front lines of so many struggles that are vivid right now — defending Black lives, disrupting the racist echelons of art, building tenant power in a housing crisis, protecting Indigenous land through direct action, and of course, the escalating violence of militarized police, all in the context of a pandemic.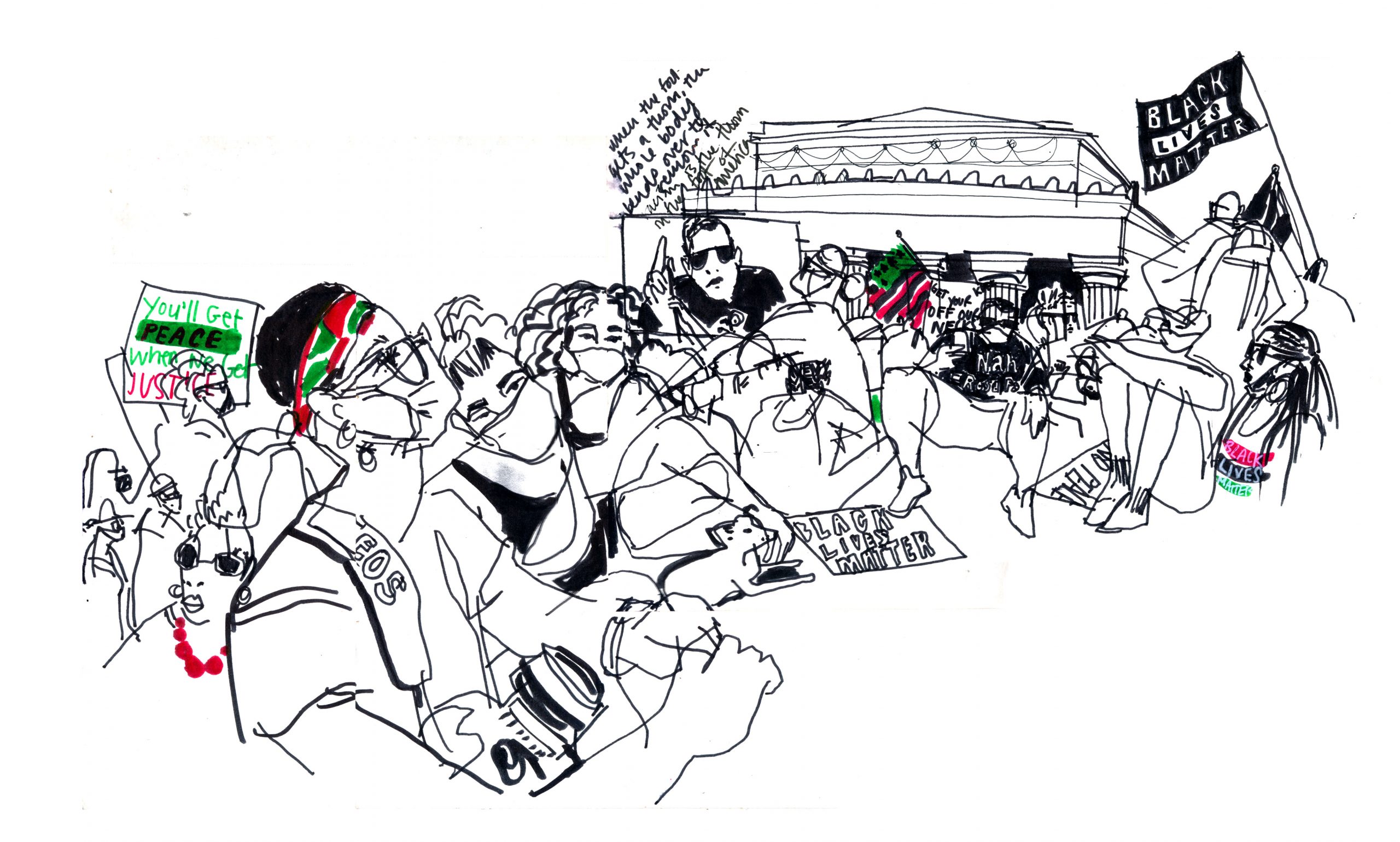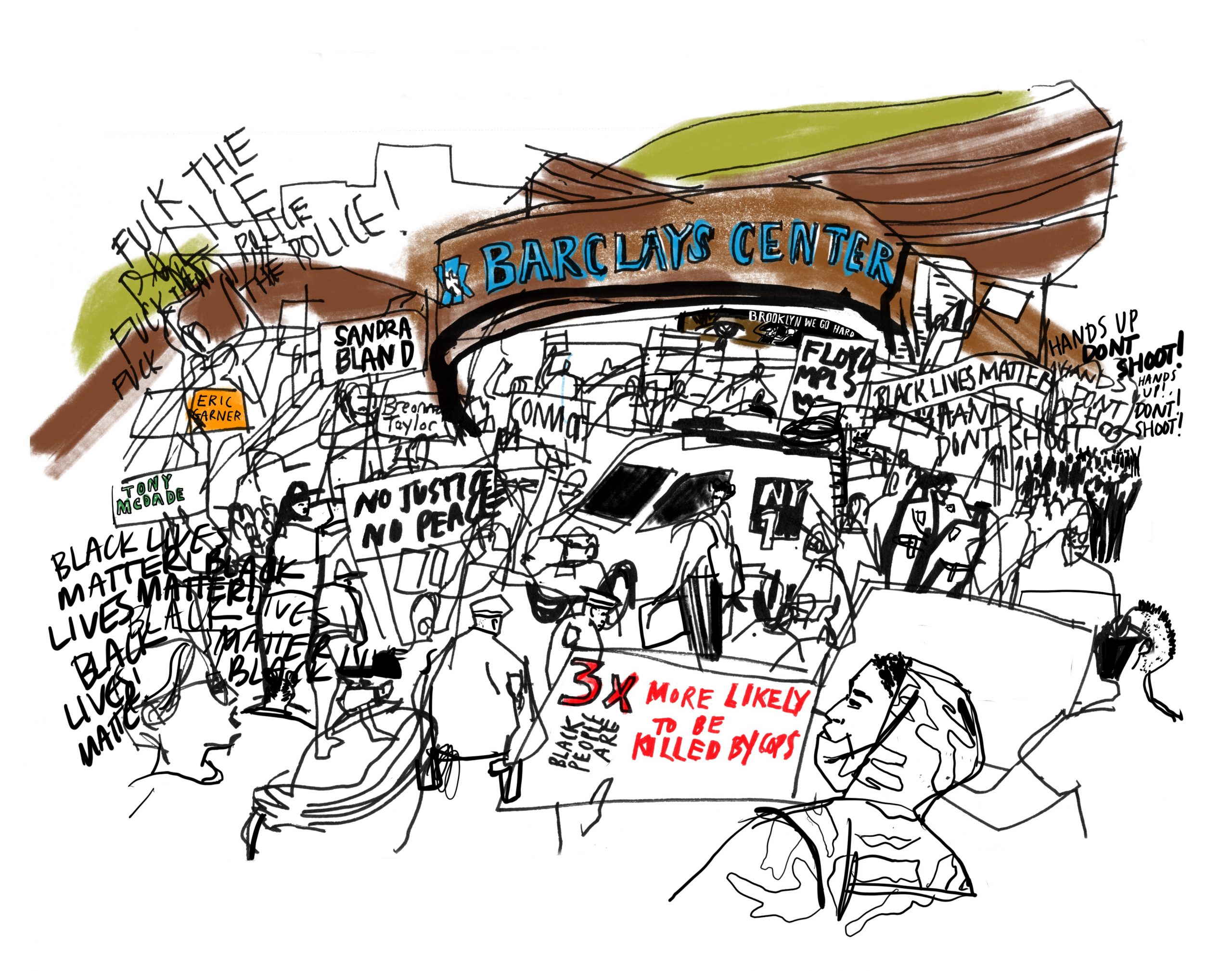 Carly Larsson (Brooklyn, NY) Carly Larsson is a reportage illustrator who has been documenting protests since the Millions March for Eric Garner in 2014. These are two protest drawings from the summer of 2020, depicting separate but deeply connected scenes in New York City and Washington, DC. Follow @carlylarsson or check out carlylarsson.com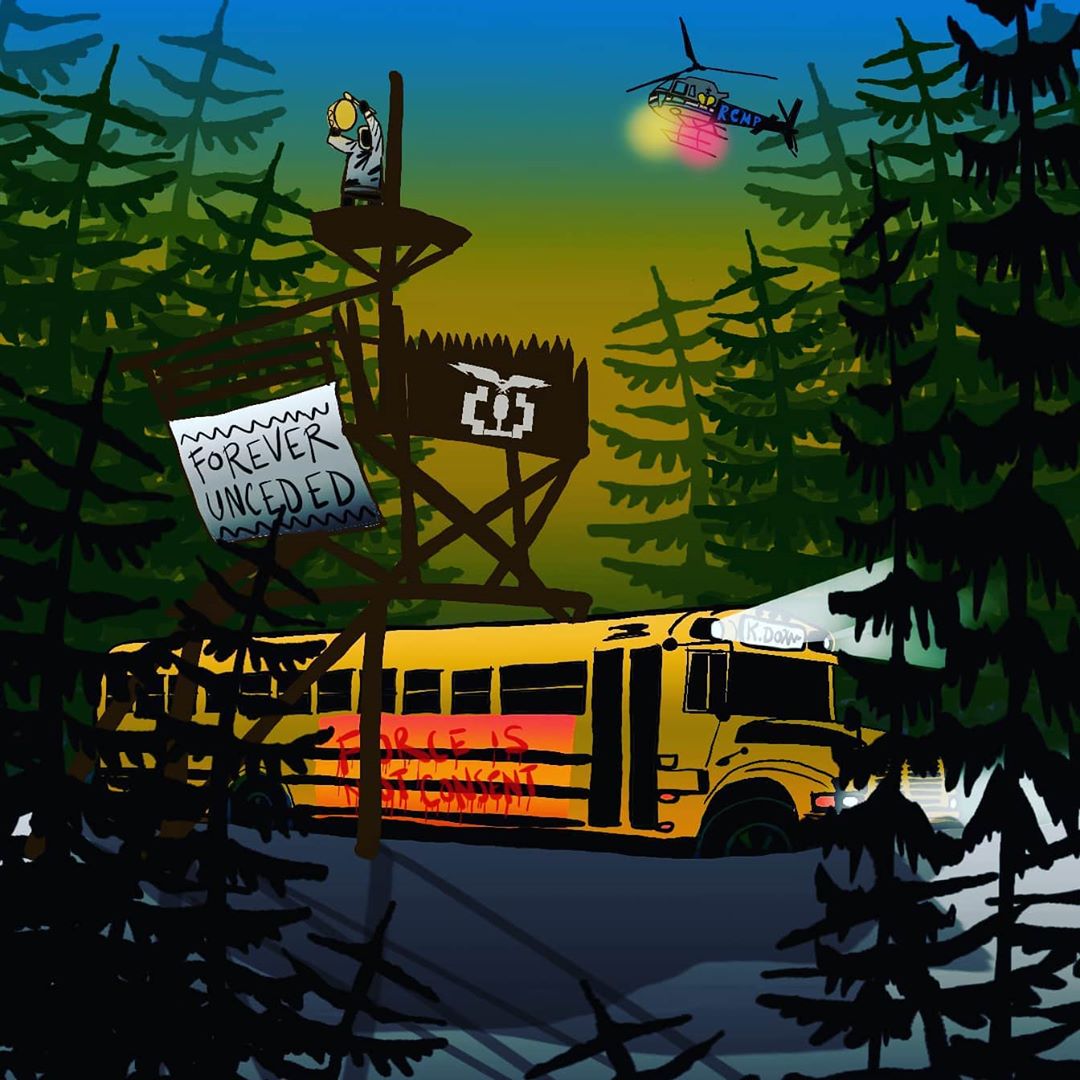 Karl Dockstader (Six Nations of the Grand River; Niagara Falls, ON) Since July 19 of this year, a stretch of unsurrendered Haudenosaunee land near Caledonia, ON, has been reclaimed by Six Nations community members and their supporters. Dubbed 1492 Land Back Lane, the strip of land was slated for development by developers Foxgate, Losani, and Ballantry, before 1492 Land Back Lane came to be. Several failed police raids and many arrests later, the camp remains in place at the time of publication.
In September, the OPP charged Oneida journalist Karl Dockstader with criminal mischief for reporting on the matter. Allegedly, live videos posted via One Dish, One Mic, a radio show he co-hosts, were alleged to be "off-limits" under a court injunction, even though Dockstader is a journalist. The 2020 CBC Indigenous Fellow and community worker has also produced a number of these original images depicting the struggle at 1492 Land Back Lane. The image of the excavator and school bus, already emblematic, have become iconic since the land defenders added a school bus to their road blockade and excavated a portion of McKenzie road in the early hours of Oct. 23.
Follow @KarlDockstader on Twitter and read his firsthand account at fenfc.org/1492. Donations toward the legal defense for 1492 Land Back Lane can be sent to land – [email protected]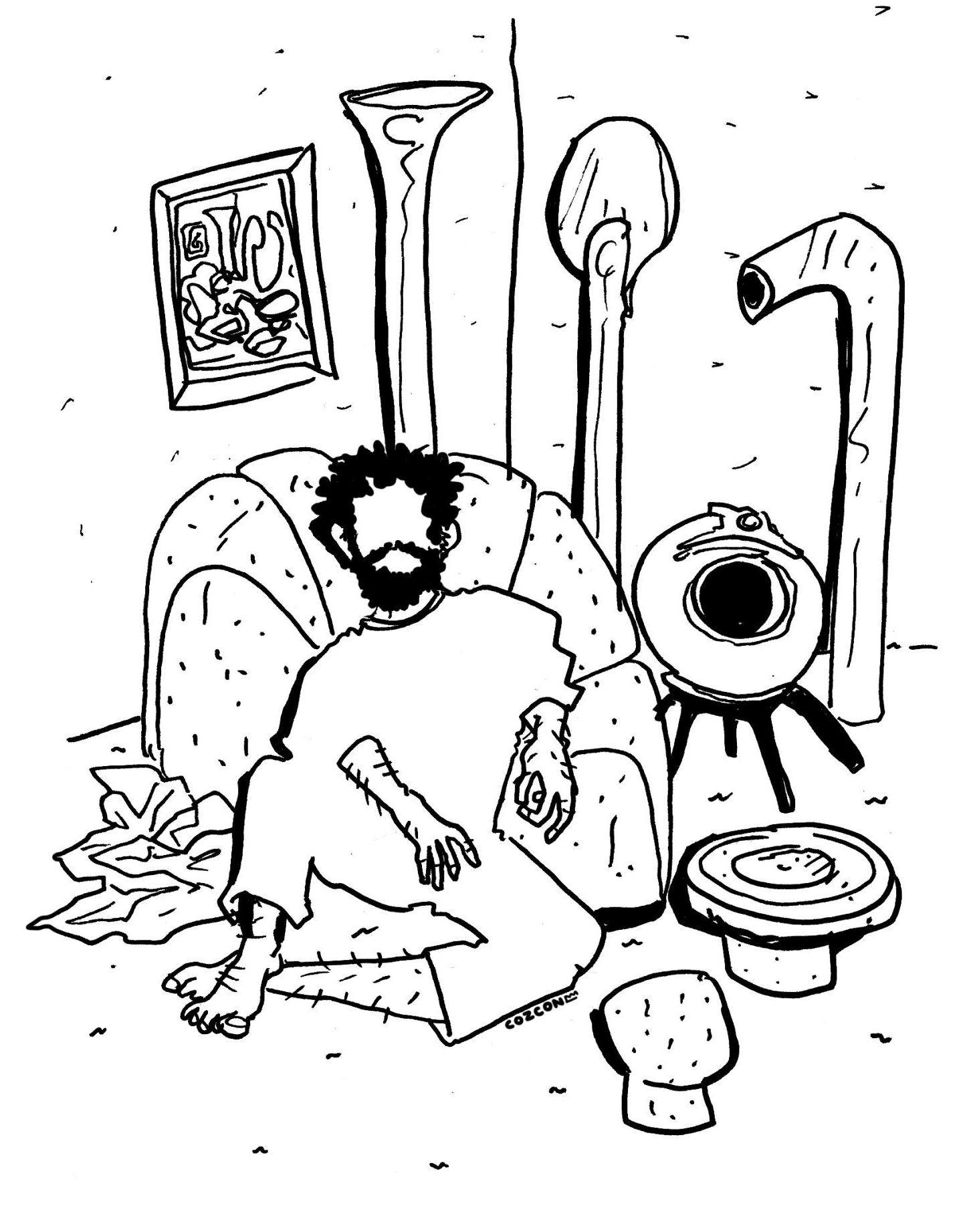 Cozcon (Los Angeles, CA) Cozcon is a queer Black visual artist and style genius known for vibrant and confrontational images of defiant bodies. Broken Pencil approached him on the off chance that he had some spatially-driven work as well. Little did we know, Cozcon had plenty of recent studies and drawings of interiors, mostly unpublished. These are two.
"I am constantly thinking about the way that Black people are positioned in contemporary art," the artist explains. "We are often denied inclusion when it comes to abstraction, subversion and innovation, beyond acting as accessories always just garnishing. When I draw these conceptual interiors, it's my way of claiming modernism because I know it wasn't meant for me to engage with at its inception."
Follow @cozcon and @cozcomme on Instagram.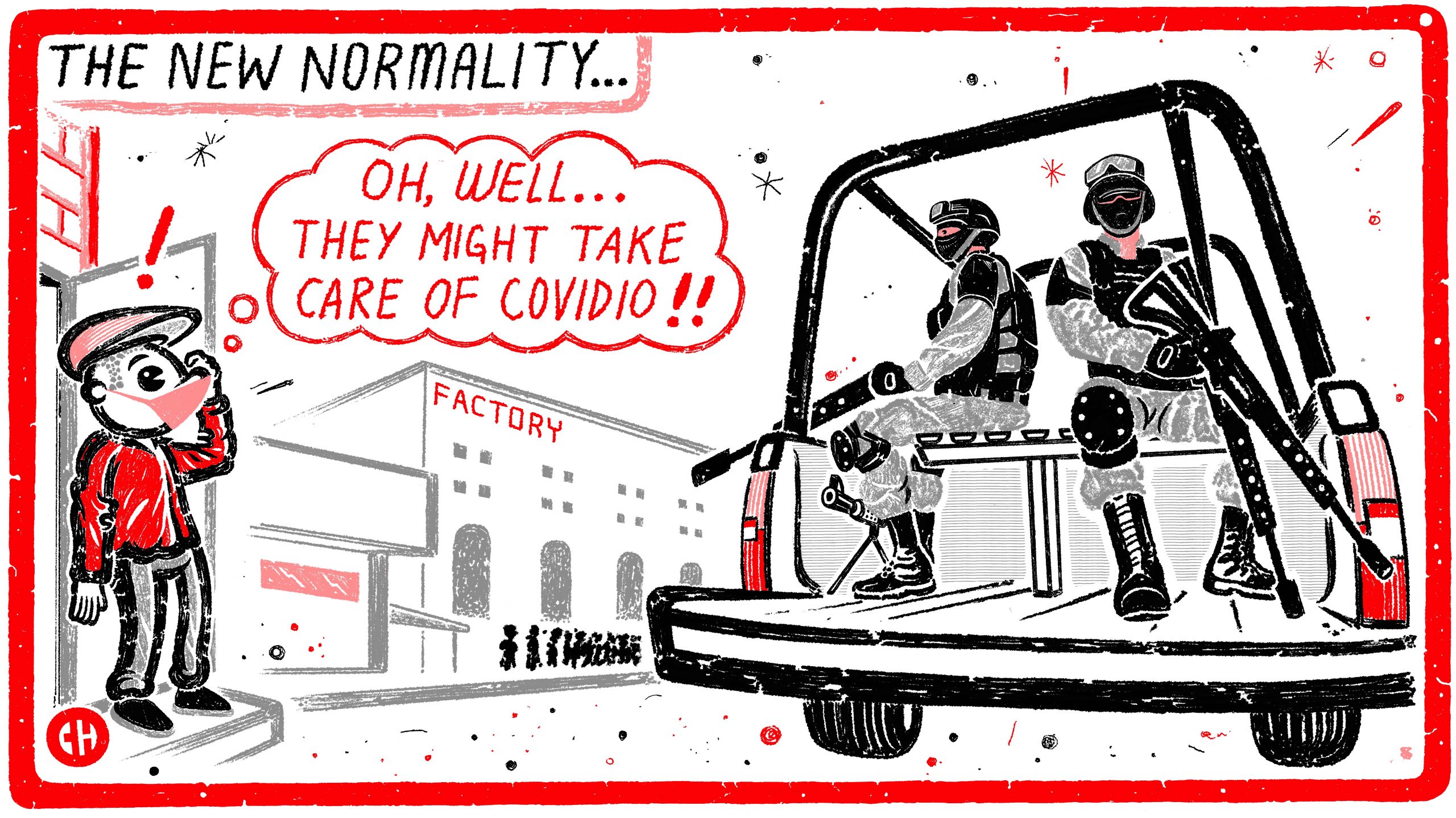 CHema Skandal! (Chicago, IL) CHema Skandal! is a Mexican artist based in Chicago, IL. His prints blend iconography, political commentary and the music scene. He co-organizes Chicago's wandering bilingual zine fest, ZINEmercado. He shared these insights about the above piece:
"We're living through strange times, watching authoritarianism deepen worldwide during a global pandemic. But we aren't just observers. We experience this, and we make choices everyday. We shall not be silent, we shall not be violent. We will have to work together if we want build instead of destroy. We have a choice about what the New Normality looks like — and I sure hope we don't fall back on the Old Normality. That was the problem."
Follow @chemaskandal on Instagram and Twitter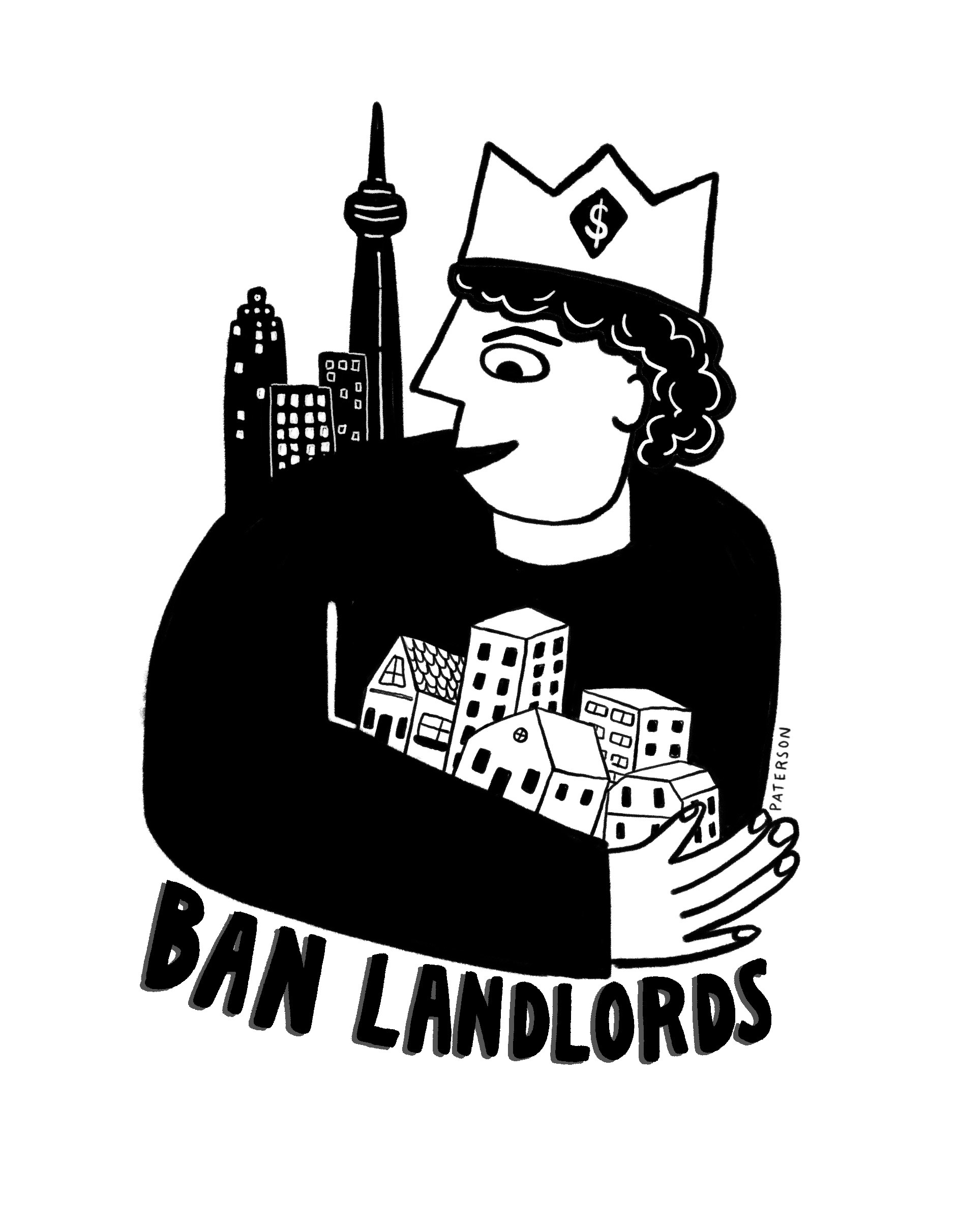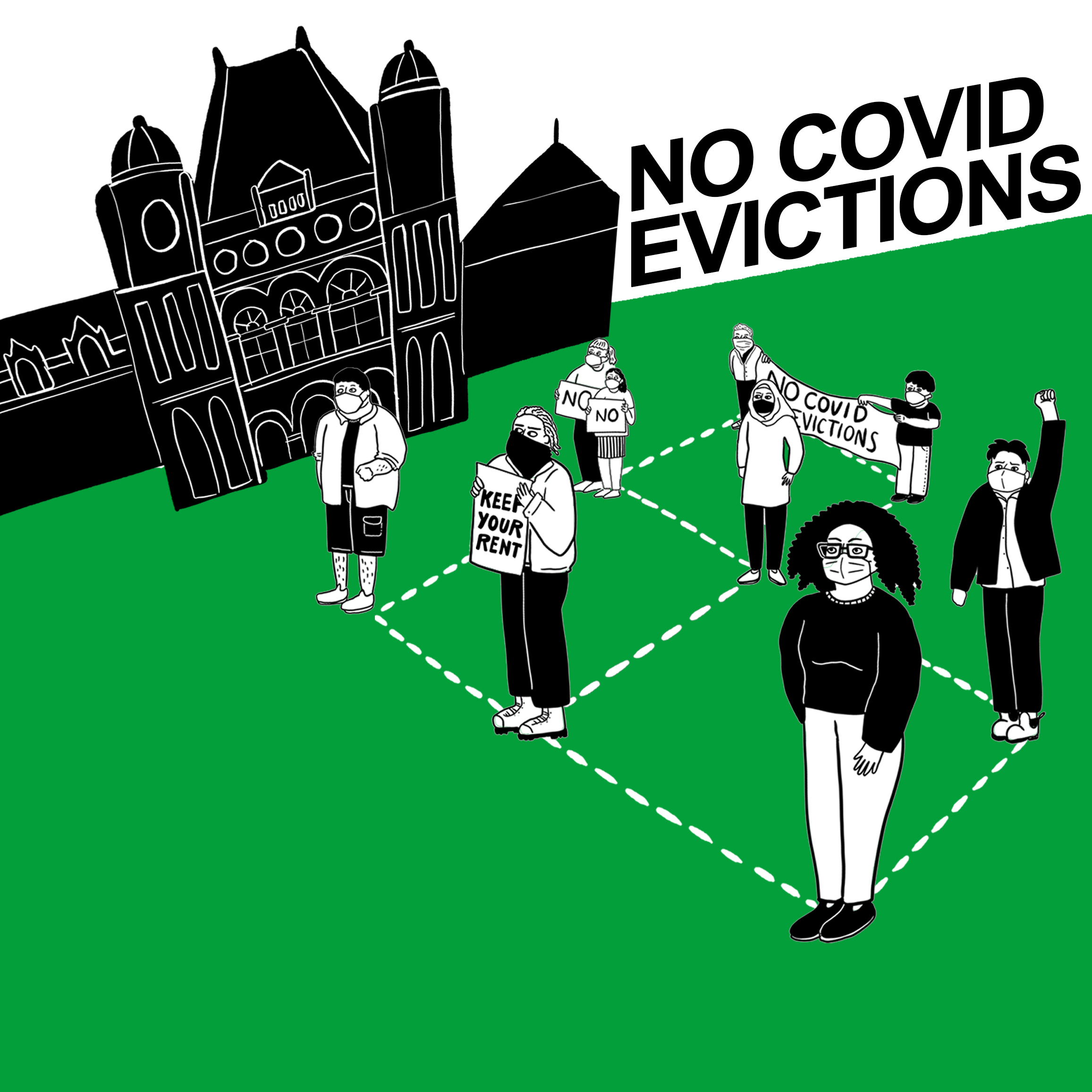 Paterson Hodgson (Tkaronto) Paterson Hodgson is a queer freelance illustrator, comic maker, poster artist, and printmaker living in Toronto. They also organize with their neighbours around housing justice and tenants' rights in the west end neighbourhood of Parkdale. These are just a few of the images that have been used for posters, pamphlets, meeting notices and outreach.
Follow @patersinister or check out patersonhodgson.com.