Across Canada, writers, illustrators, craftsters and zinesters are feeling the pinch (or throttle) of the recession. But before you get panicky and scrap the attic soap-making business, remember that not all bad news is the sign of a weak economy. If a project dies, it often has as much to do with the daily slog of being an underpaid, underappreciated artist than it does with the recession. Many find new life for their projects online. Others think losing more money too daunting and close shop temporarily. Either way the indie and DIY communities are well acquainted with a minuscule bank balance and a Mr. Noodles diet  aren't we the best prepared to weather the storm?
Amy Johnson
Since arriving in Montreal three years ago, Amy Johnson has become a champion of the city's DIY scene. She started her own boutique, Atelier Woodenapples, and Pomme Pomme Craft & Zine Fair. Despite workshops on recession-proof projects like handmade underwear, Woodenapples closed in January 2009. Just as her storefront shuttered, Johnson started an online shop, Paper and Pine, with her co-curator at Montreal's Puces Pop, Jenny Lee Craig. Johnson also writes DIY newsflashes at the upstart Montreal blog Inside the Frozen Mammoth, run by Sean Michaels of Said the Gramophone fame.
Recession Thoughts: "I probably made no money on about five days of the year and a half I was open and those days are just as bad as the days when you make $10. I remember having a conversation with my mom and being like oh, recession, whatever! My customers are 20-somethings who have the same pay as last week.' Obviously, that's a really naive position. It affects everything. I don't think craft businesses have to go away, but they have to play it safe and go on the back burner for now. I miss the freedom of having my own space because now I have to get a real job."
Louis Rastelli
Montreal's quintessential underground writer, Louis Rastelli is known for his popular Fish Piss zine and organizing Montreal's Expozine. His first novel, A Fine Ending (Insomniac Press, 2007), shows Atwood-style clairvoyance: the novel follows a group of artists through Montreal's harsh recession in the 1990s. It just might be the perfect roadmap for indie kids charting the current economic shitstorm.
Recession Thoughts: "The funny thing about the economic crisis is that a lot of artists and writers don't notice it. Their life is always the same: they're really poor. They either have welfare or a job or some under the table way of getting money. You do your music, your writing, your art, the years go by.  Until their own cafes lay them off, they'll think [this recession is] full of shit. I'm writing a new book right now and trying to decide on a publisher who will make it through the recession. There's a damn good chance many won't be around in a year or two. If there's one thing we learned in the '90s recession, it's that there's certainly no less underground publishing, writing, music or film. No one had money to buy magazines off the newsstands, but everyone would come to the local zine launch and buy the zine for a dollar or two. When times get that tough that fast, that's when people have the time and motive to sit down and make something themselves. DIY gets a big boost. There's nothing wrong with having a lot of time."
Spencer Gordon & Tyler Willis
The creators of The Puritan, Ottawa's-little-literary-journal-that-could, halted its print version late last year after a seven-issue run. The pair started the journal as Ottawa's only quarterly devoted to prose, but after acknowledging insurmountable debts and a lack of advertising money in their new Toronto home, The Puritan's lovingly bound books went on hiatus. The two admit the recession contributed to the death of the print issue, but characterize the final months of the journal as a "train heading toward a wall." Gordon and Willis are planning to publish the next few issues online. They guarantee a printed Puritan comeback sometime in the near future.
Recession Thoughts:
TW: "What's cool is if we put out issue eight, nine and 10 online then it will seem like we've done a lot more when we get back in print."
SG: "We went out one day in Toronto to test the waters for advertising, but the overwhelming response was money's too tight."
TW: "It's more depressing than you can imagine. You get one in 20 [of the people you approach]. The rest is just all these rejections weighing down on you. You want to think that you're doing something popular or at least important."
SG: "There's a certain rejection of making money on a journal. There's this avant-garde, anti-bourgeoisie sense of I'll make no money and I'll die in poverty of syphilis charged with obscenity. Well, I don't want to break myself financially."
Kait Kucy (AKA kaitkaboom)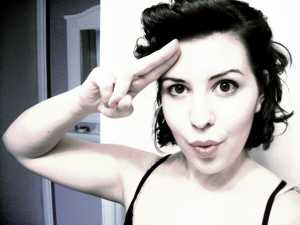 The Queen Bee of Calgary's independent art scene, Kucy (pictured) is a tireless promoter of local artists and a net worker extraordinaire (over 700 Facebook friends!). She's self-published her work for over a decade, starting with a homemade newspaper at age nine and founding KitschyKoo! Subcultural Lifestyle Magazine in November 2006. The mag keeps tabs on all things creative with coverage of local art, design and music. Recently, Kitschykoo! cut costs by switching to a cheaper, tabloid-size, black-and-white format. The larger size allows for longer articles, but means no more glossy pics of local artwork.
Recession Thoughts: "I'm re-launching [Kitschykoo!] in a new recession version with a 'No Colour Ever' sticker on the front. It's a joke: an art mag with no colour! This is a positive move cause I can save money and give Kitschykoo! away for free. It was $5 before, but if I don't want to pay for things and nobody else does then they shouldn't have to. I'm worried about what will happen if the oil industry disappears because there's no other industry in Calgary. The music and art scene is building momentum right now and might have the opportunity to take over the city. That's my utopian view on the recession."
Tracy Stefanucci
One of the founding editors of one cool word, Tracy Stefanucci's Vancouver mag covers underground artists, musicians and writers. Now heading into its fourth year, ocw is volunteer run and features exclusively Vancouver content (excluding its one-off "Toronto vs. Vancouver" issue). Sales have suffered in the last few months, so Stefanucci is scaling back the mag's colour and reducing the price. The budgetary move also allows ocw to publish 20 more pages of Vancouver writing in upcoming issues.
Recession Thoughts: "ocw had a pretty unique start. Publishing guru Stephen Osborne from Geist recently pointed out to me that we did it backwards. We started producing a magazine, and three years later are trying to work on selling subscriptions. I may be naive and in for a big shock when the recession hits full force. Regardless, I don't think indie print media would be unable to resurrect itself post-recession if it does die. In fact, I think it would be downright impossible to stop indie print media from coming back to life. Maybe ocw will turn into a hand-made black-and-white zine that I write and illustrate myself and staple together in my basement suite between long shifts at the local greasy spoon. But I think the kind of heart and soul that fuels ocw has nothing to do with money."