A kid in Ohio sneaks into the drive-in with a carload of friends to watch I Drink Your Blood. For the next few days, it's all he can talk about. Some older guy down the street comes back from summer vacation with tales of a splatterfest called Blood Feast. No one believes him as he breathlessly describes the gore. Make plans to catch the last showing of Carnage, doubt that you'll ever get the chance to see it again. Come the weekend, the film is gone; vanished without a trace.
Horror fans once scoured the pages of TV Guide for signs that an Al Adamson movie might run at two in the morning. Things have changed. Want to see Cannibal Holocaust in 4K? Buy the Blu-ray. Want to gather information on the cast and crew of Fascination? Check the IMDb. Want to watch an interview with Jess Franco? Hit up YouTube. You can watch Blood Sucking Freaks on your phone. 
There once was a time — not too long ago — when access to information was not just a click away. If you wanted to read up on science fiction, horror, exploitation movies or some oddity you were watching, well… you were likely shit out of luck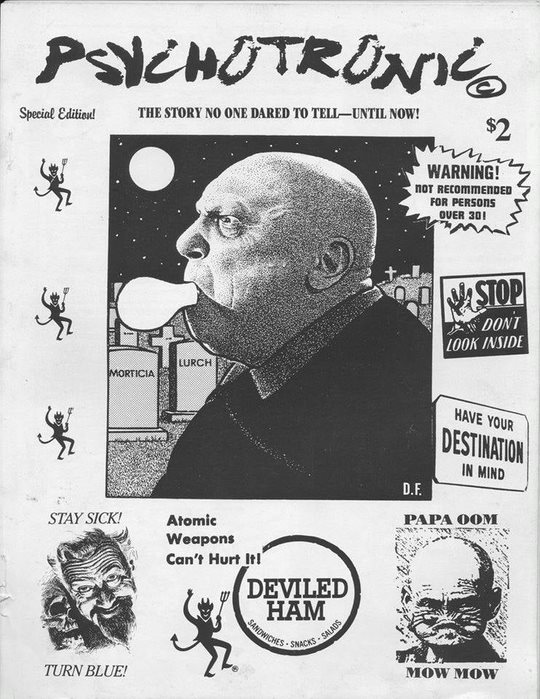 Sure, there was Famous Monsters of Filmland, the magazine published by James Warren and edited by Forry Ackerman. But that was, for all intent, written for children. Countless spin offs flooded the market, but to what end? Serious discourse on what most people considered "schlock" was as rare as hen's teeth. 
In 1979, Fangoria — a glossy NY slick devoted to splatter films — hit newsstands across America. The magazine quickly found its audience and was a major success. Fango, as fans call it, covered lurid territory that Famous Monsters wouldn't touch with a 10-foot pole, nevermind print it in colour. 
Fango editor Bob Martin befriended New York scenester Ann Magnuson. Once a week, the 'Monster Movie Club' met in her basement space (the legendary Club 57) on St. Mark's to screen horror movies.
Martin told me, "There were a lot of guys involved, either directly or tangentially who contributed to the whole cultural stream." 
Michael Weldon, a friend of Bob Martin's, was a regular fixture. So were two bright young sleaze hounds named Bill Landis and Rick Sullivan.
"Anybody who had an opinion could say something," remembers Martin, "the next thing you knew it might be repeated in the fanzines or in Fangoria. Those get-togethers gave things a life that couldn't be reproduced today."
In 1980, three zines hit the streets of New York like a bomb. Edited by Michael Weldon, Bill Landis, and Rick Sullivan respectively, Psychotronic, Sleazoid Express and the Gore Gazette crawled out of the gutter to have a look around.
The sad glory of old New York radiated through Psychotronic's newsprint pages. Weldon, a transplant from Cleveland, started it as "a weekly, xeroxed, hand-lettered alternative to TV Guide." Weldon turned out to be equal parts American original, pioneer, and historian. After putting the zine on hold to write The Psychotronic Encyclopedia of Film, a second incarnation of Psychotronic rose from the ooze. The Psychotronic Video crew worked hard and conducted in-depth interviews with actors and directors like Sid Haig, Radley Metzger and Dario Argento. Before long, the word 'psychotronic' became synonymous with B-movies.
Weldon somehow found the time to open an honest to god Psychotronic store in the East Village. A shrine for a new generation of hip young film fans. Weldon went on to author The Psychotronic Video Guide in 1996. Today, he runs Psychotronic Records in Augusta, Georgia. 
The quintessential New York trash zine, Bill Landis' Sleazoid Express, slithered into existence as a one sheet, quickly growing in content and scope. Before long, Landis had commandeered a talented cast of contributors, including future Andy Milligan biographer Jimmy McDonough. 
Landis and McDonough took genre journalism to new heights with highly personal tales of New York's putrid Taxi Driver-era. Landis haunted the theaters and churned out countless reviews of the exploitation pictures that played along 'the Deuce.' As one might expect, the sordid surroundings were often stranger than what was happening on the screen. As time wore on, Landis became more and more entrenched in the vices of Times Square, becoming lost in a strange netherworld of sin.
Sleazoid Express bit the dust in 1985 but resurfaced in 1999. Landis went on to write two books (Anger: The Unauthorized Biography of Kenneth Anger and Sleazoid Express: A Mind-Twisting Tour Through the Grindhouse Cinema of Times Square) before the zine gave up the ghost in 2005. Landis passed away in 2008 at the age of 49. 
Scrappy, full of attitude and often drop-dead hilarious, the Gore Gazette burst onto the scene in 1980 as editor Rick Sullivan's answer to Sleazoid Express. Often compared to Sleazoid, the Gore Gazette was a different apple altogether. While Landis steered further and further into the slimy underbelly of NY porn, the right Reverend Rick extolled the healthy virtues of Italian gorefests like The Gates of Hell and Make Them Die Slowly.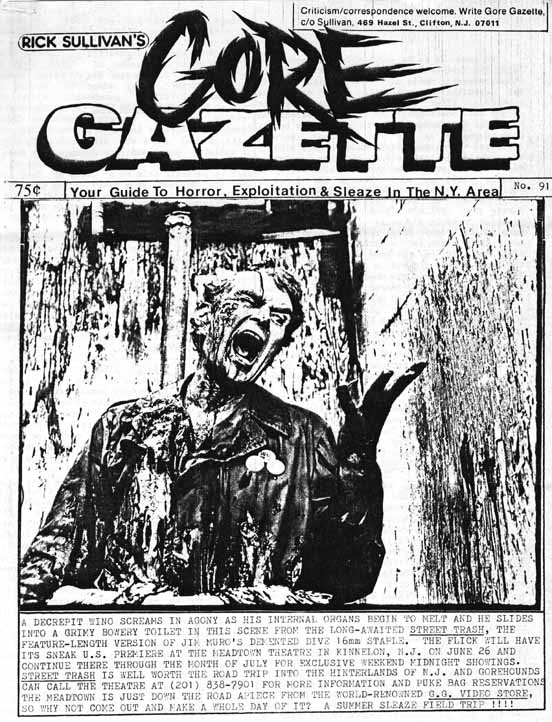 Raw, drunk, rowdy and fun, the Gore Gazette didn't necessarily have lofty goals. Honesty was its virtue. Sullivan put his money where his mouth was — even calling out Fangoria for questionable praise of the latest Hollywood disasters. 
Rick began to screen horror and exploitation films at a dirty little bar appropriately called The Dive. Filmmakers like Combat Shock's Buddy Giovinazzo and Street Trash's Roy Frumkes would show up to check out each other's work. He even joined forces with distributor Terry Levine and rode around on the infamous Butcher Mobile — a flatbed truck that ambushed the streets of Manhattan while advertising the release of Dr. Butcher, MD.
The Gore Gazette ran for an admirable 14 years before ceasing publication in 1994 with issue #110. Rumours still circulate as to what led to its demise. Some say that Sullivan was fired from his day job for using the company photocopier. Others speculate he sold illegal Traci Lords tapes on the side. Sadly Rick Sullivan passed away in 2017, taking all his secrets with him.
These fanzines made an indelible mark the world over — a feat for publications with print runs that could border on the nonexistent. Before long, slimy little zines like Subhuman, Deep Red, ecco, Shock Xpress, The Splatter Times, Trash Compactor, Magick Theater and Trashola began their own legendary runs, counting the likes of Lux Interior, John Waters, Rob Zombie and Quentin Tarantino as subscribers. The glory, gory days of the horror film fanzine was a wonderful thing to be a part of.
Fangoria's Bob Martin once wrote: "'Give me whereon to stand,' Archimedes famously said, 'and I will move the Earth.' [There once was] a bunch of kids who had nowhere to stand, so they made a place to stand. And they moved the Earth." 
Long may the cycle continue.
John Szpunar is the author of Xerox Ferox — The Wild World of the Horror Film Fanzine, Blood Sucking Freak – The Life and Films of the Incredible Joel M. Reed, and the editor-in-chief of Deep Red magazine.