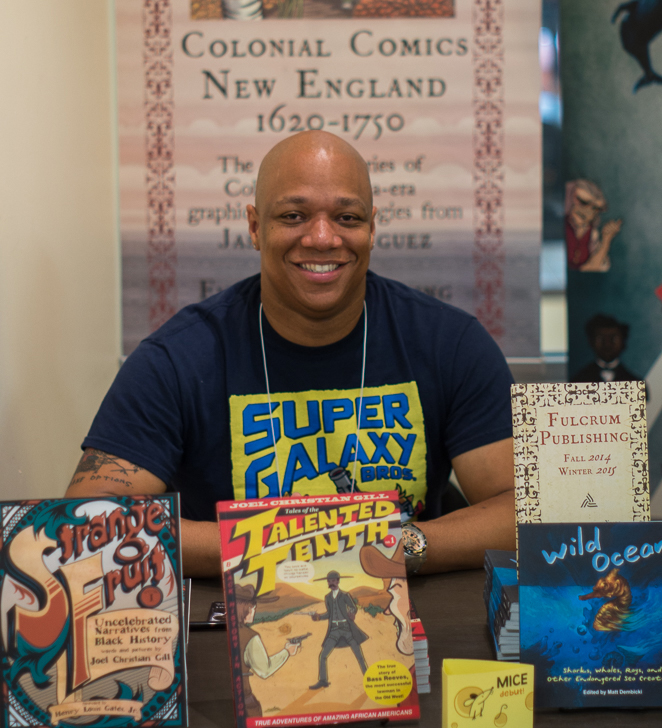 Photo by Abram Olson
This is an excerpt from Issue 66 of Broken Pencil. Buy it the whole issue here.
Artist and educator Joel Christian Gill is succinct when it comes to the message behind his work: "It's not about them people, or those people, but we the people."
It's a busy Sunday at the Massachusetts Independent Comics Expo (MICE) in late October, and attendees of the free show fill the atriums and hallways of Lesley's University Hall. Gill is in his element, talking up his new book, Tales of the Talented Tenth Vol. 1.
"My work is about black history and an attempt to make it more 'mainstream'," Gill says, referring to his comics and a recent movement in social media that he's spearheaded. He's created the Twitter hashtag #28daysarenotenough to share the history of marginalized groups, which encourages users to share interesting, moving or challenging stories about people of colour on the platform, hashtag it and put it out in the world. The act of connection and sharing through social media is also irrevocably connected to the development of Gill's own comic work, rooted in the word-of-mouth stories of lesser-known black folk heroes.
Gill, who is Associate Dean of Student Affairs at the New Hampshire Institute of Art, is passionate about highlighting black history and using comics as his main means of expression. "Comics offer a way of storytelling that no other medium can," Gill says. His first book Strange Fruit profiles remarkable and largely unknown African-Americans. The work started as a series of paintings about lynchings, like one that happened in his Virginia hometown. "A friend of mine was like, 'It seems like your paintings are trying to tell stories and they're failing.' That made me actually look at what I was trying to do. It was clear I was trying to tell stories," Gill says.
Above: An excerpt from Gill's comic Bass Reeves: Tales of the Talented Tenth, the story of one of the first African-American Deputy U.S. Marshals. It's said that Reeves inspired the story of the Lone Ranger.
The first story he came upon was that of Henry Box Brown, an old south slave who shipped himself to freedom in Philadelphia. "I started bringing early editions of Strange Fruit to shows and people would tell me other stories," Gill says, "They'd say, 'Have you heard the story of Major Tailor?' or, 'Have you heard the story of Lucky Lou?' The next thing you know, I have two whole books of obscure black history."
Part of recounting these stories involves confronting the ugly reality of racism. Gill uses the diagrammatic power of comics to navigate that troubling terrain. "One of the ways I deal with the n-word in my books is to replace the word with a tiny racist caricature of a black person so that when you see that image two jarring things happen — you automatically stop, because when you put a picture in writing it makes you look at the picture. It also embeds the history of that language, the way that visual image was used," Gills says, "No one needs to look at (this representation) and ask what it means. You automatically know."
Social media expands the dialogue. Gill uses the Internet to learn about and share underreported contributions minorities make to society, beyond Black History Month in February. "I started the #28daysarenotenough hashtag as a result of noticing that black history is celebrated—yet relegated—to a 28-day period. Minority history is everybody's history, every day."
Gill is that hopeful more people will post around and after Black History Month in February. #28daysarenotenough challenges cultural segregation. "I use social media in the way I would use a public billboard, to build a community of people who are thinking past the superficial," Gill says.
The exchange has begun, and amazing stories have already been shared. A personal highlight for Gill is the story of Paul Cuffee, the son of freed slaves who established a successful shipping business and helped former slaves return to Africa. Another is discovering Eugene Bullard, who after being rejected in the US, became the first black American fighter pilot serving France in World War One.
Gill draws a link from the Boston Tea Party to the Watts and Stonewall Riots through to today's struggle in Ferguson, Missouri. "We have a common story and rich culture to draw on," Gill says, "Relegating the history of minority peoples to one period of time every year isn't working. #28daysarenotenough connects trends in history in general. Black history is American history."
You can buy Joel Christian Gill's comics here and follow him on Twitter @jcg007.