Amidst all of the craziness and uncertainty we are facing, the global zine and DIY arts community has dreamed up some  extra creative initiatives to support one another during this time. Along with basically everything else, virtually every upcoming zine fest has had to cancel or postpone their events — huge festivals such as the Chicago Zine Fest, NYC Feminist Zine Fest and TCAF have announced their festival cancellations or changed dates, but have been putting energy into exploring, "creative ways to build community and share zines in light of the postponement or cancellation of in-person events" shares Chicago Zine Fest.
As a community with do-it-yourself and do-it-together experience and values at its core,  members of the zine community have already come up with some creative ways to keep the DIY arts and zine community connected, such as new  opportunities for digital zine fests, mutual promotion and collaborative digital zines! So, while quarantining may sound like a nightmare… quaranZINING on the other hand sounds like just the thing we need to help get us through this pandemic without going too bananas. Quaranzining gives you the opportunity to share your own work, while also giving you the platform to support and connect with fellow zinesters from the comfort of your own home! And finally, all you zine-troverts who had to swallow our fears every time we tabled at a zine fair, ball's in your court now.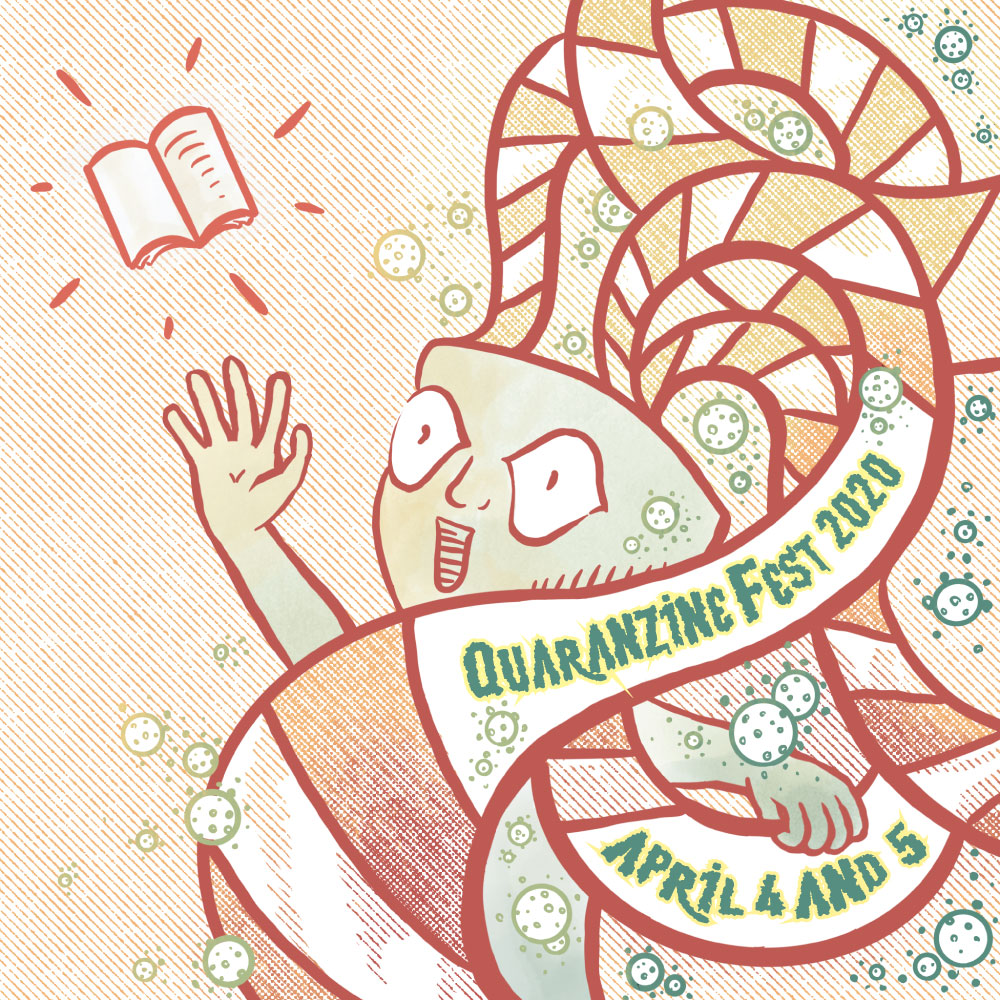 A zine fair? On the internet? What could be more 2020! Started by is PRESS, Quaranzine Fest is a digital zine fest taking place on April 4th & 5th 2020. "It's super simple. Participants post their work on the platform of their choice with the hashtag #quaranzinefest," says Peter Bergman from is PRESS. But that's not all, during the Zine Fest, is PRESS will be hosting a video conference, where various skilled DIY artists will be coming together to lead workshops on all things zines, including risograph printing, digital prepress for zines, and a how-to seminar on crowdfunding your publishing project.
Unlike many of the hurdles and processes associated with your traditional, in-person zine fest, Quaranzine Fest doesn't require any application, registration or selection process. Their credo is, "no submission process, no selection process, no fees, no leaders, no volunteers, no building, no table, no limit on vendors, no fire code restrictions, no peanut butter fingers touching your zines."  (The "peanut butter fingers" bit hit different, right?)
With everything else there is to worry about in the world, Quaranzine Fest is truly a stress free, accessible, and zine-tastic way for us to take our minds off of this overwhelming global crisis. 
"We're hoping some zine makers can have something positive to focus on, maybe push their online presence or social media marketing skills," explains Bergman, and that once the festival is on, he hopes folks can "make some new connections, share some lols, see some cool work, and maybe sell something and put $5 in their pocket."
Zines have long been a form of social connection across distance, even before the internet. In a moment where we are being told to be socially distant, there's a lot we can learn from zine culture. Peter shares his personal journey as a 47 year old zinester who has actively participated in three waves of zine popularity:
"The current boom in zine fests, and subsequently art book fairs, is really driven by Tumblr and Instagram and platforms like etsy and Big Cartel and PayPal and Venmo. But, the zines, by and large, are the same as they ever were. They are a handmade, direct, and immediate expression of an individual done without permission or rules (or editing) and transferred directly to another person. The desire for that social connection and that immediate cultural expression exist independently, or perhaps in spite of, whatever social or technological situation exists. It's like water, it always finds a way around obstacles."
At the core of this initiative, is the rejection of the notion that to be physically distant from others, means we must emotionally distance and isolate ourselves from our communities, and social networks. Instead, "we must apply the ethics of DIY to engender connections and support for those who are suffering."
For more information visit click here!
The Quaranzine is — you guessed it! — a collaborative digital zine that lives on Instagram via @the_quaranzine. It's a space for artists and zinesters to share art in response to their experiences and emotions surrounding the current pandemic. It all started with a little comic the project's founder, Anna Ruth,  drew about her caronavirus-related insomnia.
"My most natural reaction (besides crying, I do a lot of that) to any stressful situation is to make art," explains Anna. "I thought I might post it on Instagram, where I share a lot of my work. Then I thought about how I've seen so many of the artists and friends I follow on Instagram also making work in response to this pandemic. I realized that maybe if I started a new account, others would want to join and contribute, too, and perhaps Instagram could be a good way to make a virtual, collaborative zine." 
The submission process is super simple: take a picture of your COVID-19 related work and DM it to @the_quaranzine. "It's really important to me that The Quaranzine is not precious or perfect; I don't care if your drawing is done in a ballpoint pen on the back of a piece of mail. (we had one like that!)" And just like that, you're able to contribute your voice of a common experience shared by everyone around the globe.  
3 — Check out online editions of zine fairs that had to postpone and cancel their events
Zine, comic and small press festivals are no strangers to making the most out of less-than-perfect situations. Like, how many times has that quasi-suburban Russian events hall informed a wide eyed zine purveyor about the bathroom renovations mere days before a festival? Too many times. As zine fair and other event organizers have had make the tough call to cancel (not to mention eat major financial losses and miss out on cherished community magic times), many are finding creative ways to support their artists and guests by creating online spaces for exchange and mutual promotion.
"TCAF is committed to using our media and organizational resources to support all of our exhibitors, including those who had deferred or cancelled, however we can," says the cancellation announcement on TCAF's website. " We're currently putting together a media plan to promote exhibitors online and through TCAF's original May dates."
"We are also inviting collaboration and feedback from the comics community, with ideas on how we can work to promote and elevate creators. Online comic con? Hashtag? Store orders? We want to contribute and build on that," the statement goes on, inviting people to contact them on social media via @torontocomics or through email at [email protected]
The folks at NYC Feminist Zinefest, which was supposed to occur on March 29th but was postponed ahead of the date, instead made a social media push for zine fans and creators to visit their kick-ass list of vendors and check out the links to people's online homes in the meantime. 
While we may be physically isolated, and distant, we are in a unique moment of social connection where we are living through a collective shared experience together as a global community. So join us in pulling out your pens, paintbrushes, cameras, collage materials, (whatever it may be), to connect with the global DIY and zine community, as the world navigates through uncharted waters.