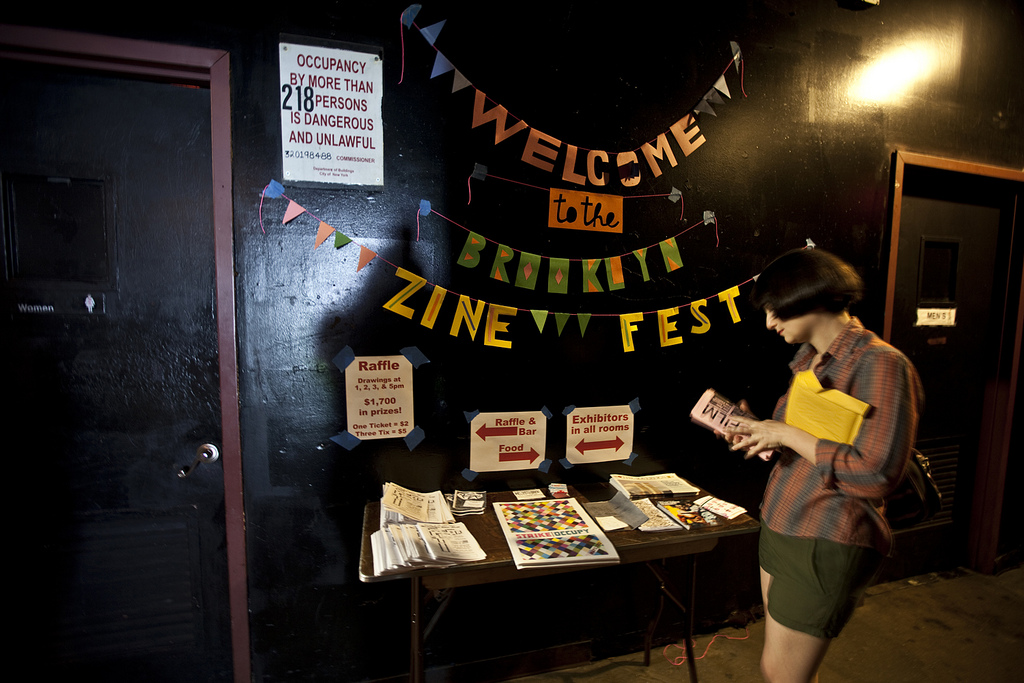 In a one-day-only DIY bonanza, the first annual Brooklyn Zine Fest substantiated the mighty charge that print is not dead. Also there were empanadas.
The extravaganza took place at Public Assembly, the venue where Courtney Love reunited with Hole two nights prior (there's a "dream of the '90s" joke to be made here) and showcased the work of more than 60 artists and local zinesters, as well as people and presses who made the trip to Williamsburg in search of printed matter.
It's hard not to call the Brooklyn Zine Fest a renaissance of New York zine culture, because hundreds of people (maybe more) squeezing into an at-capacity venue to celebrate and support self-publishing is a more encouraging sight than say, one zillion "likes" on an Instagram photo of tofu scramble or cherry blossom trees. But calling this a renaissance would imply the zines ever really went away. The stacks of back issues on each table stated defiantly that they've been here all along.
Among the highlights were New York notables Birdsong and the Bushwick Review, as well as Karass, a vivacious little zine full of humanity and ambition, and a free bookmark, currently being used to mark where I left off in The Worst, a powerful "compilation zine on grief and loss," about people's touching and difficult experiences with death.
This Borough is My Library was another BZF gem. It's a beautiful book, put together by a collective of badass Brooklyn librarians. The cover is a manila envelope used to store trinkets of literary extras and library memorabilia, and all proceeds go toward the Literacy for Incarcerated Teens (LIT) project.
Found Magazine, the irregularly-issued, Chicago-based digest famous for foraging and publishing found letters, notes, lists and documents was also there, down the lane from I Love Bad Movies, the zine of BZF co-organizers Matt Carman and Kseniya Yarosh (Eric Nelson of 1441 Writers Collective also helped put it on).
In our tech-enthralled, digital-happy culture, zines have staked their territory. Let's hope the Brooklyn Zine Fest, which has the momentum and capacity to become a yearly pilgrimage for the zine lovers of New York and beyond, does the same, even if the future means a bigger venue and extra empanadas.
photos by Anna White