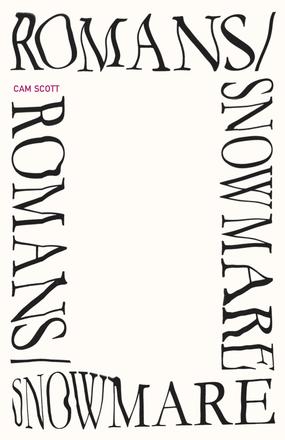 ROMANS/SNOWMARE
Cam Scott, 104 pgs, ARP, arpbooks.org, $17
Poet, critic, and self-described "non-musician" Cam Scott's first full-length collection articulates a queer politics and poetics steeped in the crises of early 21st-century capitalism.
The pieces in ROMANS/SNOWMARE are formally diverse. While most of the poems are quite short, the book is broken up by six dense but delightful walls of prose-poetry: three "Romans" and three "Snowmares," which contain some of Scott's most pleasing prosody. The playful, almost abstract musicality of his lines, both here and in the shortest poems, is perhaps their most striking aspect. That said, Scott reminds us clearly, but also cheekily, in his second "Snowmare" that "the poem must say something that the author means."
So, what does this author mean to say?
"First notebook with the pen Jen gifted me and I could hardly write more gladly," opens Scott, "gliding word to word in alphabetical legato" — there's an extent to which ROMANS/SNOWMARE reads like an open file, an ongoing project of notebook observations and flighty connections. But Scott's entertaining mellifluousness and observational tone do not overshadow the politics that clearly inform every word. Far from an aggressive argument, this is nevertheless a very engaged, conscientious work. In his section "VOICEOVER," near the centre of the book, Scott considers that "creativity endorses / Those conditions it cannot negate." "This makes poetry / Complicit," he notes: an anxiety that acknowledges poetry's power in our world.
And though few of the individual pieces stand out as exceptional on their own, together they point toward a bold but appropriately self-conscious method for reading and writing the world. ROMANS/ SNOWMARE is smart, readable poetry that manages to mean something.