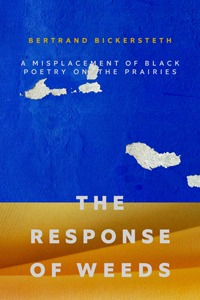 The Response of Weeds
Bertrand Bickersteth, 117 pgs, NeWest Press, newestpress.com, $18.95
Bertrand Bickersteth's poetry collection, The Response of Weeds, grapples with a profound dichotomy: the richness of Black history, and the lack of an obvious place for this history in the Albertan psyche. Where does Miles Davis belong amongst the prairies? What about Nina Simone? Ranging from skillful description of Alberta's geographical beauty and troubling of Black identity, The Response of Weeds encompasses the breadth of Alberta's Black history. Such an accomplishment does not keep the nuance surrounding Alberta's depiction in Bickerseth's work from being a bit frustrating… one question that remains unanswered at the end of The Response of Weeds echoes loudly: What, at its core, is Alberta?
Is it tragically beautiful, inhabited by people so backwards-thinking they are incapable of appreciating such beauty? Is it haunted by Black spirits wronged by Albertan history and lands, or is it just 661,000 square kilometres of suburbs and strip malls? In Bickerseth's writing, it is all of the above and more.
Bickersteth exposes Alberta's endemic racism — at one point, a white speaker in the North Saskatchewan region proclaims that Black people simply are "not civilized. Like us," revealing the callous prevailing logic. But descriptions of Black Albertan youth are equally powerful, and his personal reflections are filled with the lucid pain and awareness made possible in hindsight. A self-described "misplacement of black poetry," The Response of Weeds is an exploration into the painful absence of belonging. Yet, Bickersteth refuses to approach his own pain with melancholy, proclaiming "our eyes" to be "fuller with the failure of the past brimming in our sight." The Response of Weeds is not a futile documentation of Alberta's shortcomings, but rather an intentional critique embedded with quiet praise. Bickerseth's work is a noteworthy piece in filling the eyes of Alberta with a newfound consciousness — one that makes room for Black jazz icons and cowboys.