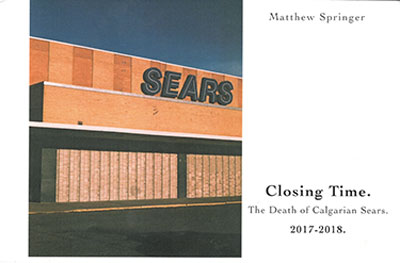 Closing Time: The Death of Calgarian Sears
Photo zine, Matthew Springer, 20 pgs, [email protected]
For a generation or four, Sears is where you would go for moderate clothes and moderate furniture at moderate (or semi-moderate) prices.
It wasn't sexy. It was Sears.
As the entire operation in Canada began to liquify some years back, a steady and unspectacular part of Canadian retail lore went bye-bye. Matthew Springer decided to document a Calgary chapter of this slightly above-average saga. He does so primarily with photos and just a few words.
This collection actually feels more like a Tumblr feed than a zine, which is part of its considerable charm. Springer does a good job at capturing that 1970s and 80s retail bleh that folks of a certain age experienced. He also captures a few creepy images, like a tangle of mannequin limbs. The images were captured during the closing of two Calgary stores (the North Hill and the Southcentre locations, for all you southern Albertans). He describes it as a "downfall," noting the stores' "empty and grim air," which is, of course, consistent with worn linoleum and scuffed burnt green carpet.
Some find beauty in stark things and garden variety. If that's you, you'll dig this. By design, the photos are empty and cold and, the best part, there are barely any humans with them! Paired with Matthew's intro, which goes into considerable detail about the dread he felt about his childhood Sears visits, this is the perfect antidote to the staid glossiness of the Sears catalogue.