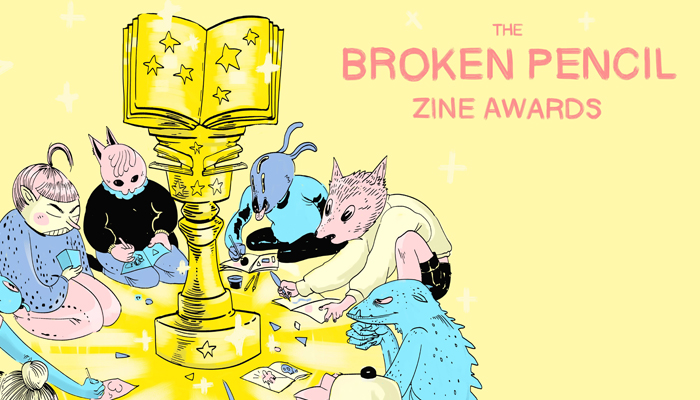 We're so pumped to announce the finalists for Broken Pencil Zine Awards 2017!
We received over 175 entries from all over the world, and we were totally blown away by the talent, the passion, and the variety in each category. Every zine brought something unique to the table, and it was incredibly difficult picking even this handful of finalists for each category. You'll notice that there are twice as many finalists in the political zine and comic/art zine categories! That's because we got way more entries in those categories, and we thought it would only be fair to move a few more on to the next round. 
Over the next few weeks our judging team will be deliberating deeply over each of these awesome zines to pick a winner! But it must be said — every zine you see here, and every zine entered in the competition is a meaningful part of the landscape of self-publishing. We're honoured to have the opportunity to celebrate zinesters and their creations everywhere.
The winners in each category will be announced publicly at Canzine Toronto at the Art Gallery of Ontario on October 21st. The zine fair runs all day from 1pm-7pm, and the awards ceremony begins at 5pm in Jackman Hall. See you there! 
Art Zine/Comic
Super Madame – By Sophie-Anne Belisle (Scranton, Pennsylvania)
Scissors Zine – By James Clark (Toronto, Ontario)
Girls – By Jenn Woodall (Toronto, Ontario)
Everything's Fine and On and On – By Anna Sellheim (Reboboth Beach, Delaware)
Japan 2017 – By Angela Pan (Vancouver, British Columbia)
Birth of Linda – By Tess Reid (Madoc, Ontario)
The Satisfactory But Not Especially Good Book of Zoology – Toronto Zoo Edition – By Greer Stothers (Puslinch, Ontario)
Petsitting in Iqaluit – By Mary Thaler (Quebec, Quebec)
Dakwakada Warriors 2 – By Cole Pauls (Vancouver, British Columbia)
Rainyman – By Kelvin Yu (Toronto, Ontario)
Woah-man The Dragzine #1 – By Tim Bauer (Vancouver, British Columbia)
Ballast Canting No.8: Holdfast – By Heather Joan Tam (Vancouver, British Columbia)
Political Zines
Don't Tell Me To Smile – By Emily Fin (Toronto,Ontario)
herenow/therethen – By Michelle Kuan, Mariel Layson, Michelle Lu (Toronto, Ontario)
Lady Parts 1 – By Dani Burlison (Santa Rosa, California)
The Young Man's Practical Handybook to Society – By Michelle Kuan (Toronto, Ontario)
The Power Issue – By Flawless Writes (Boston, Massachusetts)
Microzine of Microaggressions – By Yes, Ma'am (Austin, Texas)
Virginity: A Toxic Concept – By Marlene Núñez (Dallas, Texas)
Deaf POC Poems – By Jessica Leung (Canada)
Sidai 000 – By Ameerah Craigg (Toronto, Ontario)
ALL TOGETHER: a primer for connecting to place + cultivating ecological citizenship By Emma Percy (Clarence, New York)
Intersections – By Olivia Hunte (Denver, Colorado)
Blacknesses Between Us –  Editor Bishara Mohamed (Toronto, Ontario) 
Perzine
The Chloe Show – By Chloe Rees (Queens, New York)
Forest City – By Rin Vanderhaeghe (London, Ontario)
They'd Come to Me at Night – By Vincy Lim (Markham, Ontario)
You Still Need a Coffin- By Shivaun Hoad (Toronto, Ontario)
Shortandqueer #18: Time to get this off my chest – By Kelly Shortandqueer (Denver, Colorado)
dirges – By John Spurzine (Victoria, Australia)
How to/ DIY Zine
Guide to Journaling – By Christine Dela Cruz (Toronto, Ontario)
BBHMM – By Aitch Elle and Genevieve Darling (Montreal, Quebec)
How to be homeless in NYC – By Chloe Rees (Queens, New York)
How to Recognize Voter Suppression in its Natural Habitat – By Bronwyn Mauldin (Glendale, California)
Lonerchicks – By Toni Pecchia (Oakland, California)
Science Mom's Coloring Book Guide to Water, Part One – By Jenny Ballif (Boulder City, Nevada)
Lit Zine
Dear Journal Issue #2 (Winnipeg, Manitoba)
Haight Ashbury Literary Journal (San Francisco, California)
Is That So? Issue 4 – By Catherine Sinow (San Diego, California)
Spell Book for an Attic Gardener – By Laura Watson (Sackville, New Brunswick)
Meatheads, Or How To DIY Without Getting Killed by Noah Wareness (Toronto, Ontario)
27 Things I Learned In My 27th Year by Alex Watt (Brooklyn, New York)
Links:
Guide to Canzine Toronto
Canzine Toronto Info
Canzine Vendors List
Gorgeous Tweets by Vendors
Zine Awards Info
Shortlisters coming to the Zine Awards