illustration by Matthew Daley
AT THE END OF LAST YEAR, CANADA POST ANNOUNCED IT WAS RAISING PRICES AND ENDING HOME DELIVERY FOR CITY DWELLERS.
KELLY BOUTSALIS

LOOKS AT WHAT THIS REALLY MEANS FOR MAIL-LOVING ARTISTS.

Over the Christmas holidays, when most Canadians were either sending out or anticipating the arrival of mail, the news was released that Canada Post would be ending door-to-door delivery service across the country. Home delivery would be phased out and replaced by community mailboxes. A five-point plan briefly outlined the changes — including a rise in stamp prices and a reduction in employees — that would help stop a projected financial loss of $1 billion by 2020, caused by a decline in letter mail and an increase in internet usage.

For the most part, however, the news came with few details, and everyone from mail carriers to the average citizen began to wonder what that meant for their mail. Independent artists have used the mail and Canada Post for decades to extend the reach of their art, poetry and zines. Even more, they use it to physically connect with their audience.

Mail delivery crosses paths with art most frequently through the longstanding networks and traditions of mail art: people sending handmade collages, decorative postcards or any kind of art creation that can be mailed to their network of veritable strangers. The movement is typically traced back to 1955, the time of American collage artist Ray Johnson and the New York Correspondence School. But artists outside of mail art networks have long relied on the postal service to not only send out their music, zines or crafts to willing consumers, but to deliver an exciting antidote to the endlessness of online content.

For BC-based mail artist Ed Varney, who has been sending out mail art since 1970 — when sending out letters cost five cents — these changes will greatly affect the way he distributes his art. "I am slowing down in my mailing activity, restricting myself to mainly [sending to] old friends and artists whose work I am interested in," he says. This is vastly different from the large network Varney has been sending mail art to for the last 40 years, which at its peak included a mailing list of about 250 to 300 artists. It's no surprise that he's appreciative of a mail system that shuttled his work to thousands of people.

"I think that mail art was a strategy that preceded and anticipated the internet and the internet has taken over some of the functions of communication that mail art used to employ," says Varney in, ironically, an email. "But the exchange of real objects and art through the postal system still has incredible vitality — as a medium becomes obsolete, it becomes more precious. People still love to get mail — that is, real mail, personal communication, beautiful handmade objects, and all that implies."

While Varney represents the individual mail art movement, Kristen McCrea represents a collection of artists whose works have travelled across the country via Canada Post since 2008 when she founded Papirmasse, a magazine and art subscription rolled into one. Every month, subscribers of Papirmasse receive a different piece of art in the mail, which can vary in size and format. In their mailboxes, recipients can find an art print on one side and writing on another, and the packages have included postcards, 18 x 20 inch posters, and even small books. Started in Montreal and now printed in Toronto, Papirmasse has roughly 1,400 subscribers, about half of whom reside in Canada. Like many artists and small publishers who rely on federal mail service, McCrea has a lot of questions about Canada Post's proposed changes.

"As someone who has devoted the last many years of my life to building a business that sends art through the mail, it was quite devastating," says McCrea about discovering Canada Post's plans. "Also because the news came with very little information as to how it would be practically implemented, so it raised a lot more questions than it was answering, unfortunately."

The size of the mailboxes is one of her main concerns. "People are only going to have these tiny boxes so their print is going to get mashed up when it gets delivered to them and we might lose a lot of our Canadian subscribers," she projects. McCrea had hoped Papirmasse could be a voice for Canadian contributors, since American artists tend to be more prominent even in our country's own publications and galleries.

"The saddest thing for me is that it makes me think maybe I should focus more on Americans in the future, which isn't an attitude that I want to have because a core part of our mandate [is] to keep it around 80% Canadian," says McCrea, "I really think there's an overwhelming amount of talent in this country and it's underrepresented." When Canada Post revealed its five-year plan last December, McCrea says she heard from many of the 80 artists that Papirmasse has published so far, but most prominently she heard from other small press publishers who were wondering how community mailboxes and an increase in postage stamps would impact them.

Evan Munday, the outgoing head publicist of Toronto-based Coach House Books, was also in the dark about how the postal changes would affect his company. Coach House, which uses Canada Post for review copy mailouts and online orders, sends out anywhere between 60 to 150 pieces of mail a month, not including letter mail.

"For us, Canada Post has been the only reasonable way to keep our costs low for shipping. I think we're really going to have to see if people are willing to pick up their mail at a community mailbox and, to be honest, a lot of people are already in that position, but other people who are in more suburban areas or smaller towns, this becomes more of an issue," says Munday.

"For us to do stuff locally in Toronto, there are cheaper options, but to mail to Manitoba or across Canada, Canada Post has been the best option and we're not sure if we can do that with another carrier and keep our shipping costs as low as they have been for an online store."

This would be detrimental to small publishers like Coach House Books, which already has to compete with big online retailers like Amazon, which uses couriers that deliver directly to consumer's homes.

"For us, Canada Post is the most affordable option and we won't have that same door-to-door service anymore. [For] a lot of smaller presses, indie publishers and indie artists that are making crafts and making art, it makes it a bit more difficult to do that affordably," he says.

Independent artists aren't the only ones initially in the dark about the meaning behind these changes. Postal workers like Melanie Mackenzie learned about the changes by word of mouth, getting just as few details as the public.

Mackenzie, a temporary worker for Canada Post in Halifax for the past three years, found out about the changes from a friend, and says even her plant manager found out from the media.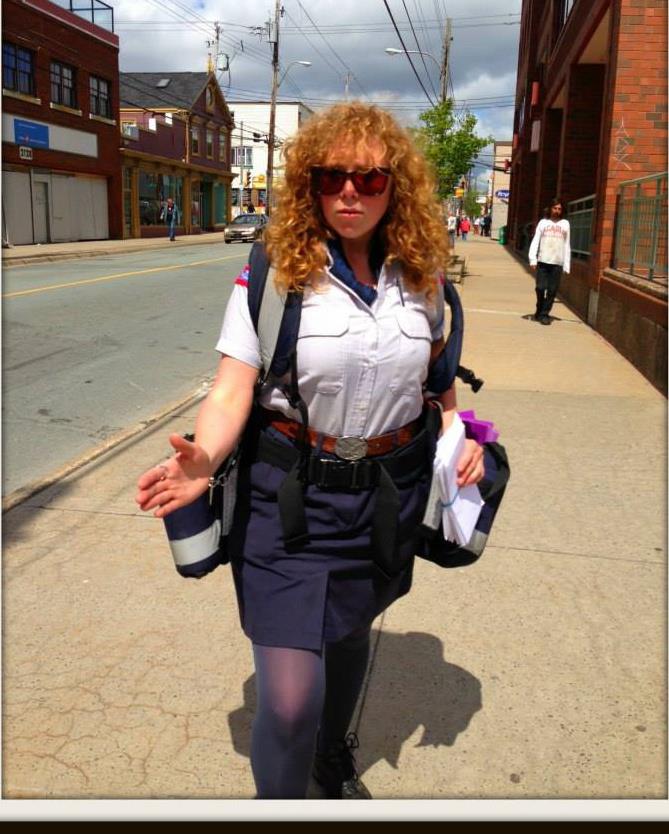 Melanie Mackenzie on the job
"It was that lack of respect that was a slap in the face. We didn't have any answers, we had so many questions and the next day they did send out this five-point plan which was such bullshit," she recalls. "It explained nothing and [the] language, it's so positive: this is what Canadians want! But Canadians weren't consulted."
Canada Post spokesperson Phil Legault is optimistic that mail service won't change that drastically for Canadians, as community mailboxes have existed for the past 30 years, and things won't be changing for residents in apartment buildings or rural communities.
"The reason we are going to community mailboxes for the one-third of Canadians that don't have it right now in the urban centres is because Canadians are changing the way that they're using the post office, and using our services," says Legault. "We've seen that delivering parcels is going to be a strength for us going forward and I certainly believe we are well prepared with the newer community mailboxes."
In February, Canada Post revealed the 11 communities that would convert to community mailboxes, including neighbourhoods in Calgary, Winnipeg, Ottawa, Repentigny and Halifax. Legault adds that new community mailboxes will be reconfigured to adapt to how people are using them.
"It's going to take us five years to convert these five million homes that have door-to-door delivery to community mailboxes. There's going to be a very good process to work with the neighbourhoods to get some feedback from them to see how and where they'd like these mailboxes and we'll be working with municipalities as well," he says.
But Mackenzie finds the company line about projected losses due to less interest in mail hard to believe.
"They only call me when they need me, and what blows my mind is them saying the mail volume is down," says Mackenzie who is number 42 on the temp list "They have to go through all the full time, part-time, the relief staff, all the vacation staff and then me, and I'm still working 10-12 hours a day, five days a week."
Mackenzie has called Canada Post's customer service lines and complained, but hasn't gotten anywhere. In the meantime, she's been overwhelmed with the public support for letter carriers.
Someone who has been showing her support for postal workers is Sarah Mangle, a Montreal-based artist who created a postcard series that includes one with an illustration of an envelope sealed with a heart that says "no cuts" and another that reads "Letters are magic! Don't cut postal services."
"I wanted to do something that builds morale first and foremost for postal workers," she says. "I thought 'what can I draw?' So I'm going to make images of love and support for the postal workers so they will deliver mail that's a message of love for them."
Her connection to the postal system stems from growing up sending and receiving mail, and there's also a familial connection: she mainly communicates with her mom through the mail, and her brother is a postal worker.
Since she created the postcard series over her winter semester break, Mangle has expanded the English-only postcards to include French-language ones to share with the postal worker who delivers to her house and other Francophones.
Mail art by Sarah Mangle
"The one thing I learned from this project that I didn't think about before was how my drawing style and art practice can be used to really fill the morale and spread love. People talk about art and activism and the concept never really grabbed me. Not that I'm not an activist, because I am in certain ways, but I wanted this project to be a loving project," she says.
Mangle's series (which can be purchased from her Etsy shop) demonstrates that building audiences online can lead to physically moving people — postal workers and supporters alike — which, in this case, exemplifies a mutual love and dependence between indie artists and the postal service.
However, as a freelance artist, Mangle doesn't think the changes will affect her greatly. She will continue to sell her work in person at zine fairs and find different modes of delivery, but she is concerned for the more serious consequences for postal workers. "For me, personally and for many artists, we're going to continue what we're doing. It's not going to have a great impact on us, except for people like my brother who is a touring musician whose income comes from being a postal worker," says Mangle.
Maybe for Mangle, who lives in a big city where zine fairs aren't hard to find, this won't hurt her zine and art sales. But for artists in other, more remote parts of the country, mail is the only way creators can get their zines to interested readers and pen pals. Young people just finding zines may discover that PDFs or Tumblr sites are an easier and more affordable method for sharing their work than mailing a physical print. In effect, Canada Post price increases may be part of a self- fulfilling prophecy; causing the projected declines in mail and forcing the very communities who were still using mail, online.
"I think indie artists tend to exist within a niche and what the internet has allowed is people to find their niche across the entire world. [But] everyone still likes something tangible to hold in their hands, so that's where the mail comes in," suggests McCrea.
Varney believes Canada Post's move is short sighted. Remembering a time in the 1800s when personal mail was more expensive to send in the United States than commercial deliveries (such as newspapers), Varney says the US Postal service changed its policy to encourage use at a time when personal mail was too expensive to be affordable for the average person. "In fact, at that time the mail was used mostly to deliver newspapers and newspaper delivery was subsidized at much lower rates, much like ad mail is now," he explains. "Then, in the late 1800s, the post office dropped personal letter rates to $.01 and letter writing became popular, so much so that personal letters made up the bulk of the mail. Perhaps our modern post office should remember its past."
Kelly Boutsalis gratefully acknowledges the financial support of the Ontario Arts Council's Writers' Reserve Program.