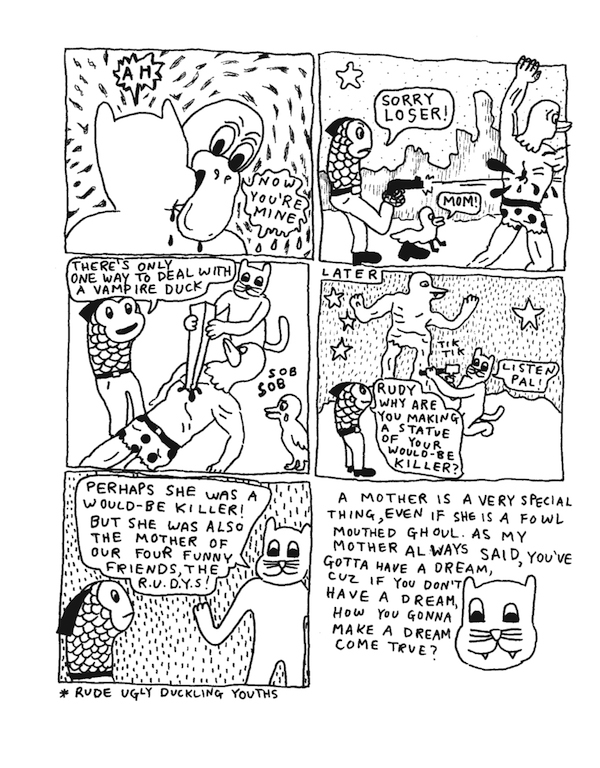 Twenty years ago, Mark Connery's Rudy started as an eight-page mini comic. Today it continues in exactly the same way, and to mark its longevity, micro-press comic publisher 2D Cloud is putting out a full book revolving around the talking cat with occasional shape-shifting powers.
"Rudy's a bit of a cipher, with a tinge of psychic detective thrown in," says Connery.
And Rudy's friends, too, reflect the odd world they inhabit—from Phil, a talking equilateral triangle, to Ken, a mobile, amphibious talking fish wearing pants. The narrative is brimming with a fantastic, eccentric brand of humour oftentimes as absurd as the strange geometries of its world in the background.
"I'm not especially interested in character or personal psychology," says Connery. "Looking at a whole bunch of Rudy stories, one thing I'm struck by is how cruel the characters are to each other, but that's tempered by the fact that they do always recover. Or occasionally mutate."
Connery has been drawing Rudy for over 20 years and it has appeared in various incarnations, including larger zines and even a regular run in the free music monthly Exclaim! in the mid '90s.
"I've always been interested in the work finding its own audience," he says. "Many of the comics were given out by hand or mailed in small bundles to kindred spirits who'd distribute them at will."
The new book will feature a collection of comics drawn over the past 22 years. The book will include comics that have found a wider distribution, as well as more obscure works — some so rare that maybe only five to 10 copies have ever made the rounds. There will also be some bonus material appearing for the launch of the book, including a new eight-page mini comic and some online works.
"I'm extremely grateful to all the friends who've kept me going and inspired me over the years," says Connery. "I'd especially like to thank Marc Bell for having the bravery of trying to put all this crazy stuff together."
Rudy makes its debut with two launches this week (Thursday in Montreal at Librarie Drawn and Quarterly and Saturday at 998 Bathurst) and at the Toronto Comic Arts Festival.