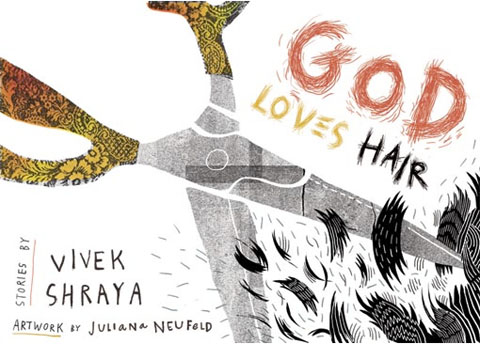 Vivek Shraya is a Toronto-based writer, musician, filmmaker, activist, educator and visual artist. This past April, his first book of short stories God Loves Hair (self-published in 2010) — which shares his experiences growing up as a queer South Asian kid in Calgary — was released on Arsenal Pulp Press in a beautifully-illustrated new edition. We chatted to Vivek about the evolution of the stories and why they are still resonant to YA readers right now. Keep an eye out for Vivek's upcoming book She of the Mountains, coming out on Arsenal Pulp Press in fall 2014.
1 – You originally self-published God Loves Hair back in 2010. What led to the decision to release the book on Arsenal Pulp?Self-publishing has been a wonderful and surprising journey, and I remain a huge advocate of writers finding independent ways to share our stories. That said, after publishing two editions on my own, I was curious what a publisher with a wider network could do for the book. More specifically, I have been a big fan of Arsenal Pulp Press books, have toured with their writers, and working with them felt like a natural progression.
2 – How did it feel to revisit your stories a few years later?
Since the release of the book, I have been fortunate to do at least 1-2 readings from the book per month, so there hasn't been a notable distance from the stories.
A terrible and terribly common experience for any artist is to find all the things one would change or do differently for a project, and I have definitely had this experience with albums I have recorded. Thankfully, I don't feel this way about God Loves Hair. If anything, I find myself feeling grateful that I took the risk to share my story and hope I will always be that brave.
3 – Did anything change from the original version, text-wise?
There were some minor edits and the inclusion of a new story (with an accompanying new illustration) that delves into mental health called "Suicide Jeans."
4 – How did the decision to work with an illustrator come about? And can you describe a bit of your process working with illustrator Juliana Neufeld? Her artwork fits so perfectly with your words, the evocative language, the use of colour….
After decided that writing a children's book would be too limiting text-wise, it still felt vital for the book to have a children's book aesthetic featuring brown skin and Indian influences, unlike the books I grew up with. I had recently met Juliana and immediately knew that she was the one because of the way she employs colour brilliantly and the incredibly imaginative and innocent quality of her work.
She would send me drafts and I would send notes, and as she revised her illustrations, I found myself revising the text. I wanted the writing to be as rich as her work, and I think she felt the same way, so we really pushed each other. Working with her for this project was one of the greatest collaborative experiences in my artistic career.
5 – Your family figures hugely in the book and is depicted with such candor. What's their reception been to this new edition?
When the first edition of the book came out, my mom and I had some challenging conversations about why I would share so much of myself and our family. Growing up, we were taught that what happened at home stayed at home. My mother also felt guilty, worried that she hadn't protected me enough from the homophobia I incurred in school, when the truth was that her love was largely what sustained me during those years. I knew she was starting to feel more comfortable about the book when she started googling book reviews and emailing me links. My parents even generously helped fund the second self-published edition.
There hasn't been a lot of conversation around the new edition, but I know that my parents are proud in their quiet way.
6 – This book is such a wonderful guide for young people – of course, especially relevant to young queer folk, South Asian kids and young POCs – but I also think it provides a sense of empathy and solidarity for any young person seeking to find their way during those eternally difficult teen years. What do you hope this new edition will achieve in terms of connecting with youth?
As the book was being shaped, I really wanted to create the kind of book I needed growing up as an isolated genderqueer kid with Hindu parents in Edmonton. My hope is that this edition will reach (and comfort) even more youth, POC and queer youth, who feel alone or want to read stories that feel similar to their experiences.