In anticipation of the launching of the 2018 Broken Pencil Zine Awards, we will be presenting you with a look back at the 2017 winners. Up next we have the winner of the Best Political Zine.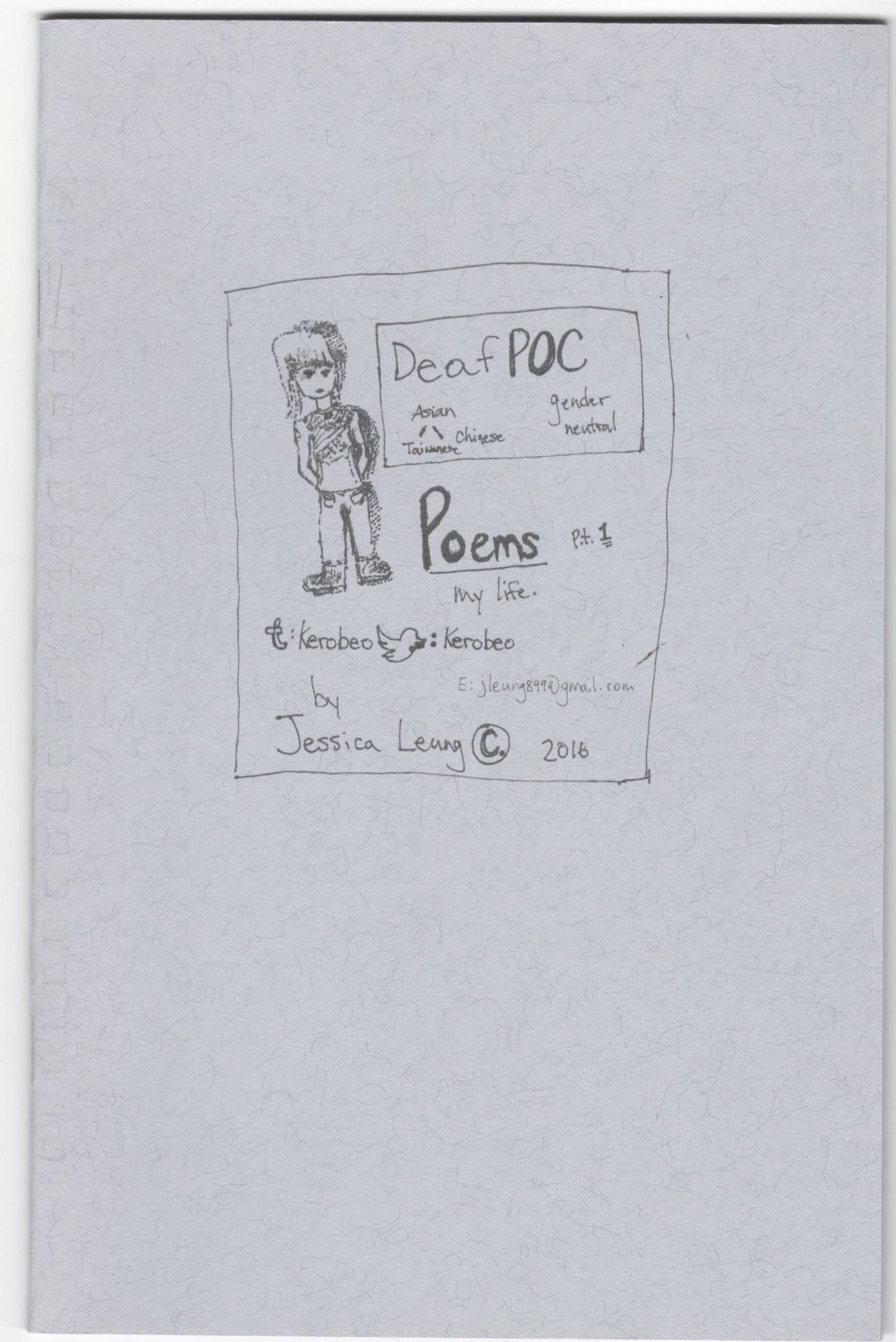 Best Political Zine
Deaf POC Poems
Jessica Leung (Vancouver, BC)
Zines are a political tool, period. Whether a platform for spreading theory and practical information; sharing safety and survival tips for individuals targeted by the state or society; or for people living at the intersections of identities and oppressive systems, zines enable people to speak for themselves and on their own terms.
This last strain is exactly what Jessica Leung's Deaf POC Poems does, a mix of words and images from the Vancouver- based multimedia artist and writer.
"My works focus on me as an individual, on how I navigate and socially connect with other people," explains Jessica, who identifies as Deaf, an Asian person of colour, non-binary and queer. "The deaf world and the hearing world… I often feel uncertain and stuck in between. I don't know where I belong."
Jessica uses zines to negotiate their identities, and in doing so also invites the reader to think about how they might interact with others. Hearing people read- ing the zine might pause to think about how they may have acted, or things they may have said that might alienate a Deaf friend. White readers may be reminded to check their assumptions about people of colour or how someone might identify.
"The word intersectionality plays a huge impact," says Jessica. "Noticing myself [and] my identities."
In addition to zines, Jessica recently has also been working in performance, collaborating with Jenelle Rouse for a poetry and dance work at Tangled Art Gallery in December 2017.
POLITICAL ZINE RUNNERS UP
Don't Tell Me To Smile // By Emily Fin (Toronto, Ontario)
herenow/therethen // By Michelle Kuan, Mariel Layson, Michelle Lu (Toronto, Ontario)
Lady Parts 1 // By Dani Burlison (Santa Rosa, California)
The Young Man's Practical Handybook to Society // By Michelle Kuan (Toronto, Ontario)
The Power Issue // By Flawless Writes (Boston, Massachusetts)
Microzine of Microaggressions //
By Yes, Ma'am (Austin, Texas)
Virginity: A Toxic Concept //
By Marlene Núñez (Dallas, Texas)
Sidai 000 // By Ameerah Craigg (Toronto, Ontario)
ALL TOGETHER: a primer for connecting to place + cultivating ecological citizenship // By Emma Percy (Clarence, New York)
Intersections // By Olivia Hunte (Denver, Colorado)
Blacknesses Between Us // Editor Bishara Mohamed (Toronto, Ontario)