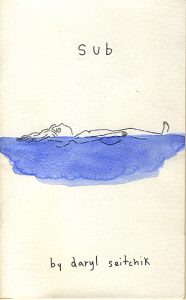 Sub
Comic, Daryl Seitchik, darylseitchik.tumblr.com
In this half-size comic, Daryl Seitchik uses simple line drawings and watercolours to create a careful transition from a detailed account of mundane tasks into a murky dream world. An ordinary day quickly becomes an absurdist story about vulnerability and the feeling of slipping away.
In the beginning we find Dar searching for something to eat in her mother's kitchen while procrastinating over a job application. When she sits at her desk to draw, she is transported into a dream, swimming first in Thompson Lake, then in a backyard pool, finally emerging naked on to a lawn. There she confronts her mother who is accompanied by a ghostly monster as they exit a darkened house.
I liked the ambiguity of this story; the way it conjures feelings of being adrift in a dream and the gradual loss of control over what happens. (Mary Green)