During a recession, governments both federal and municipal are on the hunt for places to cut costs and the arts seem to be an easy target. Laura Trethewey followed the carnage of arts funding cuts across the country to see the effect on local artists and, ultimately, our culture.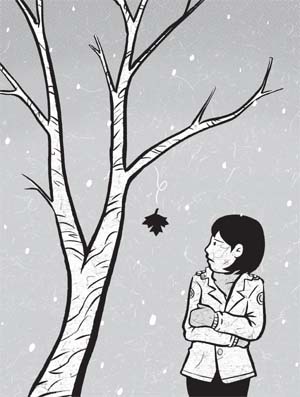 "I think when ordinary working people come home, turn on the TV and see a gala of a bunch of people at, you know, a rich gala all subsidized by taxpayers claiming their subsidies aren't high enough, when they know those subsidies have actually gone up — I'm not sure that's something that resonates with ordinary people."
– Stephen Harper, September 2008
Hot in the pursuit of a majority government in the midst of the 2008 election, Stephen Harper landed in Saskatoon. The Star Phoenix predicted a talk on crime and justice, but in between the tough-on-crime rhetoric came a now infamous diatribe against arts funding. No one, least of all artists, expected the arts to become a serious election issue. But in retrospect, Harper's ill-advised aside may well have slowed his party's momentum and contributed to the last minute slide that led to their second minority win.
The comment also led to the rarest thing of all, an actual debate about our cultural life, one that pitted those committed to the funding of the arts against those obsessed with fiscal restraint and the wisdom of the free market. Now, a year-and-a-half later, it's like that conversation never happened.
The recession and rising deficits have once again put arts funding and culture-friendly policies on the chopping block. But this time there's no election, no spectacle of the Prime Minister openly gushing his disdain for the arts, no way to engage the media and the public in the kind of meaningful debate that reminds us that without culture, we have little to aspire to beyond timely mortgage payments and Christmas bonuses. In fact, Stephen Harper has since made nice to culture: playing with Yo-Yo Ma and proclaiming his love for High School Musical. But that's just about image. In reality, Harper's hostility, along with a punishing fiscal environment, is empowering all levels of government to slash arts funding and programs in ways they never dared consider before. It's open season on culture in Canada. And the independent arts–the bands, publishers, artists and creators on the front lines of grassroots creativity–are once again the easy prey of a sustained, yet unproclaimed, hunting season.
*****
It all started with Holy Fuck. The band that is. In the summer of 2008, right before Harper formed the equation that culture equaled rich whiners, the Toronto electronic band Holy Fuck was cited as one of the reasons that a federal program called PromArt was to be shut down. PromArt provided subsidies for art and music groups to tour overseas. In 2007, Holy Fuck had the temerity to receive a whopping $3,000to help them go on a UK tour. When the Harper government axed the $4.7million cultural grant the reasoning was that the money, according to the Harper government, "was going to fringe arts groups." Well, who else needs grants to help them tour? Bryan Adams and Margaret Atwood? Citing Holy Fuck and other unnamed horrors, the program was gutted because the groups receiving help were "at best, unrepresentative, and at worst, offensive." Offensive to whom? Unrepresentative of what?
The killing off of PromArt was part of a "strategic review" policy introduced by the Tories in 2007that seemed tailor made to cut funding to the arts. The new, ongoing auditing program singles out "lower priority, lower performing" government programs and redirects the money towards other programs vaguely defined as "higher performing." If no program within that department is found, the money is put into government coffers. "There's something a bit wicked about the strategic review process," says Alain Pineau, national director of the Canadian Conference for the Arts (CCA), which tracks government legislation relating to the arts. "They ask each department to identify programs that account for five percent of the budget and are at the bottom of your priorities. What an organization may well end up being faced with is a sort of Sophie's Choice situation. If all your programs are performing, how do you choose one that you know will go to the chopping block?"
In the first round of strategic reviews, 11 of the 17 departments chosen were related to art and culture in some way. Media attention focused on the cuts to PromArt and Trade Routes (another grant that cultivates foreign markets for Canadian artwork), however, these programs actually did little in the way of creating artwork, since they existed to promote and market artwork that was already made. The Canadian Independent Film and Video Fund (CIFVF), cut at the same time, received very little coverage even though it had helped fund close to 1000 films, many by emerging directors, since 1991. Until its end, the fund's administrators spread a scant annual budget of $1.5million across approximately 60indie films a year. The CIFVF provided an alternative to the large grants from Telefilm and the Canadian Television Fund, which primarily fund established directors creating large-scale or feature length projects. The CIFVF's ghost website still remains, calling for 2008 applications and thanking Canadian Heritage for its support.
Internal government audits are nothing new, but strategic reviews are a different breed. Less transparent and more frequent than other audits, the findings of a review are revealed in the government budget when a program loses funding. The reviews are portrayed as part of the budgeting process, so the government has no obligation to say why they pulled the plug or where the money went. This year, two of Canada's largest arts institutions are up for review: the Canadian Broadcasting Corporation (CBC) and the Canada Council for the Arts. Some are predicting that the 2010budget will produce heavy cuts to those institutions: $56million and $9million respectively. The government already sees grants that directly fund young artists as "lower priority," as seen with the CIFVF's demise, making similar programs at the Canada Council likely to disappear first.
But really, the government doesn't need to create fancy new auditing programs to cut arts funding; the freshly axed Canadian Musical Diversity component proves that. During the summer of 2009, the federal government restructured the Canada Music Fund, leaving out this small fund of $1.35million. The grant supported music with "artistic considerations … that do not necessarily meet conventional criteria and formats as defined by the popular music marketplace"–mainly the work of classical, experimental, Aboriginal and jazz musicians. An Ottawa Citizen blogger, Peter Hum, tracked down a government evaluation of the program. The evaluation showed the fund was inundated with applications, accepting only 20% and churning out high-quality work (recipients Jane Bunnett and Brandi Disterheft have both won Junos for their subsequent recordings). The evaluation also included passionate testimonies from participants, who insisted the fund was a key factor in making an album. So why was the program cut? The Citizen blogger found only evidence of a well managed grant program funding important projects. Could it be that the Tory government sees independent and grassroots artists as easy targets?
It's open season on culture in Canada and the independent arts are once again the easy prey
"They don't care what musicians say," explains Dan Goldman, who received CMD funding for two albums. "If they cared they wouldn't have cut this grant." The CMD, once administered by the peer-juried Canada Council, will have its money put toward digital marketing and international touring instead. "The idea of digital distribution and all that is great, except for the fact that if you don't have a record you can't do anything," says Goldman. "My last record cost $17, 000and that's my net income for a year. It costs a ton of money to make an album, but there's a huge spill off in terms of meeting other musicians, getting jobs and recognition around the world. It's scary for the next generation, who won't get that experience."
However, all is not completely bleak. Even as the Tories cut, they still want to be seen as arts supporters. The government slashed the Canadian Musical Diversity grant, but they gave the larger umbrella Canada Music Fund a rare five-year funding commitment. Despite that, Canadian Conference for the Arts director Pineau still sees plenty of instability in funding levels. "The [commitments] have always been on a very short horizon," he says. "This is not without feeding fears in the sector that give [the government] a majority and you'll have a different approach."
The magazine industry recently sidestepped a major financial blow when Canada Post pulled out of a program that subsidized magazine subscriptions. Without the subsidy programs, magazines would have had to add anywhere from $10to $50to their subscription price, driving away subscribers. Of course, small arts and culture magazines were destined to be hit hardest. All seemed resolved when the federal government ponied up the missing $15million through Canada Periodical Fund. The reprieve didn't last long though. In February of 2009the new fund's details were announced and it revealed that magazines with a yearly circulation under 5,000were now ineligible for subsidies. The magazines most affected by this cut are small, literary and arts mags such as award-winning Toronto-based periodical Taddle Creek and long-running Victoria, BC-based literary mag, The Malahat Review. In fact, of the 40odd magazines likely to be affected, the majority are small, art-focused, mostly volunteer run and printing the work of emerging artists and writers. "They don't have to come out and say it, but there is an emphasis placed by the Canada Periodical Fund on what sells," says Rhona MacInnes, executive director of the British Columbia Association of Magazine Publishers (BCAMP).
*****
The Federal government's plan seems clear: pretend to be a friend to the arts while cutting millions of dollars in so-called "fringe" arts funding, funding that is essential to give new voices, innovative talents and unorthodox approaches a chance. What will happen when the CBC and the Canada Council are put under the microscope this year? Will they be "rewarded" with stable funding if they agree to cut "fringe" programs?
It's difficult to tell who will get the axe until it falls. Certainly the British Columbia arts community didn't foresee what was coming until the fall of 2009. That's when the provincial government announced an 85% cut to the BC Arts Council's budget for the coming year. (By 2012, funding is forecast at a 92% cut, which leaves just enough money for council's administrative costs.) It's an unprecedented cut that no one could ever have imagined. Brian Kaufman, publisher of Anvil Press and SubTerrain magazine, attended a meeting at the BC Arts Council two weeks before the cuts came out: "The staff were running around with perplexed looks on their faces. I had all these cryptic conversations with people and I was trying to put it together. Maybe some of us thought, 'well cuts are coming,' but I don't think anyone had any idea it would be so drastic." MacInnes of BCAMP was in the midst of bugging the council for her organization's operating grant application deadline when she got the call. "They just said we wouldn't be asked to put in an application this year because there was no money," she recalls. "I was shocked. I didn't say anything." The organization plays a key role in promoting the province's homegrown magazines, but now MacInnes is scrambling to raise the measly $20,000that made up the BCAMP's operating budget. With only one other staff member and a 200-square foot office that was broken into and ransacked of most of its valuable equipment a year prior, there's little to cut. More organizations are expected to falter later this year when the full effect of the cuts becomes evident.
"Maybe some of us thought, 'well cuts are coming,' but I don't think anyone had any idea it would be so drastic."
The cuts were justified by the BC government's $2.8billion deficit, but the BC Arts Council's budget makes up only a 20th of one percent of the government's annual spending. Furthermore, many economists and theorists have long argued that cultural funding generates measurable economic benefits, whether that's through tax dollars eventually raised, young people enhancing their skills and training, or creators spending on employees, supplies, printing, promotion and so forth.
It's scary when governments decide to take their deficit woes out on the arts. We can't directly link the BC Liberals to the federal Conservatives, but the pattern is clear: trumped up claims of fiscal restraint and deficit panic can easily be used to attack defenseless arts programs. While many blame BC's woes on the Olympics, consider that Quebec's deficit is nearly twice BC's and Ontario's outstrips it by eight times. In April 2009, the Ontario government invested an additional $5million in the province's arts council, but within months Finance Minister Dwight Duncan forecasted cuts. The Toronto arts community is now starting to wonder whether the 2015Pan Am Games will mean BC-style clear cutting. "Now governments will be able to point to their colleagues out west, so other provinces might be smart to pressure their representatives now to find out how things look down the road," warns Anvil Press' Kaufman.
*****
Government cuts are not the only threat to independent artistic expression coming our way. In the months to come, legislation on copyright reform will work its way through Parliament and, though the impact on indie artists has yet to be determined, major changes are in the works. Bill C-61on copyright reform died when Harper prorogued Parliament in the fall of 2008, but not before a massive public outcry. One inflammatory aspect of the new law proposed the use of digital locks (also known as Digital Rights Management or DRM) that would restrict the use of copyrighted material and potentially make common indie artist practices, such as remixing a song or crafting a video mash-up, illegal. In essence, this would privilege the work of one creator over another, with the odds stacked against the emerging artist. Over the summer of 2009, the government held a public consultation on copyright reform, receiving over 8,000submissions (typical public consultations gather at most 100submissions). At press time, NDP Timmins-James Bay MP Charlie Angus had already called the consultation a sham, as the Canadian government was participating in shrouded talks aiming to agree on an Anti-Counterfeiting Trade Agreement (ACTA) with other nations. One leak from the negotiations revealed a three-strikes-and-you're-out-policy, meaning individuals go on an Internet probation of sorts if caught illegally sharing copyrighted media three times.
The ongoing debate around net neutrality also threatens indie creators, particularly video artists who choose to distribute their work over torrent sites like BitTorrent. Internet Service Providers (ISPs) such as Bell and Rogers often reduce the speed of these sites (a practice known as throttling), claiming that the large amount of bandwidth required by these sites slows down their entire networks. Video artist and net neutrality advocate Steve Anderson uses BitTorrent to share his work, and notes that throttling the free exchange of files because they supposedly slow down networks has the ultimate effect of privileging paid corporate sources of video-on-demand over independent alternatives. Currently, the CRTC has ruled ISPs have the right to throttle service at their discretion, which forces independent creators, such as Anderson, to mount complex cases each time an unjust act of throttling occurs. The federal Liberals and NDP have promised to defend net neutrality, while the Conservatives are quiet on the subject.
*****
In comparison to the tricky obstacles facing indie artists today, Stephen Harper's open attack on arts funding seems downright quaint. Back in 2008it was clear that funding was threatened. The Conservatives have now groomed themselves into a sophisticated marketing machine, adept at covering cuts and spinning community outrage. They have created a model that other provincial and municipal governments might just decide to follow if fiscal pressures get bad enough: Cut money by claiming it is being "diverted" rather than removed. Focus on artists and organizations with weird names making "fringe" work, thereby deflecting attention from what's really happening. Pretend to engage in consultation while having already decided to favour the policies of for-profit corporations threatened by the proliferation of alternatives now available online. Portray artists as fat cats living high on the hog, even though most artists we know work multiple jobs to sustain a subsistence living so they can have the privilege of enriching the cultural fabric of this country. And, if all else fails, fall back on the argument that hard times demand difficult choices. Do you want people to have enough to eat, or do you want grassroots culture made by independent artists? It's a false duality. We're one of the richest countries in the world. We can do both, and we can do better.