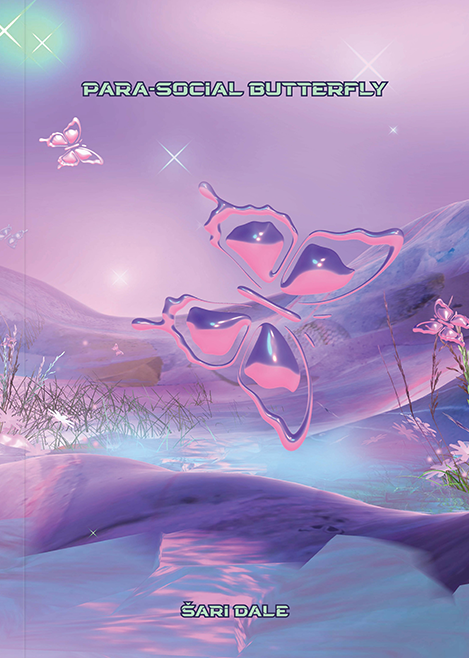 Para-Social Butterfly
Šari Dale, 88 pgs, Metatron Press, metatron.press, $18
Imagine your nephew's favourite e-girl read Baudrillard and O'Hara, shitposted confessional poetry on stream and published a tell-all career retrospective in her mid twenties; the result might look something like Šari Dale's poetry debut. Designed and executed like a VTuber's fever dream, Para-Social Butterfly adapts well-worn avant-garde and modernist poetics to stranger-than-fiction internet subcultures to present a surprisingly sympathetic critique of life under the ubiquitous influence of celebrity.
Para-Social Butterfly isn't coy about its themes: from its very first pages, which collage satirical "all persons fictitious" disclaimers from a variety of popular films and TV shows, the book repeatedly foregrounds questions of fact and fiction, appearance and reality, and the internet's toxic nostalgia for the meat world. Dale often responds to these quandaries with wryly perceptive, even wise (though perversely so) maxims — for example, "Vibe isn't antithetical / to virtue." Yet she also buoys her aphoristic style with a clear narrative arc, spanning her protagonist's humble beginnings as a "lowborn" wannabe, meteoric rise to an invented guest spot on The Ellen DeGeneres Show, and eventual fall (back) into obscurity.
Less pronounced is Dale's expert consideration of poetic sound, as her looser, more theatrical found poetry is balanced by original free verse dense with alliteration: "Righteous waitress / wearer of Shein / and shimmering debt." The two approaches harmonize brilliantly in the book's villanelles, which assemble real-life absurdities of celebrity Instagram into satisfying displays of repetition and slant rhyme.
Despite its occasionally epic poetic ambitions, Para-Social Butterfly can't shake the cynical urge to constantly drown itself in irony. The impulse sometimes feels grating or predictable; however, it ultimately holds true to the archetype Dale sets out to represent. With this in mind, the book's enduring magic is its cohesive, sustained look at an infamously confused and distracting corner of contemporary digital life.