The Squire's Reunion
Comic, Austin MacDonald and Jamie Houghton, 24 pgs, austin-macdonald.com, free
The Squire's Reunion is not the 'darkest' of dark fantasies. Rendered in black, red and gold, the work sees a young squire accompany their lord on a journey outside the kingdom. All does not go as planned.
Austin MacDonald's colour choices give the early pages of Squire's Reunion a sense of foreboding. For as brief as the work is-12 pages all told — if text and images are counted separately — the feeling of something bad happening, despite the somewhat "quaint" depictions of the squire working for their lord, never really lets up. It's an intriguing dynamic, as the more cartoonish proportions of the squire are played against the dark and emotional scenes. To make a recent reference for fans of swords, it's as though the petite protagonist of Ranking of Kings popped up in Elden Ring. Houghton's writing does well to complement this. The squire telling themselves, "I've failed in my service, I've failed my lord," as they, "began to sink into fathomless despair. As his hopelessness grew, the fog, brighter now, crept closer." In the accompanying illustration, the squire sits alone in the dark. Faces encroaching on them before awakening to a moment of respite.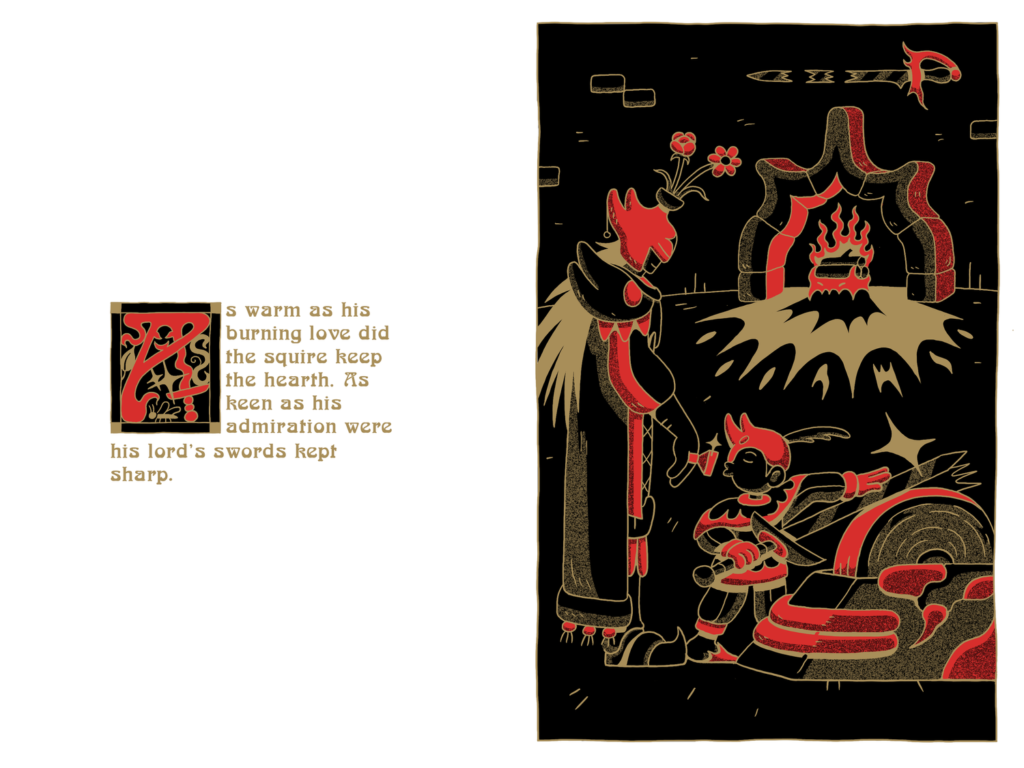 Each page of The Squire's Reunion is a treat, though given the strength of MacDonald's other, more colourful work, I did find that the limitation on colour here is exactly that, limiting. It's excellent, but not as excellent as I've seen from them. Regardless, MacDonald and Houghton's pairing is strong enough that it makes me want to see more of this sort of collaboration, be that individually or working in tandem.