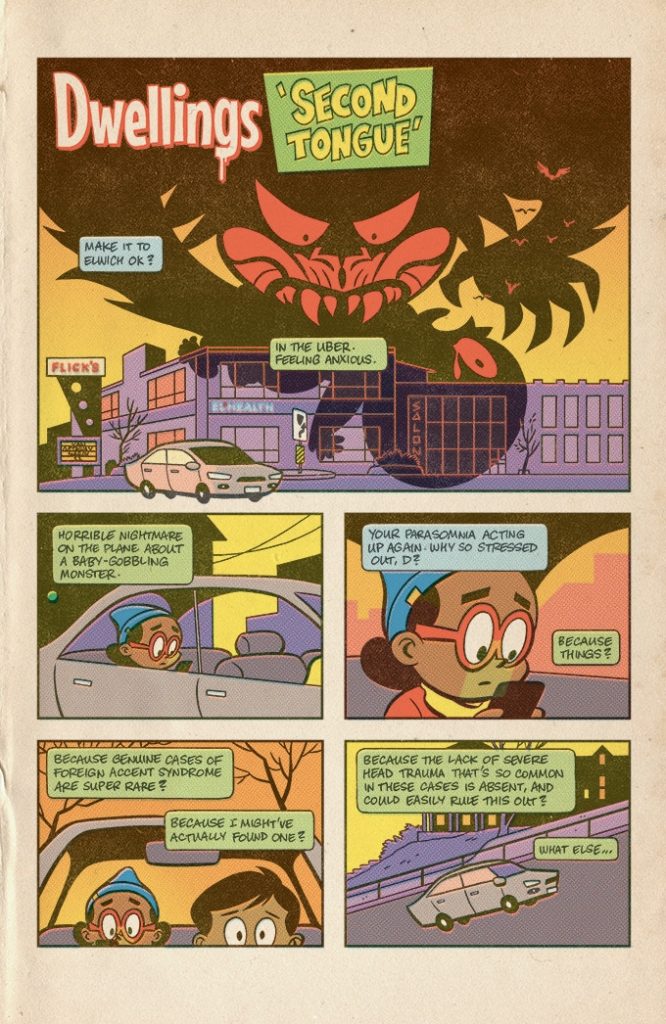 The annual Doug Wright Awards were held at the Toronto Comic Arts Festival (better known as TCAF), celebrating the absolute best in Canadian cartooning. Celebrated winners this year included cartoonists Brigitte Archambault, Sami Alwani and Gillian Goerz. Presented by Broken Pencil, the winner of the 2022 Pigskin Peters Award for best small or micro-press book was Jay Stephens for Dwellings No. 2.
Dwellings No. 2, the second instalment of the horror series initially funded on Kickstarter, takes place in the fictional Southern Ontarian town of Elwich. Like most small towns, Elwich is home to demonic, supernatural occurrences stumbled upon by outsider Dawn Brava while conducting research for her PhD. Brava's innocent expedition quickly snowballs into a heart stopping adventure with the paranormal hidden behind every corner of this unassuming town. 
Broken Pencil asked Jay Stephens to give us some insight on his deliciously ghoulish series:
How did you enjoy your TCAF this year?
It's been so long since I've had a new comic book out, and so long since my last TCAF, it felt like a totally new experience. Positive overall, but a bit jarring, like licking a battery.
What inspired Dwellings?
The recipe, really, is my love for horror stories and cinema, mixed with my love for vintage kids' comics. I always suspected there was a gruesome, dripping backstory to Casper the Friendly Ghosts' demise.
What informed your process for Dwellings?
The people and places I grew up around in Southern Ontario are full of strange secrets. Every little town around here has a ghost story and a tale of a respected local who snapped and killed his family. My family hid dark secrets, too. This kind of writing comes quite naturally.
Dwellings gets pretty dark, but it's juxtaposed with childlike illustrations. What's behind this duality?
Horror and comedy share a requirement for SHOCK… build up and punchline. The retro-cuteness in Dwellings is comforting, familiar, disarming… making the sudden bursts of demonic gore all the more disturbing. My favourite Japanese horror comics have been doing this for decades.
Jay Stephens is a Canadian cartoonist and illustrator currently living in Guelph, Ontario. He is best known as the creator of Discovery Kids's animated television series Tutenstein, Cartoon Network's The Secret Saturdays, and the Jetcat animated shorts for Nickelodeon's anthology series, KaBlam! Each issue of Dwellings can be purchased from Black Eye Books. The full list of Doug Wright Award winners and nominees can be found at dougwrightawards.com.