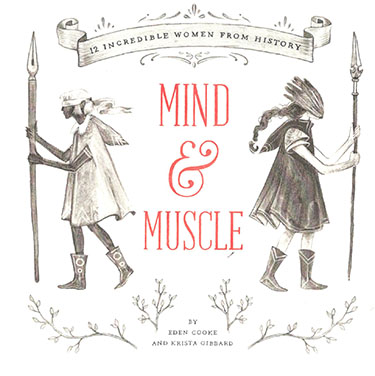 Mind & Muscle: 12 Incredible Women From History
Art zine, Eden Cooke and Krista Gibbard, 26 pgs, edencooke.com,bardillustration.com
When you meet friends for a beverage, do you ever find the conversation veering toward an interesting fact someone had discovered while listening to a podcast or reading an article? It's an informal history lesson filled with enthusiasm. These conversations often provide you with a short taste that leaves you wanting more. Mind & Muscle: 12 Incredible Women From History is that conversation in book form, and includes beautiful portrait illustrations to boot!
The illustrated booklet provides just what the title states: 12 portraits of 12 influential women. The book features many lesser-known and less well- branded personalities from history. Each profile is a short paragraph or two in length, and provides readers with a brief outline of the figure's life. I especially enjoyed how the authors of the book include their personal enthusiasms. Take this description of artist Leonor Fini:"She was also the world's coolest cat lady, leaving behind two lovers and seventeen Persian cats when she died in 1996. She lived life as she dressed: however she damn well pleased."
There is a good chance you will discover a new inspirational figure from world history if you pick up this book. Cooke and Gibbard provide the reader with a yummy first taste of the rich lives of these incredible women.