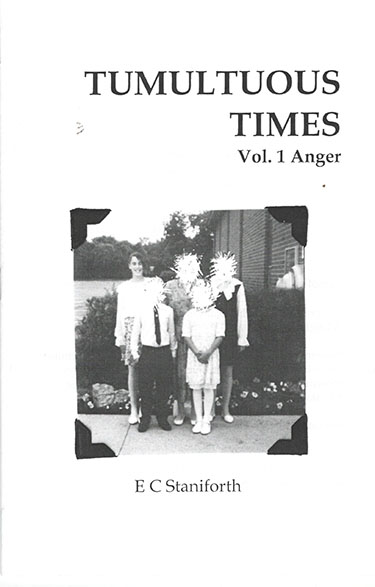 Tumultuous Times 1: Anger
E.C. Staniforth, [email protected], ecspressive.etsy.com, $4
Burnaby zinester EC Staniforth makes an eyebrow-raising statement with her first effort. Tumultuous Times a reflection on the author's anger disorder and the violent situations that result. It is populated by broken families, substance abuse, shouted obscenities, assault, threats, cops, and restraining orders. The chaos that Staniforth chronicles is all set against an organized structure: Tumultuous Times is feels thoroughly edited and proofread, self-aware, and punctuated by photos stuck on with adhesive photo corners, usually with all but one subject's (presumably the author?) face scratched out. That is perhaps what makes it so unnerving: you can have an anger disorder but also be artful in expressing it.
The what of this zine is clear enough, and for a first zine, it is quite good. The why, however, is more elusive to me. Much like the photos affixed by photo corners, the stories contained here lack a frame. Tumultuous Times is a confessional text without a community context. I don't see a punk or spoonie or feminist (or any intersection thereof) frame of reference here, which leaves me wondering how to take it. Who is the audience?
Staniforth credits another zinester at the end, so perhaps there is a connection to the wider zine world. But beyond that, the lack of context strands this zine as something of an oddity, like if Go Ask Alice was not a fabrication. But much like the many violent bursts of anger described here, perhaps the why is something that is constructed after the fact with the benefit of time.