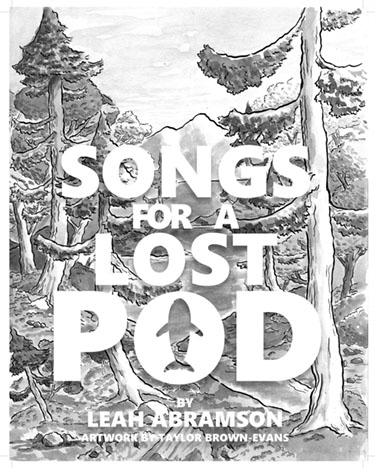 Songs for a Lost Pod
Leah Abramson and Taylor Brown-Evans, 36 pgs., Headless Owl Records, leahabramson.com, $18 plus postage
Part poetry chapbook, part National Geographic, part graphic novel, and part elegiac EP — the latest project from musician Leah Abramson is as complex as it is hard to define. Though taking on so many diverse elements could be a daunting task for some artists, Abramson and illustrator Taylor Brown-Evans manage to balance evocative text and lush imagery to create a kaleidoscopic work that will echo long after you've finished reading.
Structurally, Songs for a Lost Pod bears the largest resemblance to a collection of poems. Though there is no overarching narrative, the text is divided into nine small sections, each dealing with a different aspect of the lives of whales: "Fossil Dust" tackles the lost Chilean archaeological site known as cerro ballena, or "whale hill," where remains of ancient mass marine mammal strandings were buried under the Pan-American Highway; "Hey, Hi, Hello," reflects on increased human marine traffic and how it obstructs orcas' ability to communicate with each other. None of the pieces are longer than a few pages — some are hardly more than three sentences — but Abramson has an admirable ability to find the emotional core of her subjects with-out veering into melodrama, and Brown-Evans' black-and-white art holds up its end of the bargain by providing vivid visuals to bring the sections to life.
The sections are accompanied by atmospheric songs that draw on field recordings of whale calls (a download code for the album is included with purchase), and this final element of Songs for a Lost Pod ties it all together beautifully. Readers looking for something that is richly creative and thought-provoking will feel right at home in Abramson's pod.