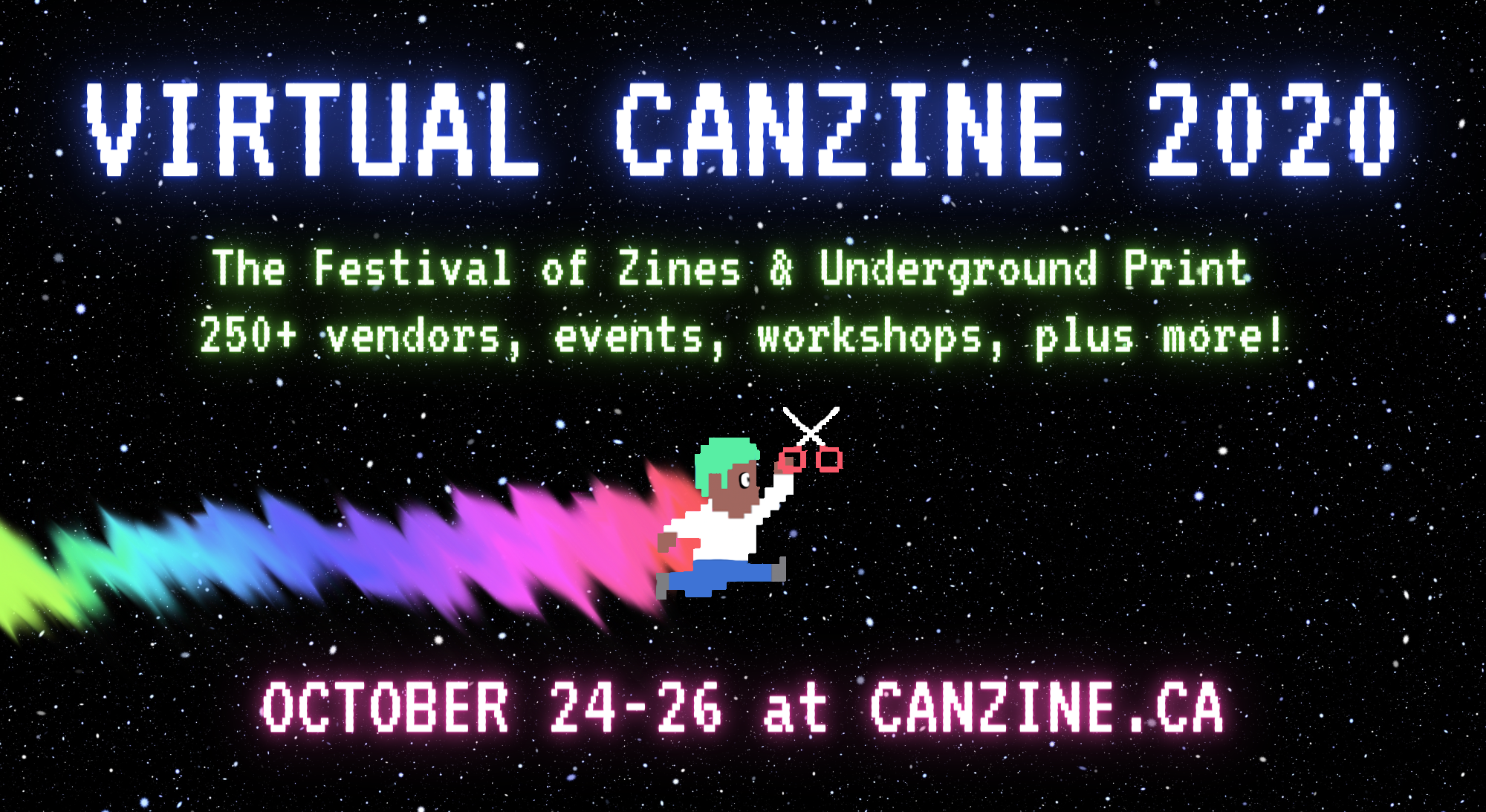 The festival of zine culture and underground arts is back with a virtual twist! 
Three days of 250+ vendors, thousands of zines plus special events, workshops, the BP Zine Awards, and more! It's FREE FREE FREE and no registration required!
CANZINE GOES LIVE ON

SATURDAY, OCTOBER 24, 2020

AT

10 AM (EST)
October 24-26, 2020 at Canzine.ca thousands of visitors can explore the 18 lands of Canzine World, including fantastical places such as Librarian's Lagoon, Punks Path, Sci-Fi Shore, and Riot Grrrl River. In each land, you'll find vendors selling their wares just like they would in a regular in-person Canzine, but with a virtual twist. Don't miss out on Canada's biggest zine festival!
Virtual Canzine 2020 Programming
THE SHORT VERSION
(all programming except for film screenings and Club Canzine events are available Oct. 24-26):
? Indie Film Screenings @ Vice Village (scheduled)
✂️All-Ages Collage Zine-Making Workshop @ Cut N Paste City
✂️All-Ages Mini-Zine-Making Workshop @ Riot Grrrl River
?Club Canzine: A Virtual Zine Social (Night 1) @ Magazine Mountain (scheduled)
?Club Canzine: A Virtual Zine Social (Night 2) @ Mail Mirage (scheduled)
?DIY Counter-Surveillance for Artists: A Workshop @ Sci-Fi Shore
?Speed Zine Readings @ Fanzine Forest
✊?The Legacy of Ida B. Wells @ Ida B. Bay

?Seneca's Comic-Reading Corner @ DIY Desert
?Broken Pencil Zine Awards 2020 Ceremony @ Indie Island
?Global Zine Scene Tours @ Librarian's Lagoon
?Zinoscopes (Horoscopes) @ Astrologer's Avenue
?Indie Book Readings @ Collage Cliff
?#Canzine2020ZineSwap @ Instagram & Twitter
---
      DONATE TO CANZINE AND GET A FREE GIFT!
---
THE FULL PROGRAM!
Indie Film Screenings: La Canzine Des Weirdo-Auteurs @ Vice Village
Canzine's proud to partner with the Laser Blast Film Society for this special virtual edition of the What the Film Festival, entitled: La Canzine des Werido-Auteurs. The 6th edition of the WTFilm Fest was to be held in April 2020, but was cancelled due to COVID-19. This weekend-long series will feature some of the festival's previously-planned programming peculiarities, as well as other indie and offbeat productions that intersect definitions of both genre and avant-garde cinema and operate outside the traditional parameters of taste and convention.
All-Ages Collage Zine Workshop @ Cut N Paste City
Vivian, kid zine-maker, Virtual Canzine exhibitor, and founder of Pickle City Press introduces you to the collage zine. What they are and how to make it! For kids, families and anyone who wants to have fun! To get the most out of this and follow along, we recommend having paper, pens, markers, glue, scissors and old magazines you can cut up on hand.
All-Ages Mini-Zine Workshop @ Riot Grrrl River
Teenage Broken Pencil contributor Elly shows you how to turn a single piece of regular computer paper into an 8-panel mini zine! For kids, families and anyone who wants to have fun! To get the most out of this and follow along, we recommend having paper, pens and markers on hand.
Club Canzine: A Virtual Zine Social
Saturday, October 24 at 7 PM @ Magazine Mountain
Sunday, October 25 at 7 PM @ Mail Mirage
Virtual Canzine visitors and vendors alike are invited for a low-key zine lovers' social hour after festival hours. Hosted by Broken Pencil Editor Jonathan Valelly and some special surprise guests, this is a chill evening event to talk about zine things (and other things), complain about the internet, listen to some tunes and get to know new zine people from around the world. Participate as much or as little as you'd like to! We'll share the login info on the day of the event. After the social wraps up, stick around for some What The Film Festival Screenings at 8pm and 10pm.
DIY Counter-Surveillance for Artists: A Workshop @ Sci-Fi Shore
With Kate Bertash of Adversarial Fashion
Digital surveillance systems are everywhere, and it can often feel like they are ominous, all-knowing black boxes right out of science fiction. But stop — that's what the people who make (and buy) these tools want you to think! In reality, computers aren't nearly as smart as you or I, and image recognition systems are a prime example. Equipped with an artist's intuition, some trial and error, and a bit of patience, we all have the tools we need to push back against facial detection, license plate readers, artificial intelligence, and other creepy algorithms that corporations and authorities alike use to compromise our right to privacy. In this workshop, we'll walk through exactly how you can play with image recognition programs to learn how they tick — it's easy, and can be pretty fun! We'll also think thorough how artists and designers can use those insights to push back against the powers that be — whether that's to protect your privacy or to go on the offense and undermine the AI directly. 
Kate Rose is director of an organization that provides privacy, security, and technology resources and training to nonprofits and activists. She's organized civic hackathons across the US, and currently leads a volunteer team building open-source state advocacy tools. When she's not recreationally filing FOIA requests, she illustrates and designs fabrics.
The Legacy of Ida B. Wells: Civil Rights Zinester and Beyond! @ Ida B. Bay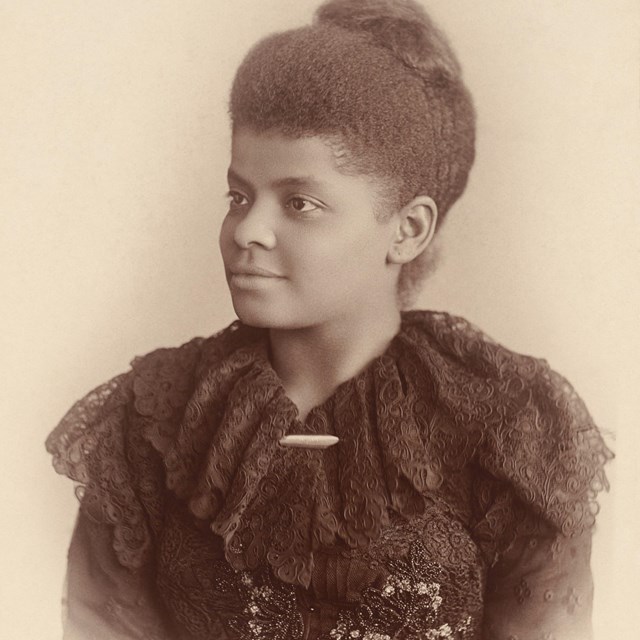 With Lupita Carrasquillo of Brown & Proud Press
What do you know about Ida B Wells? Widely known as an early leader in the Civil Rights movement, an educator and journalist Wells has a less well-known claim to fame — she was also one of the first zinesters! Her many self-published works shared the truth about what Black people in America were going through in the Jim Crow South, tirelessly campaigning against lynching and violent segregation.  In this conversation, we'll connect her work and context to our current realities in Canada and the USA. We'll also read from her seminal collab with Frederick Douglass, The Reason Why the Colored American Is Not in the World's Columbian Exposition, which responded to racism at the 1893 World's Fair in Chicago and the dehumanizaton of Black people on a global scale. You will learn more about the legacy of Ida B Wells and how she embodied the spirit of zine-making and the fight for Black Liberation — an issue that is far from over.  
Lupita Carrasquillo is a queer chicana boriqua born and raised in Chicago. She is a poet, educator and organizer with Brown and Proud Press. BPP is a collective of creaters of color who independently publish zines and produce events to share stories from community and teach the art of zine-making. You can find us @bppzines on Instagram to learn more.
Comic-Reading Corner, brought to you by Seneca College @ DIY Desert
Scroll through comics by Seneca College's talented illustration students from their School of Creative Arts and Animation!
The four-semester diploma combines traditional illustrative media, digital media and business skills. It educates the independent artist to succeed in the rapidly changing world of professional illustration. In addition to building on visual art skills such as drawing, painting, printmaking, sculpture and digital media, students also register their own small business. With website, accounting, marketing and revenue-generating skills in the curriculum, students will succeed as entrepreneurial artists. Graduates go on to work in children's and comic book illustration, spot and advertising illustration and concept art for TV, film and game animation.
Speed Zine Readings @ Fanzine Forest
Canzine vendors give one-minute readings from their amazing works, featuring everything from guides to surviving the apocalypse, trans sex ed, and award-winning lasagna, to polyamorous relationship anarchy, disability justice, mental health, and where our poop goes. What can't we learn from zinesters?!
Join us at Indie Island for a celebration of international zine excellence! Hundreds of zinesters from around the world submitted their zines to eight categories in Broken Pencil's Zine Awards this year. It was tough, but our judges managed to narrow down the entries to a shortlist. The winners of the Zine Awards will be announced at Virtual Canzine in a ceremony featuring videos made by the nominees and more!
???
Global Zine Scene Tours @ Librarian's Lagoon
From Italy to India, zine guardians from around the world give us tours of their spaces in this reel. Featuring Sister Library (India), Alphabet Zoo (South Africa), Barnard College (New York), Fanzinoteca d'Italia 0.2 (Italy) and more!
Zinoscopes (Horoscopes) @ Astrologer's Avenue
Let the stars guide your Virtual Canzine experience at Astrologer's Avenue.
??????????
Pets of Canzine: Commemorative Yearbook 2020 @ Punks Path
Arguably Canzine's most important initiative this year, scroll through the pictures and bios of vendors' beautiful bébés at Punks Path.
#Canzine2020ZineSwap
It wouldn't be a zine festival without some zine swapping! Post your zines to Twitter and Instagram using the hashtag #Canzine2020ZineSwap and find other zinesters to trade your work with! We may not be together in person, but we can't let COVID-19 get in the way of some sweet swapping.
Indie Book Readings @ Collage Cliff
Francis Desharnais is one of the most prolific authors in Quebec's growing comics scene. Little Russia, his second book for Pow Pow Press, has been garnering critical acclaim since its initial release in French in 2018. It has won numerous awards, including the prestigious Prix des libraires du Québec and the Grand prix de la ville de Québec for best graphic novel.
Maria Cichosz is a novelist and scholar whose writing has appeared in Critique, The Puritan, and on the CBC Literary Awards shortlist, among other places. She holds a Ph.D. in Modern Thought & Literature from Stanford University. Cam & Beau is her first novel.
Dr. Joy Cox is a body justice advocate, researcher and leader who addresses the intersections of race, body size, accessibility and "health." She holds a PhD from Rutgers University, is the host of the pro-fat, pro-Black podcast Fresh Out the Cocoon and has been featured in articles by the Huffington Post and SELF magazine. Additionally Dr. Cox serves on the Advisory Board for the Association for Size Diversity and Health (ASDAH) and is the cofounder of Jabbie, a body inclusive, identity affirming fitness app. Her new book, Fat Girls in Black Bodies: Creating Communities of Our Own, contends with the systemically harmful treatment of fat Black girls and womxn and the methods through which belonging, resistance and acceptance can be cultivated.
Hal Y. Zhang is a lapsed physicist who splits her time between the east coast of the United States and the Internet, where she writes at halyzhang.com. Her speculative fiction is in or forthcoming from Uncanny Magazine, Fireside, and Future Tense.
Here's a sneak peek at the Virtual Canzine 2020 World!
Sign up for our newsletter to stay up to date on the details.
Tell your friends: official hashtag: #VirtualCanzine
AS ALWAYS, THANKS TO OUR NATIONAL SPONSORS:
AND OF COURSE OUR REGIONAL AND MEDIA SPONSORS: