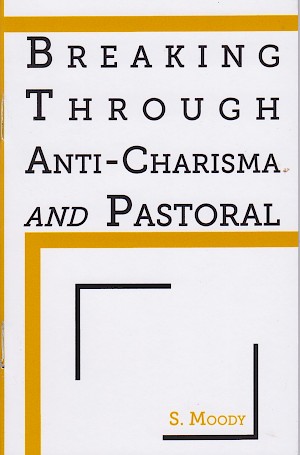 Breaking Through Anti-Charisma and Pastoral
Chapbook, Spencer Moody (text), Mocha Ishibashi (illustrations), 32 pgs, Displaced Snail Publications, displacedsnail.com, $5
Spencer Moody is likely already sticking to his day job, so there's no need to tell him to. This isn't the first foray into poetry for the frontman of American punk band Murder City Devils — for context, one of his other chapbooks is self-described as "a little disturbing" — and it appears he's doing this for the sheer enjoyment (or agony) of it.
Breaking Through Anti-Charisma and Pastoral is a peculiar crossing of absurdity and idealized nature. A set of "mountain poem[s]" provide literal landscapes — "on those hills/abundance of cows and sheep" — and a short time later, Moody is partaking in an underwater astral visit from Lou Reed and ranting about some sort of cosmic, allegorical monkey that he plans to beat up.
Moody briefly examines COVID- prompted isolation — "I miss moments more than people" — and admits to depression by too fervently protesting its absence: "I'm not depressed because / it's too beautiful to be depressed here." He seems surprised that his poems went in that direction: "when I started this series of poems / I was not in this trough." Such admissions are soon left behind, thorough for this reader, they would have been worth examining in greater depth.
This chapbook was produced in conjunction with cassette label This & That Tapes and comes with a download of Gothic Jazz Outtakes, an out-there garage-jazz cassingle by Sells, Culpin & Moody. This, too is thoroughly enjoyable, though not directly related to the text.