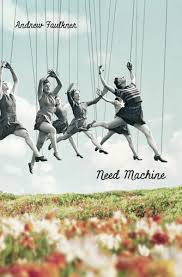 Andrew Faulkner, 72 pgs, Coach House Books, chbooks.com, $17.95 print edition, $10.95 ebook
Topics which often recur in contemporary poetry — the gritty disaffection of life nowadays, the connections between sex and/or violence and the mundane, the party and its consequent hangover — can lose their impact and their meaningfulness in the hands of a mediocre poet. But Andrew Faulkner shows us that with deft handling, these ubiquitous modern matters can still impress and confound, hearten and dishearten.
Need Machine is Faulkner's first book-length collection of poems, and it is very good. Working in a variety of registers and forms, he is able to press our existential buttons without forgetting to entertain.
Faulkner's language might seem plain, but it is consistently crafty, demanding the attention it deserves. For example, in "Failure" he offers these lines: "Behind your old grade school, the spotty field / you first drank in. / No, you're son / has a failure to thrive." Here the blend of uncomfortable nostalgia and adult anxiety hinges on a puzzling "you're," many readings of which simultaneously assert themselves. Consistently, Faulkner's poems present this kind of easy surface-reading which points to the multiple layers beneath.
From the insistent "Rats" — a dark and funny catalogue — to the intimate "XO," from the playful sarcasm of "Notes on a Theme" — a rollicking, hilarious poem, and the longest piece in the book — to the smiling bite of "Young Liberals," this collection delights. Smart, fun, serious and satisfying: if it's not already, put Need Machine on your to-read list. (Andrew Woodrow-Butcher)