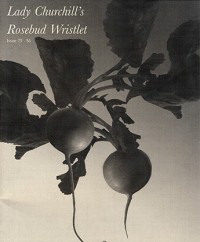 Lady Churchill's Rosebud Wristlet
Litzine, Gavin Grant and Kelly Link (eds), issue 29, Small Beer Press, smallbeerpress.com/lcrw, $5
Lady Churchill's Rosebud Wristlet: it's perhaps the least intimidating zine name ever concocted. It's probably too down-to-earth a title, as well, for a magazine that deals primarily in speculative fiction. The diminutive name certainly hasn't hindered this Massachusetts-based litzine, though — LCRW and its contributors (Ursula K. Le Guin is one of the more famous) have been nominated for several awards over the last 17 years.
The 15 pieces of fiction, nonfiction and poetry collected in issue 29 don't immediately read like prize-winners, but there's plenty here to entertain, if you're a fan of the absurd or the fantastic. In "Fairy Skulls," Nina Allan's protagonist is plagued by an infestation of supernatural creatures that are hell bent on stealing her jewelry. In "Four Phoebes," Maya Sonenberg tells the tale of four sisters that are turned into birds by the angry widow of a recently murdered giant. Jennifer Linnaea teaches us that sea monsters are made, not born, in "Smash!"
The standout piece of fiction from this issue — "Disaster Movies," by Christopher Stabback — is a mishmash of straight prose, instant messages and screenplay fragments that straddles the line between reality and nonsense. Stabback's narrator — a young woman being pursued by an older man she met online — is looking for the right way to quash a burgeoning romance, while being pestered by an invisible, secondary narrator named All Caps, who has a fondness for rubbing salt in wounds.
In a litzine where fantasy reigns, bang-for-your-buck endings should be the norm. The primary hurdle standing in the way of the majority of the works in this issue of LCRW is the absence of a climax. Too many of these stories sputter towards their conclusions. (Scott Bryson)