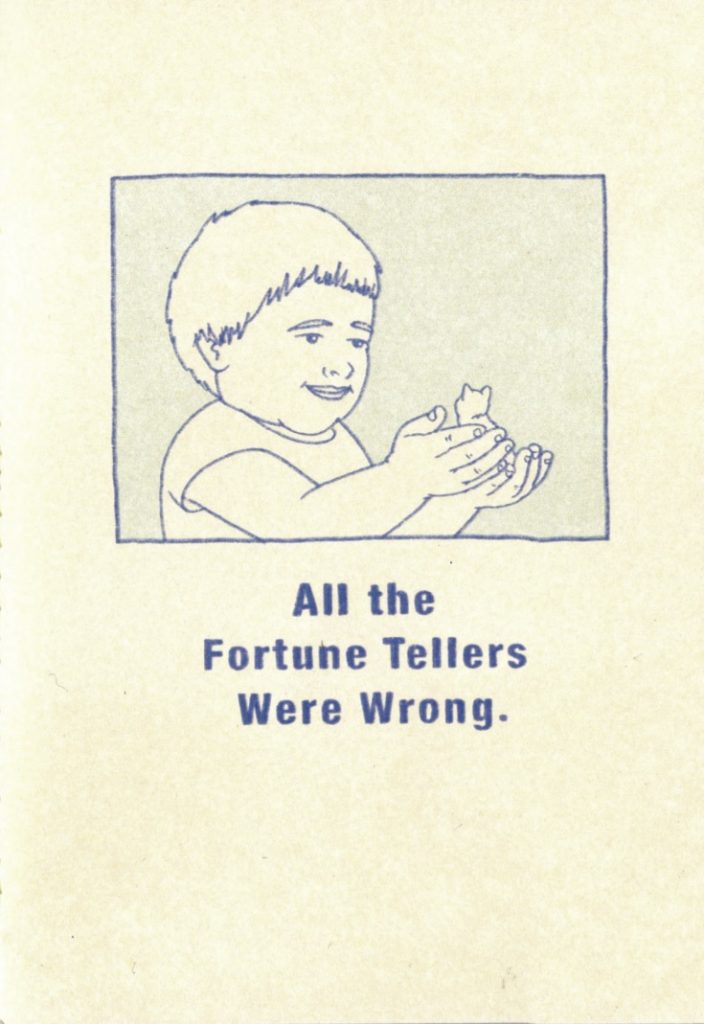 All The Fortune Tellers Were Wrong
Comic, Samuel W. Grant, 40 pgs, viewmasterpress.bigcartel.com, $7
Outside of a few longer pieces, All The Fortune Tellers Were Wrong consists of single-page "comic illustrations" by Samuel W. Grant.
At 40 pages, Grant has made sure that the collection is filled to the brim, each piece funnier than the last. Some of the standouts include an untitled comic in which an American revolutionary flags down a burglar for directions to the nearest "House of Unvirtuous Women," and "Ernie and DMT," in which Sesame Street's Ernie explains to Bert how "the moment of death is simply an energy transfer from one frequency to another." I'm not sure which Muppet on Sesame Street would have sold Ernie that DMT. Oscar probably?
Grant's art has noticeably developed since an earlier collection of theirs I reviewed, 2020's View Master. Character proportions are more 'realistic' here, which I found only helped to enhance the absurdity in each piece. Where previously I was reminded of works by Nick Drnaso, this time I'm reminded of animation work from Brad Neely, or recent comics by Steven Christie. The somewhat limited colour palette Grant uses, lighter shades that have a sort of pastel quality to them, look great. The overall 'mutedness' of it helps to play up the at times deadpan or non-sequitur lines of dialogue.
It's a delight to see how Grant's work has grown since their previous zine. All The Fortune Tellers Were Wrong is another excellent and hilarious collection, and I can't wait for the next one.