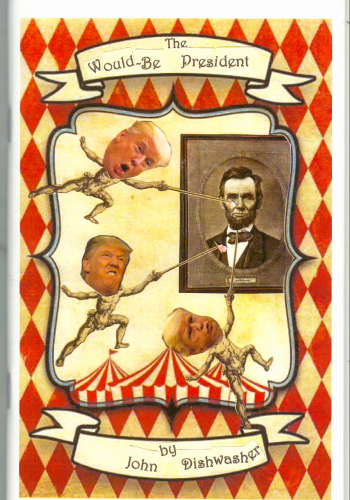 The Would-Be President
Play, John Dishwasher, 60 pgs, johndishwasher.org, $5 USD
Donald Trump, a counselor, a philosopher, and a fencing master walk into the Oval Office. It has the makings of a classic joke, but it's instead a bizarre and punchy allegory, featuring Trump duplicate Ronald Rump instead.
In John Dishwasher's riff on Moliere's The Would-Be Gentleman, a self-declared "farce," this doppelganger Rump calling an urgent meeting with his daughter and son-in-law about some "Huuuuge" news. The counselor, philosopher, and fencing master are enlisted by a unnamed benefactor who thinks Rump's personality needs "an adjustment" before he goes public.
An extensive dialogue between Avinka and Kirchener (you get it) is vacuous, lovey-dovey and completely believable, as is the boisterous drivel flying out of Rump's mouth. Deft dialogue is a victory for committed zine vet John Dishwasher, but there's a significant missed opportunity for critique. Rump's advisors are specified to be people of colour enlisted to fix him — a provocative premise. It could have been a promising experiment, but in the end, little more emerges. The Would-Be President instead heads in an unexpectedly kooky direction that at times undermines the satire that it launched with. Of course, as we've learned, the implausible has a way of manifesting itself around this president.