My Old Apartment: Keeping Landlords Honest in PEI
How I used postcards to protect tenants when the government couldn't be bothered
by Darcie Lanthier
On paper, tenants on PEI should have a decent go of things. As in many places, rent increases are regulated on Prince Edward Island. This includes vacancy control, which means that when somebody moves out of an apartment, the same rent schedule is inherited by a new tenant — at least, it's supposed to be that way. In reality, Charlottetown has few housing options, and for years led the country with the lowest vacancy rate, bottoming out in 2018 at 0.2% and remaining a meagre 2.6% today. As a result, potential tenants have little to bargain with when it comes time to sign the lease, and many landlords sneakily increase rent between tenants.
If tenants discover an illegal increase and bring it to IRAC (Island Regulatory and Appeals Commission), landlords have to pay back all of the illegal rent collected. But here's the catch: until now, landlords have essentially been left to an honour system. The province provides no way to determine if a landlord has illegally increased the rent on a property. So what's to stop them from doing just that?
A 2019 motion in the provincial legislature sought to create a public rental registry in response, and it passed unanimously. Since then, however, no action has been taken to actually establish such a system. It's frustrating, to say the least.
Then, in January 2021, I had an idea. We could solve this ourselves, regardless of state inefficacy. I thought to myself, "What if we could get tenants to mail a letter to their last apartment telling the current tenant what they had paid for rent?" Tenants helping tenants. It was the only way. After all, you can't leave a note behind because it could be taken, destroyed or thrown out. You can't contact new tenants online or by phone because you don't know who they are.
Yes, believe it or not, the best communication solution in 2021 was actually snail mail.
Even so, digital was the way to get the word out. So I got a website and a Twitter account and designed the My Old Apartment postcard, a template for people to send. The letters needed to convey a lot of information, such as how to file a Form 2 with IRAC to get illegal rent back into the hands of tenants. However, when I started reaching out to people about potentially printing and mailing cards to their former addresses, there were a few unanticipated issues. It turns out, these days, lots of folks don't have printing capacity and there are tenants who've never mailed a letter: no stamps, no envelopes, no printers.
So I did the printing and mailed many of them myself. I also partnered with some non-profits to distribute and mail the postcards and organized some places for the cards to be available so tenants could drop by and fill them in.
What happened next is still hard to comprehend. The Twitter account blew up, gaining 10,000 followers in 10 days. We heard from folks across the Island and around the world, voicing support. And most importantly, people started using the cards.
For two years, the provincial government has been unable or unwilling to help tenants in a housing crisis, even when ordered to. Now we, the tenants, have created our own rental registry, and 10% of all properties on the Island now have a listing. Numerous hearings have been held thanks to the cards, and in every instance thus far, the tenants have won. More than $100,000 in repayments have already been made to tenants. You see, the rules are clear. Now they will be enforced. All we had to do was remove the element of chance. And what did it take? The little postcard that could.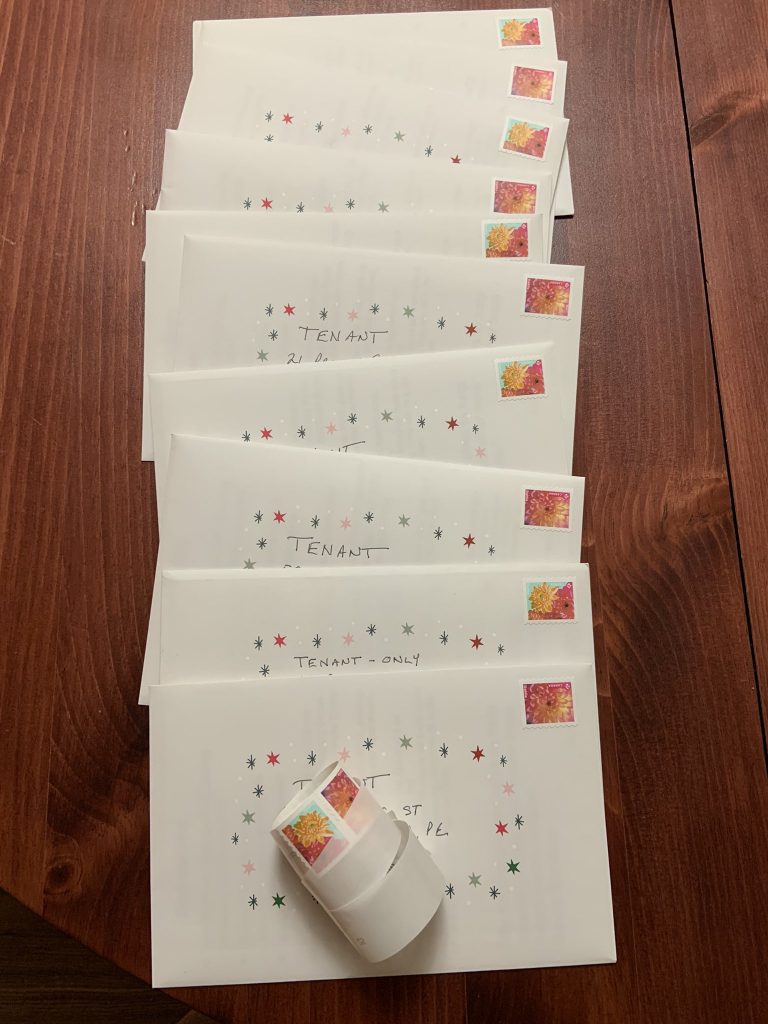 GET INVOLVED ONLINE