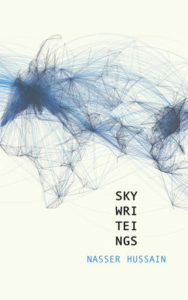 SKY WRI TEI NGS
Nasser Hussain, 97 pgs, Coach House Books, chbooks.com, $19.95
Every now and then, the light from the setting sun will catch some jet's contrail and transform something mundane and disconnected into something resplendent. That's a little like what Nasser Hussain is able to achieve with this book.
I launched into his poetry collection with high hopes and low expectations. How else do you approach a work built around the intriguing, yet extreme, constraint of using only three-letter airport identification codes as raw material for whole poems? The result is dazzling and not just because your expectations of what he might be able to achieve are low.
Hussain gathers up these abstract and orphaned character clusters, assigns them meaning, gives them place, then breaks them up and assembles the fragments anew. Along the way, visual collaborator Matthew Stephenson maps the real-world trajectory of the poems through their airport code nexus points Indiana Jones style and the reader can play along thanks to a digital airport code map available on Coach House's website.
No part of the book is spared the constraints of Hussain's aerobatic gamesmanship. Even the title page, dedication, and acknowledgments are each rendered in airport code. From there he constructs a series of elaborate nexus points that play on language, encoding, boxing, palindromes, narration, and other flights of fancy. As one would expect of a work that takes airports, transitions, and dislocations as its points of departure. It really is even better than you imagine it might be. Really.