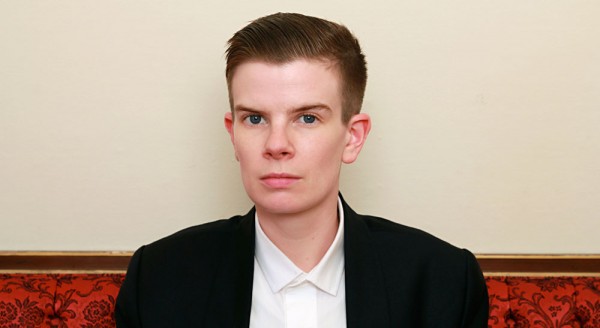 As an artist in the public eye, Rae Spoon has felt a constant pressure to define and label themself. The transgender musician uses their debut short story collection to play with the definition of identity.
by Christine Clarke
When Rae Spoon sat down to write First Spring Grass Fire, the Montreal-based musician's debut collection of short stories, regular first-time-author anxiousness commingled with a sensation decidedly different for writers of any stripe: the feeling of being watched.
"When I'm writing I can feel people staring at me," Spoon reveals, and the admission is intriguing.
Unlike actors or musicians, writers don't take centre stage; their characters do. But Spoon, who began writing these stories as a series of 10 sketches for an upcoming National Film Board documentary on their life, My Prairie Home, changes that dynamic in two exceptional ways: Spoon (who is transgender and uses the gender-neutral pronoun "they") is a musician and the way they approached writing the book comes from a musician's concern — how will this material play in front of a live audience? Second, First Spring is billed as a work of fiction, but the childhood described in these coming-of-age stories is largely culled from Spoon's own experiences. Writer and main character are indistinguishable.
The fusing of Rae the author into Rae the character is at the heart of what makes First Spring a compelling read. Here, Spoon delivers a first-person account of growing up queer in a strict Pentecostal family in Alberta, Canada. The pressure of not only realizing one's sexuality but questioning one's gender is amplified against the backdrop of a religious community that preaches hellfire, a father that is diagnosed with schizophrenia and an abusive family environment.
The convergence of these dramatic events screams memoir. So it begs the question: why not simply write one? But it's precisely Spoon's fictionalizing of their own life that gives the work a narrative rigour — something that is often missing in the fragmented memories and patchwork insights that comprise even the best autobiographical accounts.
Consciously superimposing fiction on non-fiction allows Spoon to present events as they happen, in the plainspoken style of their prose, while simultaneously locating and threading together deeper significance. The Rae in the book experiences a chaotic life but by the final story those disparate experiences speak with a unified voice, revealed through subtle symbolism and capable of both resonating with the disaffected and resounding universally. Real life cedes this kind of clarity to fiction.
Spoon starts the collection with the story "Billy Graham," wherein a nine-year-old Rae is taken to Calgary's Saddledome to hear the Christian evangelist preach. Their inability to connect spiritually to what they see as an arena-sized spectacle frames the beginning of both their self- and religious-doubt. Rae's feeling is captured in the turbulent, concluding passage:
I would look into the clouds for messages that confirmed my doubts and find nothing – just a huge, God-filled sky over the dry grass on Nose Hill, brown after the snow melted and waiting for a lit cigarette to set the first spring grass fire
By the final story "Ice Blue Light," turbulence gives way to a calm epiphany, symbolized by the "ineffable blue glow" of the Athabasca Glacier at the foot of the Rocky Mountains. Rent by a painful upbringing, Rae desires to "grow a new history" for themself and finds their origin story in the memory of a childhood visit to the glacier's vibrant blue ice:
I still haven't figured out a way to say that I was born in Calgary, but my heart lives in the blue glow under a frozen lake of water on top of a mountain in Alberta
Spoon's love of landscape as metaphor — on potent display in their 2008 Polaris Music Prize-nominated album superioryouareinferior — is here. As is a structure that sees each story building toward concluding passages that either stun with a lyricism that punctuates the narrator's plain-spokenness or allow pause for rumination.
In between is a collection of stories that owe much to the concept of dynamics — both literary and musical — that is etched into its musician-writer creator.
For 19 years Spoon lived as "she" and came out as a lesbian in high school. Eleven years ago they experienced a second coming out as a man and fought with the press to be referred to as "he," spending interview after interview being forced to define and explain transgender. Spoon also dated men for a period. In the end, failure to really identify with either "she" or "he" ("I found I didn't excel much at either of them," Spoon jokes) led them to adopt the gender-neutral "they."
At this point Spoon was already aware of the amount of control they exerted over defining their musical persona. ("When you're a musician you can write a bio that's 500 words every two years and then most of your interviews will be based on it.") The two experiences birthed a simple but defiant insight: if the roles we're asked to play are so much fiction anyway — and someone who's traversed the gender and sexuality spectrum knows this all too well — what's stopping anyone from re-writing them?
"I know there are a lot of people who are limited by whatever they're being perceived as — in writing but in the music industry more so," says Spoon. "Anyone who's different from the ideal — which is a very messed up ideal — is expected to explain their own difference.
"There's a prejudice — people want a certain narrative from a certain identity," continues Spoon, noting that among society's need to categorize, there also exists a queer normativity. "There's definitely a trans narrative that I don't have, like I don't talk about transitioning all the time. I'm not actually doing that so it's easy for me not to give that narrative. Or, if it was [easy to give that narrative], I don't feel like I need to."
As a musician, Spoon has released six solo albums. From their 2003 debut Throw Some Dirt on Me to 2012's I Can't Keep All of Our Secrets, their music has spanned genres from country to electronic. Their art plays out on stage and writing First Spring was no exception. Last spring, Spoon performed some of the stories live with author and spoken word artist Ivan E. Coyote and used those performances as a litmus test for the collection's final edit.
"I made sure I could read them out loud without tripping up on words," explains Spoon. "It helps a lot for me to read things out loud to make sure they're flowing better."
Spoon has collaborated with Coyote on shows that blend music, reading and performance and the two recently joined together for Gender Failure, which was, in Rae's words: "an exploration and exposé of their failed attempts at fitting into the gender binary, and ultimately, how the gender binary fails us all."
The bridge between literature and performance informs the structure of First Spring (it's also a characteristic of the book's universe: along with the companion documentary, Spoon will release an album inspired by the book this fall). And like the songwriting that Spoon is praised for, the stories speak profoundly in short spaces. Their length places them in the category of short short stories, which is the result of Spoon's desire to make them performable.
"I grew up on stage playing music, and so I have a sense of the attention span of a live audience – and the varying attention span," they quip. "Musicians and writers take things that are really jumbled in their minds and get to make something out of it. For me, it gives me [closure] to write my own narrative as fiction."
Spoon asserts "my own identity is based on a narrative I am constantly revising for myself." If First Spring's candour is sharpened by fiction's ability to shape the truth, it's an approach that Spoon has been probing their entire life.