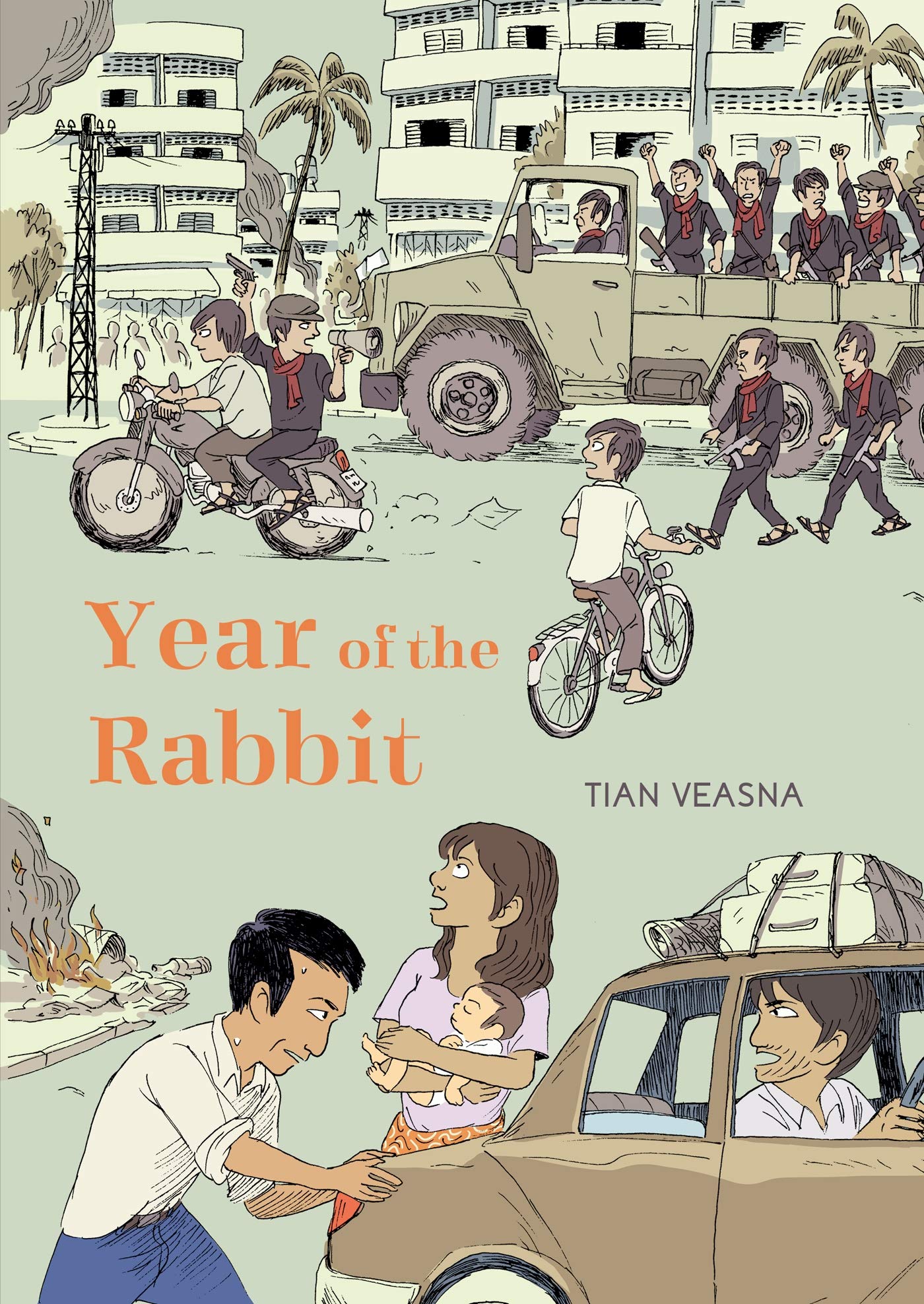 Year of the Rabbit
Tian Veasna, translated by Helge Dascher, 380 pgs, Drawn & Quarterly, drawnandquarterly.com, $34.95
Revolutionary slogans are shouted out of speakers while Khim, his family and a doctor are forced out of Phnom Penh, the capital city of Cambodia. It is "Glorious April 17," the beginning of what would become one the worst mass killings of the 20th century. At the whim of the brutal Khmer Republic, Khim and his family navigate the Cambodian genocide finding unexpected help from old acquaintances and unforgivable cruelty at the hands of soldiers barely old enough to read the pamphlets that are dropped from the sky.
Tian Veasna, whose name means destiny, was born three days after the takeover by the Khmer Republic (led by Pol Pot) from the American-backed regime. In The Year of the Rabbit he expertly tells the story of his family's struggle crossing the country towards the Thai border, punctuated with the broader history of Khmer Republic's rise to power. The minute details of personal chaos are set in contrast with bird's- eye view illustrations of the devastated countryside and the movement of masses of people to rural villages for reeducation by the party. Children in bright red Khmer scarves spy on the family while roads leading out of the country are systematically blocked off one by one. The black uniforms of the guards stand out against the humid teal of the landscape; down to the sweat on the characters' brows, there is a feeling of incredible oppression that carries from panel to panel.
The imagery is at times devastating — people being killed with pickaxes because the regime didn't want to waste bullets, children digging graves, and families being separated.
But there are also intimate moments as couples whisper tenderly in the dark, friends discover one another along lengthy roads, and a soldier gives a child a red toy truck. Year of the Rabbit is an education in the brutality of the Khmer Regime, but it is also an education in the enduring humanity and resilience of a family.