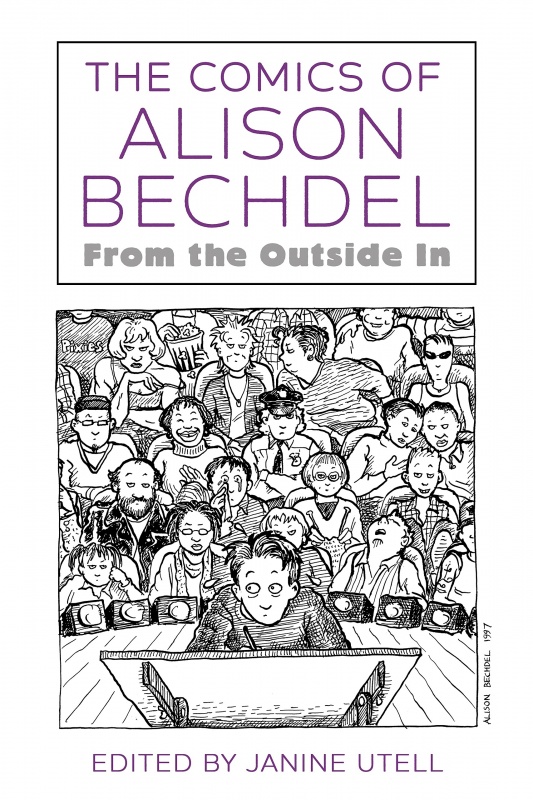 The Comics of Alison Bechdel: From the Outside
In Edited by Janine Utell, 282 pgs, University Press of Mississippi, upress.state.ms.us, $38
Queer theory and comics nerds rejoice! This compelling collection of thought-provoking essays, compiled by editor Janine Utell, is a deep dive into the work of comics' most iconic lesbian creator.
Contributors explore themes of lesbian feminist politics and community, queer cultural representation, and gender performativity over the course of Alison Bechdel's 30-year career, including her legendary, long-running newspaper strip Dykes to Watch Out For and her canonic graphic novels Fun Home and Are You My Mother?
Whether you are a scholar or simply interested in queer theory, gender studies, psychoanalysis, and affect studies, there is much to intrigue here. Close readings of Are You My Mother? and Fun Home, immensely personal memoirs that explore Bechdel's complex relationships with her parents, delight in theoretical density. The general reader is likely to find the dense, jargon-laden, academic writing challenging or overly specific, especially in comparison to the accessible visual storytelling found within Bechdel's own work. However, even for those unfamiliar with Derrida and Lacan, there are still gems to be found. Essay highlights include: Alissa Bourbonnais' use of dance and performance theory to explore how Bechdel choreographs the reading experience and "dances" with memory in Fun Home; Margaret Galvan's discussion of Bechdel's Servants to the Cause, a short-lived, little known comic strip about staff working at a queer newspaper that ran in the Advocate from 1989-90 (how meta!); and Susan Van Dyne's fascinating glimpse into Bechdel's creative process through a review of six years of archival material amassed during the making of Fun Home such as illustration and layout drafts, polaroids of Bechdel modeling poses for later sketching, and daily work logs.
Without a doubt, Bechdel has left an indelible mark on queer comics and culture. This essential anthology provides valuable new insights into her work and is definitely one to read.