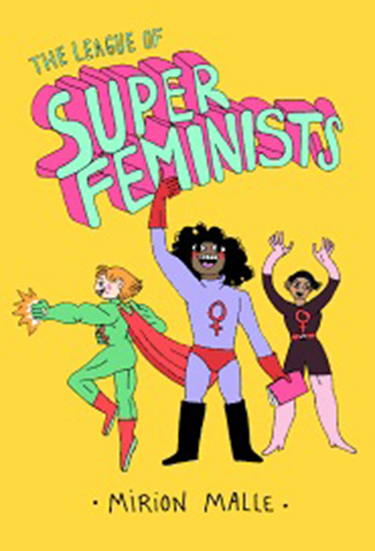 The League of Super Feminists
Mirion Malle, 60 pgs, Drawn and Quarterly, drawnandquarterly.com, $19
Can I hire the League of Super Time Travellers? Because if so, I'd beg them to journey back to the mid-1990s and deliver this delightfully charming, joyful primer on intersectional feminism straight into my awkward, preteen, baby queer hands and tell me, "Don't worry, kid, you got this."
Montreal cartoonist Mirion Malle packs a wallop in this short and sweet graphic novel aimed at kids and preteens of all genders, girls especially.
In only 60 playfully illustrated pages, she impressively covers a lot of ground, exploring pop cultural representations of girls and women, female friendship, romance, consent, privilege, inclusive language, and gender (including trans and nonbinary identities). Malle's use of clear, age-appropriate examples and easy-to-understand definitions are perfect launching points into critical conversations between kids and their caregivers about anti-oppression and the impact of sexism on self-image and self-worth. Teachers and educators, take note: League will make a fantastic addition to your classroom library.
My only lament is that the section on consent was far too brief. At one and a half pages, this topic is one of the shortest, yet there is so much to delve into when it comes to kids and consent. Teaching kids about bodily autonomy is vital not just in terms of love, sex, and physical intimacy but also in relation to everyday interactions like hugs or tickling or other forms of platonic touch. This subject would make for a great sequel.
By far, the most useful words of wisdom Malle offers conclude her discussion of the beauty double standard: "And girls," she sagely advises, "if someone makes fun of how you look… FART IN THEIR FACE!" Wait a second… Have I been doing this feminism stuff the wrong way? Guess I better start making up for lost time.