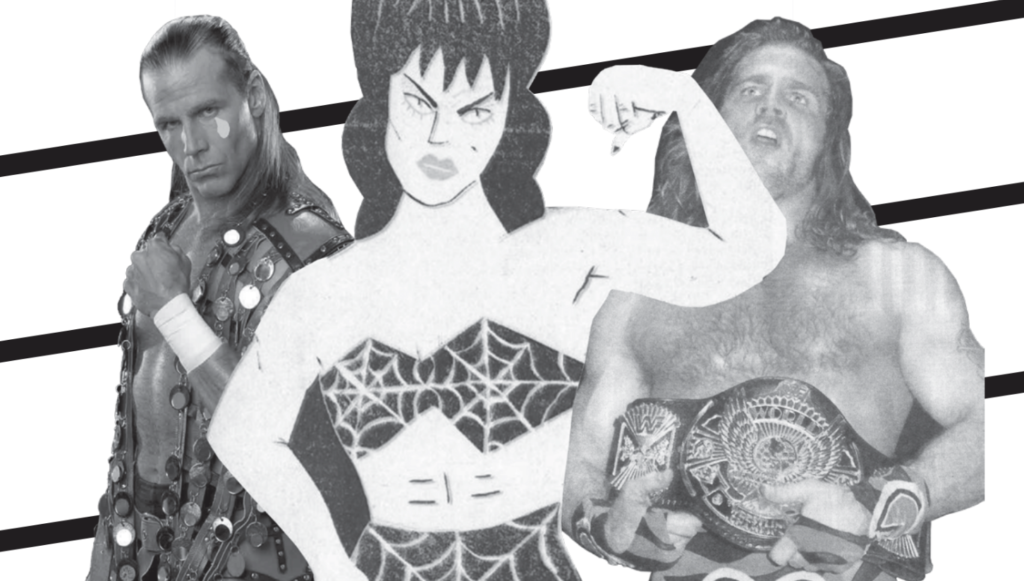 When it comes to watching wrestling, I was a late bloomer. I didn't start watching WWE until 2012, way after it was cool. As a kid, I remember being appalled at everyone involved because I marked out so hard (that's wrestling for "I believed what I seeing.") How could everyone just sit there and let someone beat a person with a chair? Seven-year-old me would be incredibly disappointed in myself. Now, I'm a huge fan of the chair.
Yes, as an adult, I eventually I fell in love with WWE and all things wrestling. Cheesy zingers, flashy outfits, over-the-top storylines — it is high-key theatrical.
Given how much space wrestling has taken up in my heart, I shouldn't be surprised that the wrestling zines I pick up continue to win me over. Most are fanzines, offering sincere examinations and tributes about the puzzling industry I love so much.
The array of wrestling zines that have emerged over the years should surprise no one. Like zines, a wrestling character or project often starts in someone's bedroom (or backyard). Sometimes, these big dreams grow into something more expansive. Zines and wrestling just make sense together.
Here are a few rad zines that are sure to bring joy to wrestling fans and zine nerds alike:
She's Hoping to Get Back in the Ring by Wrestlemania
Perzine, Shivaun Hoad, @shivaunish
Since I got into wrestling later in life, I often can't talk with other fans about Attitude Era or some other time I don't share a nostalgia for. When I first started watching, I enjoyed WWE ironically. But over time, I became invested in what I saw. The cheesy stories became synonymous with life events like my graduation, important kisses, and tough losses. She's Hoping to Get Back in the Ring by Wrestle Mania deals with the WWE that I recognize and hold dear, following Toronto-based Shivaun Hoad's nine-month road to recovery from a concussion, and how she sought refuge in the wild world of wrestling entertainment. Specifically, WWE in the last few years — the era no one seems to want to talk to me about? Finally!
This tiny zine covers recent WWE storylines, along with a discussion of the larger wrestling industry, health, and workers' rights. Some folks might be familiar with a similar discussion via the show Last Week Tonight, where host John Oliver recently broke down the absurdity of the WWE's exploitative policies.
Anyone who has ever enjoyed wrestling entertainment, and not just WWE, will have their hearts touched by this zine. Hoad ties the drama of WWE faces (heroes) and heels (villains), their beefs and successes, to specific moments of her own life; conversations with her ex, reflections on her physical abilities. Most importantly, she follows wrestling's lead in crafting a hell of a good story.
Wrestle Club
Comic zine, Joshua Rosen, @jrosen.illustration
Wrestle Club by Joshua Rosen is a cheerful comic zine that drops you into the world of a fictional Women's Wrestling Organization. Filled with character profiles for wrestlers that real world wrestling fans could easily cheer for, and punctuated with tableaus of these characters in action, this zine fully embodies the vibes of wrestling entertainment.
Each character design is distinct, and their poses capture the attitudes they are selling. Not going to lie, I would mark out for them instantly. My personal favourites, Nadia King and Lesquelette, would have me wearing their merch at shows regardless of the cost.
At its core,Wrestle Club is art appreciating art at its finest. The profiles demonstrate the work that goes into crafting the characters we see on stage/in the ring throughout the industry, and the vignettes that sandwich the character sketches are carefully crafted moments that truly say "thank you" to all the faces and heels who have pulled through for us. I spend a lot of time sheepishly explaining to new friends my complicated feelings towards shows like Monday Night Raw and Lucha Underground. I often have to preface these conversations with "I promise I'm classy but…" In Rosen's zine, I don't need a disclaimer about my love for this hobby. Comparing wrestling to Shakespeare and epics like Star Wars, Wrestle Club is indeed a club for fans like us.
Hidden Eggs: Wrestling
Zine, Hidden Eggs, @hiddeneggzine
British zine Hidden Eggs is a general interest zine with rotating issue topics such as DIY art markets, advertising, and wrestling! Hidden Eggs' Wrestling Issue is a collection of art, personal essays, humour pieces, and an interview discussing wrestling communities. For me, the gem of this issue is the zine's opening interview with Dann Read, the co-founder of Pro Wrestling Eve, an all female European promotion company. It's a combination of empowering, informative and inspiring tidbits into the world of indie wrestling and the wrestling industry as a whole. As Read writes, "Everyone kinda knows everyone. If someone doesn't know a person, then someone they know will know that person, even if that person works in WWE, TNA, or Japan or Mexico." For the more mainstream fan, it offers a lot of insight that interviews with bigger corporations would never be honest enough to allow.
Hidden Eggs' wrestling issue also has a welcome feminist lens on the topic. Much of the art features women or femme wrestlers kicking ass, or least holding power poses, while the hyper-masculine Edge and Christian from WWE are depicted passively in bed. The zine itself is such a solid balance of art, personal essays, and informative articles about wrestling. It encapsulates the very essence of classic zines and classic wrestling!
Thumb Tacks and Razor Blades: Pro Wrestling Fans Confess 
Fanzine, E. War, @blackworkjacket
It is universally accepted across wrestling communities that if stories about Andre the Giant don't choke slam your heart, you are probably a monster. Be prepared to hold your chest folks. Inside Thumb Tacks and Razor Blades: Pro Wrestling Fans Confess, is a piece titled "Andre The Giant," by Nancy Millwood that recaps their brief experience with the lovable giant, and, wow, did I ever need a hug afterwards. The rest of the collection includes touching stories of how pro wrestling has affected people's lives.Regaling the reader with stories of growing up, coming out, and meeting heroes, this zine is filled with wrestling confessions of that will touch any fan's spirit.
The Heartbreak by the Heartbreak Kid 
Perzine, AJ. Edwards
The Heartbreak by the HeartBreak Kid is a brief expression of grief and acceptance. It is the retelling of the author's coming of age moment, when they learned that wrestling is "fake." This tiny zine hits the same nerve as stories about the Tooth Fairy or Santa Claus for those non-believers or grown-ups out there. It plays on nostalgia, with images and references to '90s toys and pop cultural icons that speak to fans and outsiders alike. The final page is a charming message of appreciation for some classic wrestling moments: "The death of my Tamagotchi. The Heartbreak Kid winning the title even though Hart DID NOT tap out. And of course House Hippos. 'That looked really real! Didn't it?' Uh Duh." As Edwards suggests, just because something is scripted doesn't mean it isn't real.
Industry Standard: Issue 2
Photozine, Trevor Clement, trevorclement.com
The second of three instalments so far, this issue of Industry Standard follows indie wrestler Krist Worthless and The Wrestling Liberation Front. Based in Rochester, NY, the folks at the Wrestling Liberation Front are a grittier crew than the ones you would expect in larger companies. There's a sincerity to their DIY edginess that you don't find with mainstream grunge-esque wrestlers, and Clement's zine captures that essence. The varied angles of the shots give readers the sense that they are experiencing a more intimate interaction with Krist Worthless in Upstate Pro Wrestling. Awkward shots of thighs, ropes, and crowd reactions invite readers to be a part of the audience.
Pro Wrestling Feelings Edited
Perzine, Ed Blair, Holy Demon Army Distro, @ourcityburning
Pro Wrestling Feelings is exactly how it sounds: a collection of feelings about professional wrestling. And lo and behold, it definitely stirs up feelings and reflections from a self-proclaimed smark like myself (slang for someone who is aware that they are "marking out" for wrestling). I had the pleasure of reading issues one and six, which held a wide range of pieces, such as an interview with W.Todd Kaneko, a poet who published a collection of poems about the WWE universe. Another notable piece included prose from CK Stewart, detailing their experiences at two wrestling shows, and proposing a simple yet powerful code of conduct for audience members. As a Black woman who is often in my feelings about a ton of stuff, especially relating to my love of wrestling, this zine had me feeling all kinds of ways while taking in others' expressions.
The Atomic Elbow
Fanzine, Robert Newsome, @atomic_elbow
So far, legendary zine The Atomic Elbow is 29 issues large. Everyone who is into both zines and wrestling mentions it when discussing the two. The zine collects art, comics, essays, fiction and inter-views on a range of topics featuring wrestling, sometimes only distantly. There is something for everyone in this massive collection. One piece that stood outcomes from the seventh issue,"The Curly Billiad of Wrestling Superstar Virgil," written and illustrated by Corwin Gibson. Despite being published in 2013, it captures a lot of the general anxiety surrounding wrestling entertainment in 2019, including topics like health, problematic idols, and problematic depictions of super-stars in professional wrestling, especially wrestlers of colour. The Atomic Elbow, in its mammoth size and diversity of subject matter, echoes the spirit of most of the other zines mentioned here, but maintains uniquely wide views and a genuine sense of wonder for wrestling in each issue.
Glossary of Terms:
Face/Babyface: A wrestling persona who is heroic.
Heel: A wrestling persona who is villainous.
Mark: A wrestling fan who sincerely buys into the storylines. They don't know wrestling is "fake"
Smark: A smart mark. A fan with enough self-awareness that they at least know they're buying into the brand.
Merch: Merchandise
Can't get enough of wrestling zines? You're in luck! We sat down with Atomic Elbow editor Robert Newsome to discuss the zine, its lifespan, and wrestling in general. Check out the Q&A here!