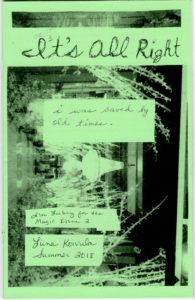 I'm Looking for the Magic #2: It's Alright
Fanzine, Liina Koivula, 32 pgs, 3-3725 Cambie Street, Vancouver, BC,V5Z 2X4, [email protected]
I envy people who can write about music effectively. I mean not just comparing one musician to another or getting bogged down in questions of style, but relating the role music plays in our understanding of the world and ourselves.
This issue of I'm Looking for the Magic mixes personal history with cultural texts and moments. It weaves together creator Liina Koivula's husband's Master's thesis, Patti Smith, and novelist Kief Hillsbery, before settling on a meditation on Deerhunter vocalist Bradford Cox. I dug all the relatable elder millennial details, such the black and green computer screen of childhood public library catalogues, Sleater Kinney message boards, WTO protests, and music festivals like Ladyfest. I thought of my friend Jesse who keeps his records in the order he acquired them, rather than alphabetically; for some, music both demarcates the tectonic shifts in our pasts, and aids our sense-making of our experiences in addition to, you know, providing the soundtrack. Koivula struggles with the chronology of details in their romantic life, but remembers what format they first heard Patti Smith's Horses on.
In its more melancholy moments, our author relates struggles with their acceptance into the queer community, of time lost to playing at being heterosexual, and of agonizing over butch or femme identity. Even some of the lighter memories brush up against a malevolent laugh or an awkward interaction that leaves a haunting impression. Appropriately, Koivula offers, as an Appendix, the lyrics to "Reservoir" by Warehouse, a love song about embracing uncertainty: "I can tell we're heading towards the apex, or the end / And either way, it will be fine / But I know you've been fearful of tomorrow / For all you know, tomorrow, it will be too late.
"Despite its status as a perzine/fanzine hybrid, It's Alright is cleanly laid out with page numbers, footnotes, and even a bibliography (Koivula used to work in publishing). But it's still pretty punk. Gushing over bands, and analyzing the world through the prism of literature and pop culture, this is absolutely the sort of thing that draws me to zinedom.